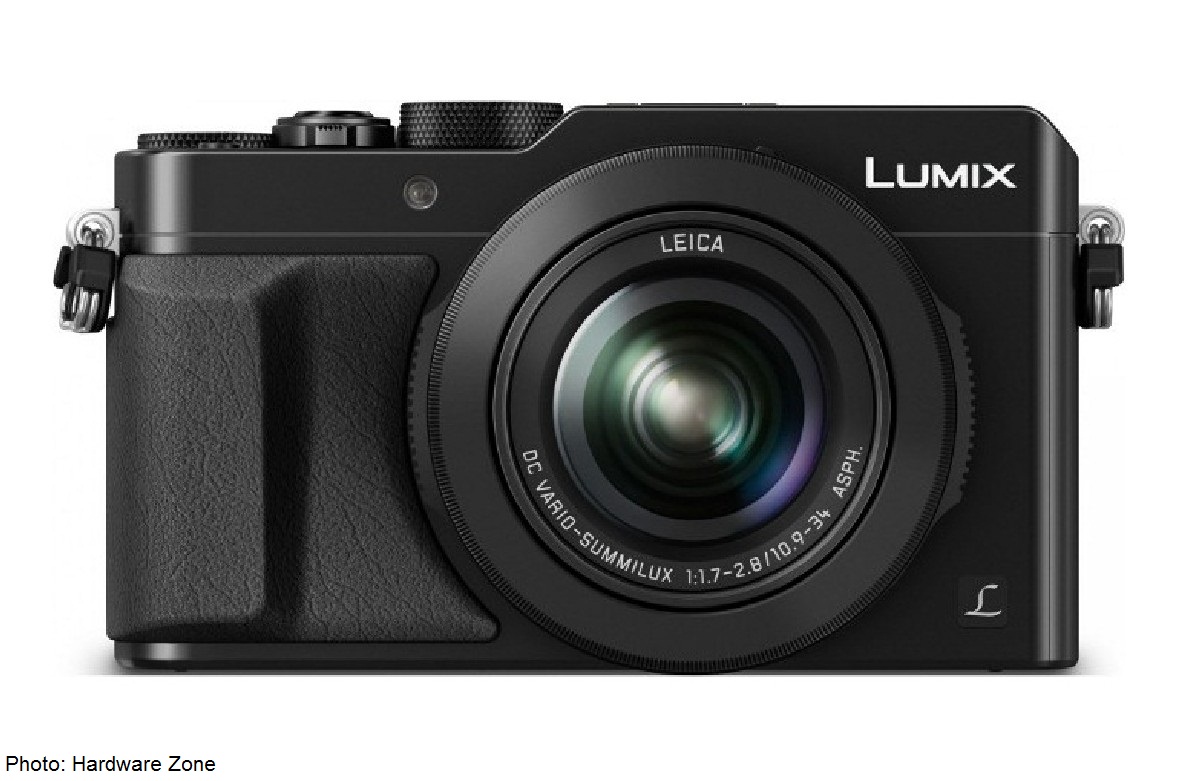 Introduction
This year has been pretty good for the high-end digital compact segment - Sony released the third iteration of its popular Cyber-shot RX100 series, and Canon has hit its stride with the PowerShot G7 X. Fans of Panasonic might feel left out in the cold though, considering the fact that the company's last prosumer compact, the Lumix LX7, was released two years ago.
But that doesn't mean Panasonic has been resting on its laurels. In response to the two 1-inch sensor equipped compact cameras released this year, Panasonic has decided to go even larger with the new Lumix LX100. But the Lumix LX100 doesn't just feel like a successor to the Lumix LX7; it's so well equipped that it's probably in a different class compared to its predecessor. A Micro Four Thirds sensor, an electronic viewfinder (EVF), 4K video shooting and a fast lens are some of the highlights of the Lumix LX100 that make it a very attractive camera.
The use of a Micro Four Thirds (MFT) sensor in this category of cameras is a surprising move, but one that will ensure it's higher up the hierarchy where imaging quality is concerned. Sensor size after all is one of the key elements that determine photo quality as a larger sensor for a given capture resolution ensures more light information is captured by the millions of photosites (also known as photo sensitive cells) present on the sensor by virtue of each of them being larger than a smaller sensor equipped camera. As it stands, a 1-inch sensor is significantly larger than the 1/1.7-inch sensors found in the mainstream point-and-shoot cameras, but a Micro Four Thirds sensor is even larger. A MFT sensor is a fair bit larger than a 1-inch sensor, which would make it many times larger than a 1/1.7-inch one.
The Lumix LX100 certainly sounds impressive on paper, but will it live up to the hype? That's where we come in to determine where exactly is stands in this competitive field, so read on!.
Design and Handling
Due to the camera's larger sensor, the Lumix LX100's body and lens are bigger than run-of-the-mill digital compacts (yes, it's even chunkier than its 1-inch sensor competitors). Throw in a wide maximum aperture, a lens that won't fully retract into the camera body when the camera is powered down and you get a camera that's pretty bulky for a "compact" class product. It won't fit comfortably in your pocket, but it's still small enough to throw into a small bag. In some sense, it's overall build and size reminds us of Canon's top-of-the-line PowerShot G1 X Mark II where its lens doesn't retract fully into the body too, but the saving grace is that the Lumix LX100 isn't as thick or heavy. To be accurate, size-wise, it's sandwiched between the Sony RX100 series and the Canon PowerShot G1 X Mark II.
The Lumix LX100's size affords it a comfortable hand grip on the front, and a pronounced thumb rest on the rear. While the Canon PowerShot G7 X features a user interface and a design that makes it user-friendly and approachable even if you're new to photography, the Lumix LX100 favors a design that's catered to those who know how aperture and shutter affect your exposure.
How so you may ask? For starters, there's no mode dial on the LX100. What you get on top is a hot shoe since there's no built-in flash in a bid to keep the LX100 as compact as possible. Panasonic has however, thrown in a small external flash. There's also a dial that adjusts shutter speed, and a dial that tweaks exposure compensation. A filter button is also there if you decide to add some digital effects to your images.
Since there are dedicated controls for aperture and shutter speed, it's easy and quick to lock your exposure down if you're comfortable with manual controls. The camera will even help by highlighting shutter speeds or aperture values that will result in underexposure or overexposure so it should be easy to attain optimal exposure.
If you're not in the mood to tinker with aperture and shutter speed, there's always the iA button which will put the camera into auto mode so all you need to do is press the shutter button. With a focal length of 24-75mm, the LX100 gives you a wee bit more reach than the Sony RX100 III, though it doesn't reach the distance offered by the Canon PowerShot G7 X. The Panasonic Lumix LX100's zoom does take a bit longer to go from the wide end to the tele end, so don't be expecting it to cover the 3.1x optical zoom range within a second.
There are two rings on the camera's lens: one is a clicky ring that adjusts aperture, while the smooth-turning ring can be used as a means of manual focus or to zoom. There's also a switch on the lens so you can shoot at the various aspect ratios.
The Lumix LX100 comes with the usual D-pad, playback and Quick Menu buttons. It also comes with an impressive electronic viewfinder which is the same as the one found on the award winning Panasonic GX7. With 2.76 million dots, we found the EVF to be very detailed, and experienced no lag or ghosting.
The main display on the LX100 is a 3-inch 921,000-dot screen, which is bright and clear. Unfortunately, the display does not tilt and is not touch-sensitive either. We suppose including a tilting display would make the LX100 even larger, while the exclusion of a touch-sensitive display was likely to keep costs down.
We used the EVF quite a fair bit, but missed the convenience of having a touch-sensitive display. After all, nothing beats tapping the screen to set the focus area, especially when you have a subject that does not stay still.
User Interface and Camera Performance
With the Quick Menu button, you can bring up a list of settings that you will commonly access during shooting. Accessing the Quick Menu will reveal that the settings are split between the top and bottom half of the display. The issue is that you will have to hit down on the D-Pad to access the settings on the top half of the screen, and hit up on the D-Pad to access the settings on the bottom half of the screen. You would think that pressing the Set button would let you access the respective settings, but it does nothing except confirming your choice after you enter the respective sub-menu like metering or focus mode.
While the camera uses the same 16MP sensor as the one in the Panasonic GX7, due to the aspect ratio available on the LX100, the highest resolution you can get from the camera is about 12.8MP. Resolution aside, as mentioned earlier, don't forget that the larger sensor does help when shooting in low light and also giving photographs a larger dynamic range compared to smaller sensor models.
In terms of resolution, the Lumix LX100 2,400 lines per picture height of resolution (both vertical and horizontal). Due to its large sensor, the LX100 manages to keep noise to a minimum while retaining detail. You can see the image soften and smudge at ISO800, but it gets really noticeable after ISO1600. Comparatively, the Canon G7 X manages similar imaging resolution capability, but details get noticeably fuzzy from ISO800.
The Panasonic LX100's produces colors that are pleasant but aren't as punchy as the Canon PowerShot G7 X. The camera is also capable of 4K video, at either 25p or 24p. You can choose to record video in either MP4 or AVCHD formats. As expected, the resulting video files were quite large, though it's still impressive that a compact camera is able to record 4K video. There's also Wi-Fi and NFC if you want to transfer images wirelessly, via the Panasonic Image app. You can also use your smartphone as a remote control or viewfinder via the app.
Below are sample photographs shot with the Panasonic Lumix LX100. The photos have not been post-processed and are copyright to SPH Magazines. They are provided for your reference only and we ask that you do not reproduce them elsewhere.
Conclusion
We liked the Canon PowerShot G7 X for its ease of use, making it a good camera for those who want to let the camera do the brunt of the work instead. Even then, it still had manual controls to cater to the more advanced shutterbug. The Panasonic LX100 takes it a step further with the dedicated dials for shutter speed and exposure compensation. And with its Micro Four Thirds sensor, you get better low light performance and generally improved image quality. And Panasonic even threw in a 0.38-inch 2.76 million-dot EVF with eye sensor and 4K video recording.
But the camera isn't perfect though, as its dedicated controls may be too much for novice photographers. In fact, its Quick Menu user interface isn't as polished as what we would usually expect from Panasonic, and the lack of a touch-sensitive display does affect the camera's appeal. With so many touch-sensitive displays on other cameras, it now feels awkward and clunky to rely on the D-pad to set the focus area. Still, we can make do with these minor misgivings as the dedicated controls and larger sensor would really appeal to the enthusiasts. While its general performance is good, colors aren't as punchy as the Canon counterpart.
Features and performance aside, from a practical use point of view, the Panasonic LX100 is chunkier than the top 1-inch sensor compact camera contenders - namely the Canon PowerShot G7 X and the Sony RX100 III - and the lens doesn't fully conceal within the camera body. This makes it an unlikely pocket camera companion, but it's still handy enough to fit in small bags. While we've reasoned earlier on this is a limitation of a design choice to go with a larger sensor, not being able to pocket the camera narrows the general audience appeal further in addition to its professional user oriented controls.
Above all, we foresee its price being a major point of contention. While its pricing and availability in Asia has yet to be announced, we hear it can be had for US$899 (S$1,124), which makes it even more expensive than the already premium Sony RX100 III. This will also put it in the same price bracket as quite a few full fledged mirrorless system cameras, which offer the flexibility of changing lenses. It's a competent camera, but its overall proposition at its expected price point will see it having lots of competition and limiting its ready appeal.

Visit Hardware Zone for more stories.