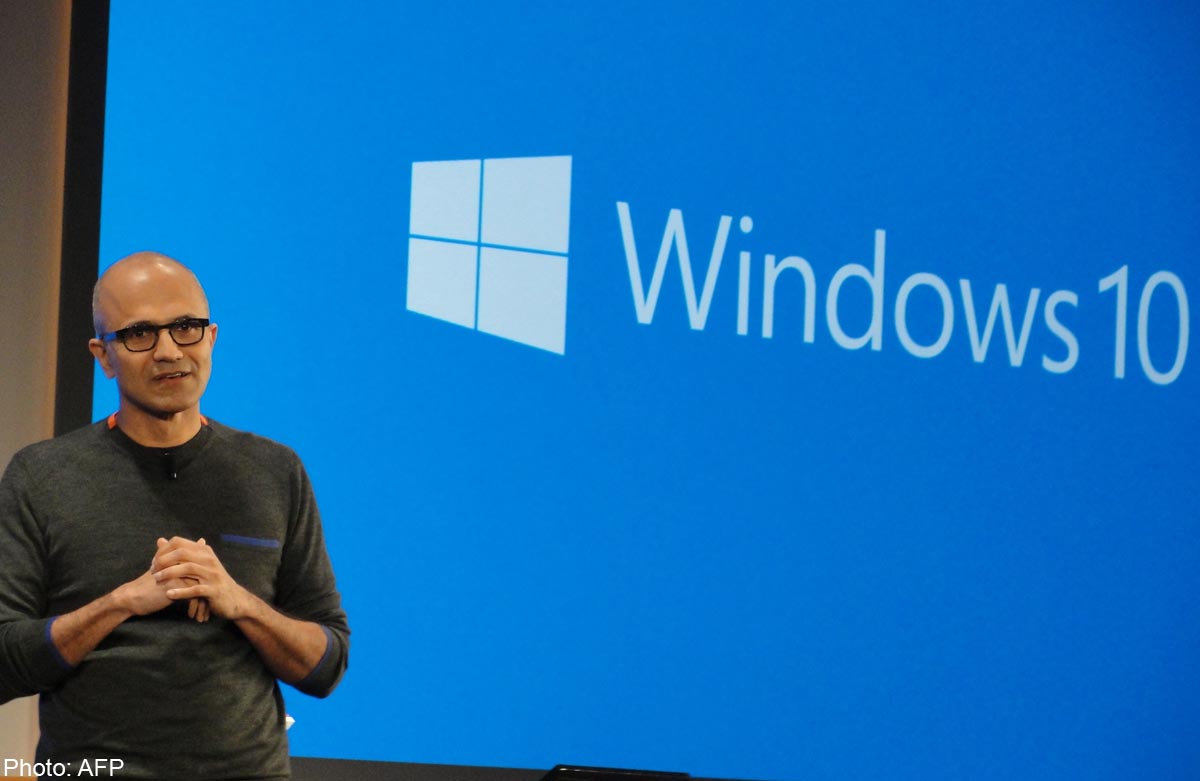 Existing PC users who are on Windows 7 and Windows 8 will get a free upgrade to Windows 10 - as long as they install this next version of Microsoft's computer operating system (OS) within the first year of the software's release.
It is the first time that the United States-based tech giant has offered a free upgrade on its flagship OS, which currently powers over 90 per cent of the world's computers.
What remains unknown after yesterday's announcement is how much Windows 10 will cost for new users or existing ones who upgrade to the new OS after the first year.
Microsoft skipped a number and leaped from Windows 8 to Windows 10 as it felt that the new OS was a significant leap forward. It is expected to launch globally in the second half of this year.
Users who own Windows Phone 8.1 smartphones will also get a free upgrade to Windows 10 within the first year.
Running the same OS across smartphones, tablets, PCs and its Xbox One game console is Microsoft's new strategy to get a leg up in the battle for market share in devices, especially smartphones and tablets where it lags behind rivals Apple and Google.
Microsoft chief executive Satya Nadella said: "Our ambition is for the 1.5 billion people who are using Windows today to fall in love with Windows 10, and for billions more to decide to make Windows home."
But it will be no walk in the park for the PC software king.
Mr Kenneth Liew, senior research manager at research firm IDC, said: "Microsoft's strategy to offer a full ecosystem of devices which run on the same platform is a step in the right direction, but it will be quite a challenge for them to break into the mobile world where it does not have much traction."
The key to the mobile devices battle is winning over the hearts of more software developers to create apps for the Windows platform.
Veteran software developer Paddy Tan said: "With Windows 10, developers can now have more confidence in creating apps for the Windows platform, as we need to develop the same app only once to run across smartphones, tablets and PCs."
"In fact, it might even be more attractive than developing apps for Apple's iOS system, which does not run on PCs," added Mr Tan, chief executive of local app developer BST Holdings.
With Windows 10, Microsoft will bring back the start button and start menu, which it removed in Windows 8 in a push for its tile-based Metro interface designed for touch. But loyal users found Windows 8 confusing and it was poorly received.
Over half of the world's desktop PCs run on Windows 7; 20 per cent are on 14-year-old Windows XP, while less than 10 per cent are on Windows 8.
Hybrid two-in-one laptops that switch between laptop and tablet modes will get a continuum mode allowing users to swop easily from the familiar desktop mode when a keyboard is attached, to the Metro tile-interface when the keyboard is removed.
Microsoft is trying hard to integrate its devices. Its Cortana voice-controlled virtual assistant - in Windows Phone devices - will make its way to Windows PCs and tablets, while gaming fans can soon stream Xbox One gameplay on Windows 10 PCs.
So if parents want to watch TV, children can still play Xbox games on Windows computers and tablets.
Also unveiled yesterday by Mr Nadella was the HoloLens - a virtual reality headset that projects virtual 3D objects into the real-world environment.
Mr Ben Tan, chief operating officer of electronics superstore Challenger Technologies, said: "Windows 10 is great for retailers and the industry because it will reinvigorate the PC ecosystem, which has been stagnant for a while."

This article was first published on January 23, 2015.
Get a copy of The Straits Times or go to straitstimes.com for more stories.