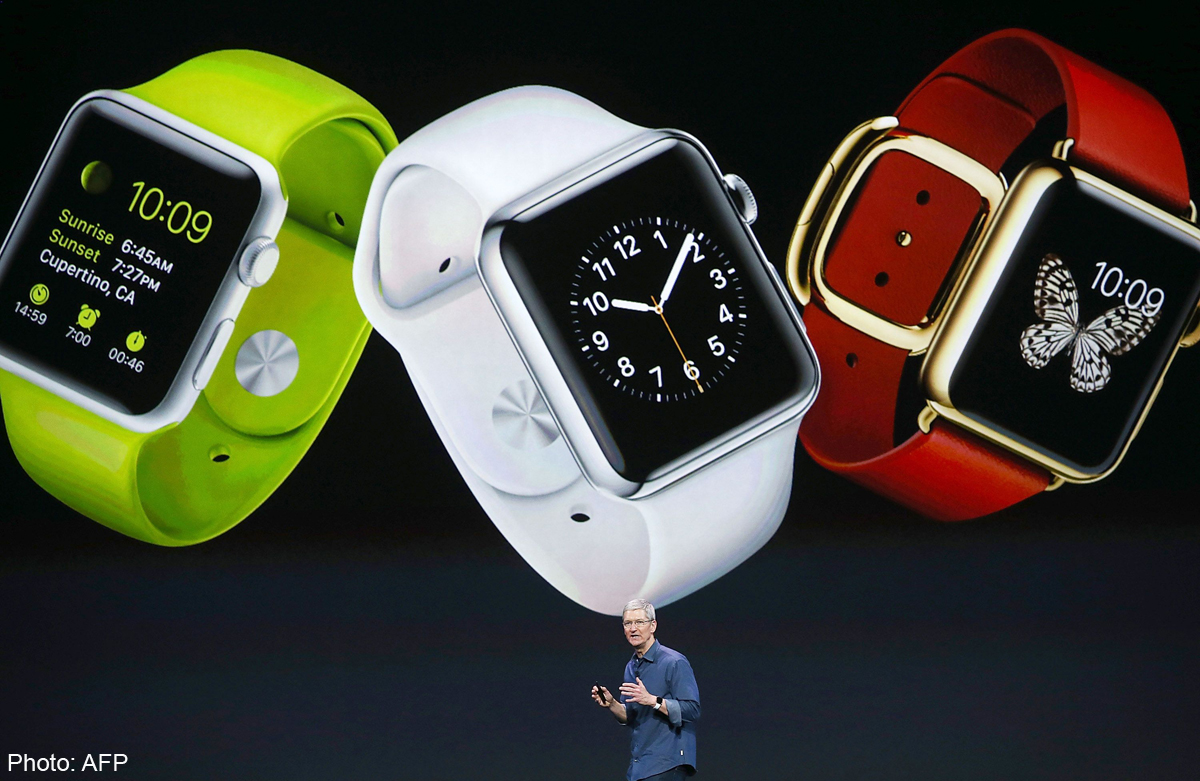 While fashion mavens praise the Apple Watch, some say there's nothing appealing about it
The fashion world is split on Apple's new smartwatch. The Apple Watch was unveiled on Tuesday by CEO Tim Cook, who also announced details on two new iPhones. Some fashion mavens praised the watch, priced from $988 when it debuts next year, for its clean aesthetic.
But some bloggers and fashion editors said the watch has a masculine aura, which would limit its allure to parts of the style-conscious crowd, Reuters reported. Others said the design, while pleasing, is less than revolutionary.
Ms Roseanne Morrison, fashion director for industry consultant The Doneger Group, said the design falls short of her expectations. "It's not pretty," she said. "It's very future techno as opposed to feminine sexy."
Mr Eric Wilson, fashion news director for InStyle Magazine, said the watch will become a status symbol. But the design is "generic in the sense of its flexibility and individualisation," he added. With the exception of the bright colours and gold trim, it is "a very masculine watch", he said.
Some fashionistas may prove reluctant to wear a smartwatch at all, said chief executive of Misfit Wearables Sonny Vu, which makes an activity monitor that can be worn as a brooch, on a necklace or on a wrist band.
Some female consumers are concerned about tan lines, for instance, and many might own a watch that has sentimental value, he said.
But other fashion critics were effusive. "It is immaculate in terms of how function meets design. The issue is really about how much people want to wear something so clearly, essentially an amazing gadget," said editor of British Vogue Alexandra Shulman.
IMPRESSED
A first-time invitee to an Apple event, Marie Claire tech editor Jenna Blaha, said she was impressed with the Watch but would need to touch and feel the device before recommending it to readers.
At Tuesday's launch in Cupertino, California, Apple displayed a gallery of watches but onlookers had to be content with tightly controlled demonstrations by Apple employees.
Gwen Stefani, fashion designer and No Doubt singer, told Reuters she wasn't allowed to play with the watches.
What's new
The iPhone 6 will be sold in Singapore, starting from $988 (16GB) and the iPhone 6 Plus will start at $1,148 (16GB). SingTel, StarHub and M1 all said they will offer the new iPhones from Sept 19.
SIZE
Apple has done away with the 32GB version. They now come in 16GB, 64GB and 128GB versions.
DISPLAYS
Both the iPhone 6 and 6 Plus feature curved glass "retina HD" displays, which will make it easier to swipe from the edges of the display. iPhone 6 features a 4.7-inch display with a 1334×750 resolution and a density of 326 pixels per inch. The iPhone 6 Plus has a larger 5.5-inch display with a 1920×1080 resolution and a density of 401 pixels per inch.
THINNESS
The iPhone 6 is 6.9mm thin and the iPhone 6 Plus is 7.1mm. The iPhone 5S is 7.6mm.
COLOURS
Gold, silver and space grey, just like the iPhone 5s.
BATTERY LIFE
Apple says the iPhone 6 will have 10 days of standby battery life and up to 10 hours of LTE web browsing battery life. The larger 6 Plus promises 16 days of standby time and 12 hours of continuous LTE web browsing.
REAR CAMERA
Both models will ship with a new 8-megapixel iSight camera sporting a f/2.2 aperture. The new photo sensor has "phase detection focus", which Apple says will make its autofocus faster, improve skin tones, recognise faces faster and take better macro photos.
APPLE WATCH
Comes in two sizes (38mm and 42mm), six finishes, six different bands and a variety of colours. Comes with retina display, a "digital crown" - think a slightly larger dial than on a regular watch that can also be pressed in - and a magnetic inductive charger.
The OS for the Apple Watch is very different from iOS 8. The watch will allow any user to see messages, calls, e-mail and various other apps, but notifies with a twist.
It's Taptic Engine can tap and beep users to get their attention and the watch features a microphone to dictate texts and take calls, monitors heart rate and exercise activity.
It is scheduled to be released early next year. The watch will start at US$349 (S$441), but expect the Edition, with its 18-karat gold finish, to be more expensive.
APPLE PAY
Apple unveiled a new mobile wallet on Tuesday, aimed at allowing consumers to use iPhones linked to credit cards for more secure, convenient payments.
It has agreements with credit card companies like Visa, Mastercard and American Express. An update to iOS 8, Apple Pay will be available only in the US next month.
This article was published on Sept 12 in The New Paper.


Get The New Paper for more stories.