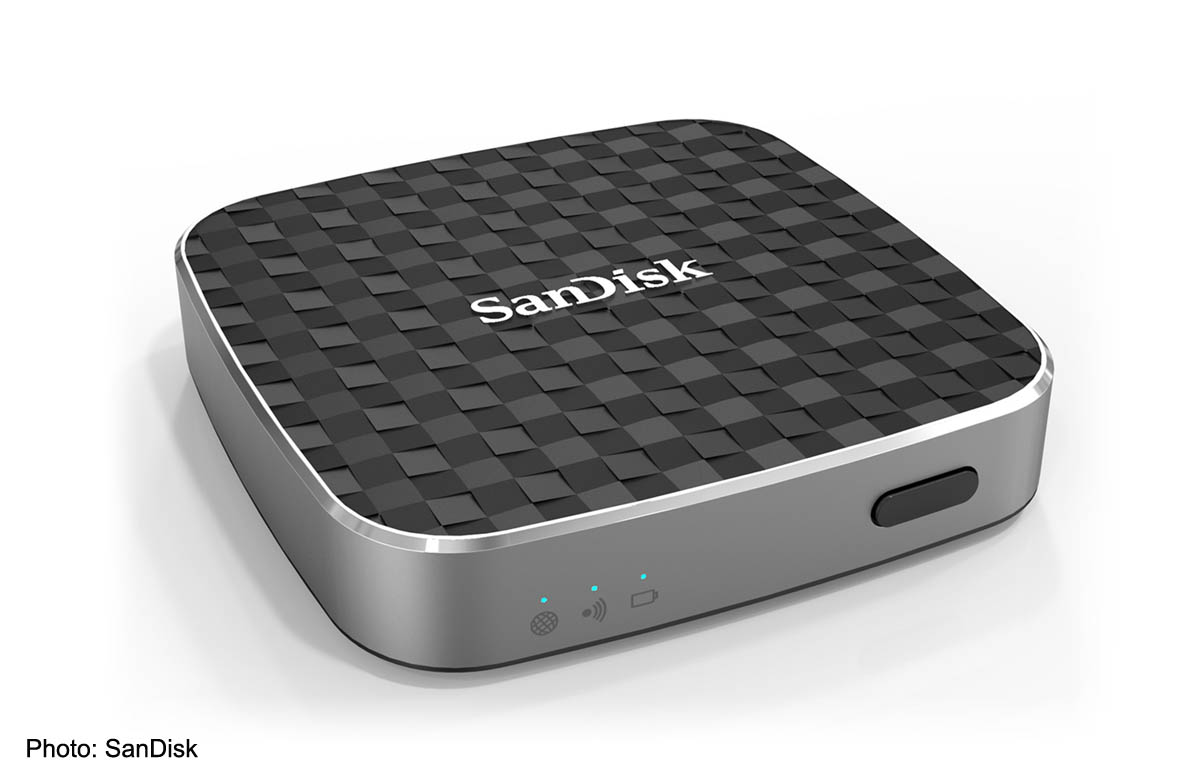 Many people carry around two or more mobile devices. This SanDisk drive provides a convenient way to share files between them and with other users.
It fits easily in my palm and is able to stream digital content wirelessly to multiple mobile devices. No Internet connection is required as the drive generates its own Wi-Fi connection.
It is one of two such recent SanDisk devices - the other is the Connect Wireless Flash Drive, which looks like a flash drive, but has integrated Wi-Fi too.
While Wi-Fi-enabled external drives are not new - Seagate's pioneering GoFlex Satellite was released in 2011 - SanDisk taps its flash memory expertise and equips the Media Drive with 32GB or 64GB of flash storage.
The drive comes with an SD card slot that can accept SD cards of up to 128GB. This is a quick way to increase the limited base storage but, more importantly, it offers users, especially photographers, the convenience of just popping in an SD card to transfer files from their gadgets.
The aluminium body feels solid and compact. The base is coated with a non-slip, rubber-like material. LEDs indicate battery status and also tell you whether the device is connected to the Internet or broadcasting a Wi-Fi signal.
Like SanDisk's Connect Wireless Flash Drive, this drive uses a USB 2.0 interface that feels slow when large files are being transferred.
At $139 for only 32GB of storage, this gadget should at least support USB 3.0.
But it can stream HD videos to five devices simultaneously, up from three devices via the Flash Drive. Both drives can connect to eight mobile devices at the same time.
You can use it with any computer by connecting a USB cable. The internal storage is formatted using the exFAT file system, which works out of the box with both Windows and Mac computers.
However, SanDisk's app (iOS and Android) is required for mobile devices. The app is straightforward to use and even includes some basic photo-editing features, such as crop and rotation.
If the app is unavailable, you can fall back on using a Web browser to access the contents of the drive. The device can act as a relay for an existing Internet connection using the app.
This is useful especially if you are travelling as you can share a hotel's single Wi-Fi connection with all your Wi-Fi gadgets.
Video streaming worked without a hitch, even for 720p clips.
More impressive was its battery life. The battery indicator was still a healthy green when I stopped after using the device for more than its advertised eight hours uptime.
Long battery life and SD card support make this a useful travel companion. But it could use a USB 3.0 connection, which would be faster.
By Vincent Chang
This article was published on May 7 in Digital Life, The Straits Times.


Get a copy of Digital Life, The Straits Times or go to straitstimes.com for more stories.