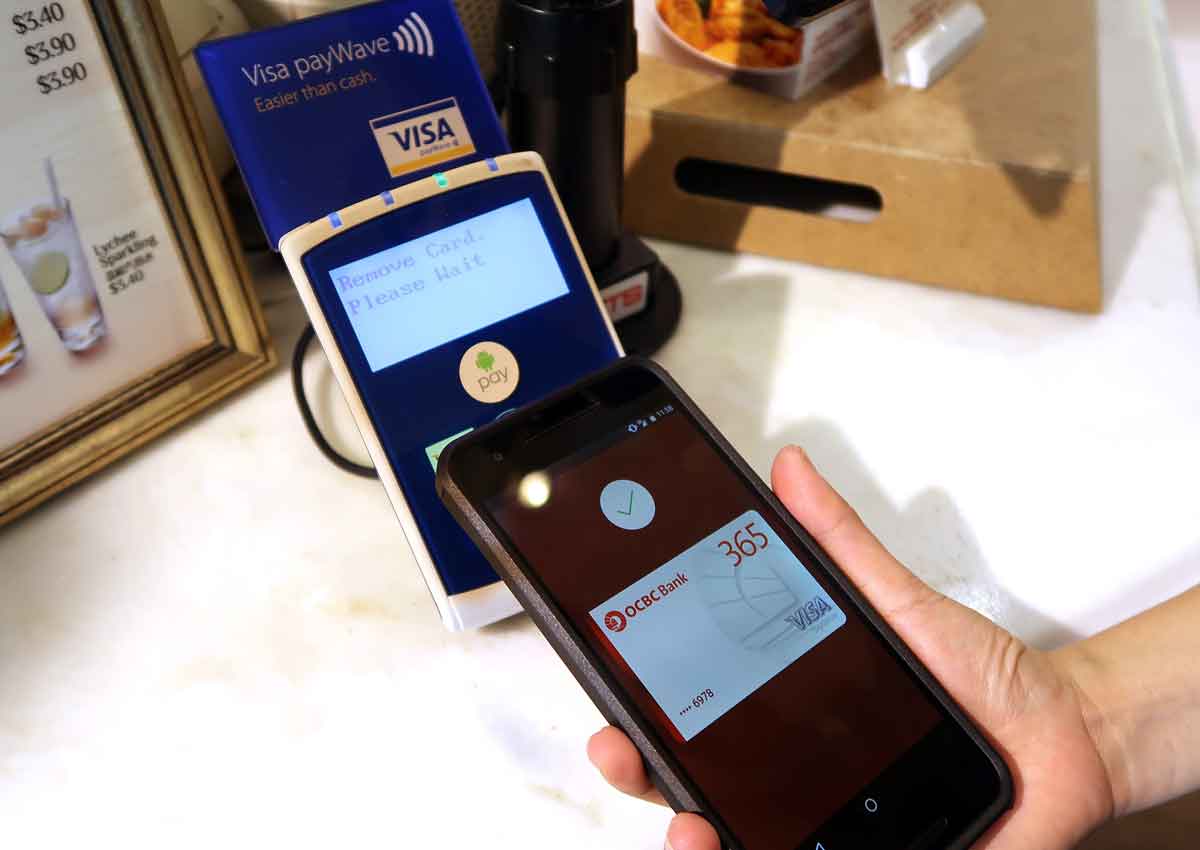 E-wallet services that allow one to tap the mobile phone to pay for goods and services at retail stores have encountered adoption speed bumps, with users worrying about card security.
Analysts have put the blame on a lack of consumer education.
These services - Apple Pay, Android Pay and Samsung Pay - were launched with much fanfare over the past two months.
They use the wireless Near Field Communication (NFC) technology to transmit data between the mobile device and a contactless payment reader.
Users of newer handsets can sign up to these services by saving an encrypted version of their credit or debit cards into their phones. Experts have said this is a good safeguard against fraud.
Eligible cards include those issued by major banks - POSB, DBS Bank, OCBC Bank, United Overseas Bank (UOB), Standard Chartered Bank and Citibank.
Together, they account for about 12 million cards, or 80 per cent of the Visa and MasterCard credit and debit cards issued in Singapore.
As at June 10, only 47,000 DBS cards and 40,000 OCBC Bank cards had reportedly been registered for Apple Pay.
Banks here would not reveal the number of sign-ups to date for Apple Pay as well as those for Samsung Pay and Android Pay, citing sensitivities.
Meanwhile, Apple would say only that it is adding one million users every week in the seven markets - the United States, Britain, Canada, Australia, China, Singapore and Switzerland - that Apple Pay operates in.
Sources said sign-ups in Singapore have been "slow" as it is still early days. A The Straits Times poll of 55 Internet users online revealed that security concerns were the key reason for resisting mobile e-wallet services.
Sixty per cent of those polled said they were using the service. But the rest were not on the service because they fear they would lose sensitive data and face fraudulent charges when they lose their phones.
Those not on the service also cited the ease of malware infection on phones, leading to data loss and fraudulent transactions.
Even among the 60 per cent of respondents who said they had started using a mobile e-wallet, one- fifth were worried about security.
This is despite the use of fingerprint authentication for every transaction on Apple Pay and Samsung Pay. Android Pay users need only scan their fingerprint or enter the phone's pass code or PIN after every third consecutive transaction.
Marketing manager Selina Ang, 40, said: "Phones are easy to hack into."
Copywriter Eve Yap, 57, concurred. "Saving my credit card into an e-wallet app sounds dangerous," she said. "What if I lose my phone?"
Mr Tran Cris Duy, consulting analyst of digital transformation at market research firm Frost & Sullivan Asia-Pacific, said that better customer education is needed.
Specifically, customers need to understand the tokenisation technology behind these mobile e-wallet services.
"Apple and banks can partner retailers to do that," he said.
Tokenisation allows the encrypted version of a unique digital identifier to be stored in the phone instead of the actual 16-digit credit card number.
So users need not worry about losing sensitive data when they lose their phones. Moreover, fingerprint scanning is required for transactions, minimising the possibility of any loss.
As Mr Michael Yeo, senior analyst at market research firm IDC Asia-Pacific's financial insights and retail insights team, put it: "Putting your credit cards into your phone is likely safer than carrying the actual plastic cards in your wallet."
There has also been confusion over where the mobile e-wallets are accepted and cashiers not being made aware of how the technology works, said Mr Yeo. But he believes that such teething issues will be resolved over time. Many users are also not aware that their phones can be used for payment.
"The times that I have used it in Singapore have led to much curiosity from other customers," Mr Yeo added.
Mr Desmond Tan, OCBC Bank head of group lifestyle financing, said: "It is going to take a good period of adapting and adjusting for both merchants and cardmembers to slowly establish mobile payment as their payment of choice."
itham@sph.com.sg

This article was first published on July 13, 2016.
Get a copy of The Straits Times or go to straitstimes.com for more stories.