During the Muslim holy month of Ramadan, Abdul Rahman Mohsen, an 85-year-old Singapore widower, would usually go to the mosque each day for prayers, and spend time afterwards socialising with friends.
But his Ramadan routine was upended this year when Singapore announced the suspension of religious services as part of its partial lockdown, or circuit breaker, to stem the spread of the coronavirus.
Singaporeans were also barred from visiting other homes, although this will change when restrictions are eased from June 2 and up to two visitors a day are allowed – as long as they come from the same household.
Hari Raya Idul-Fitri, or Eid al-Fitr, which fell on Sunday, was especially difficult for Rahman.
He has eight children and 20 grandchildren, and would usually expect a steady stream of visitors to his three-bedroom flat, with exchanges of green packets and shared meals. But this year, it was just him and his domestic helper.
"I've not experienced anything like this before … I can't go to the mosque on the first day of Hari Raya for my prayers and listen to the takbir [chants of God is Great in Arabic], and can only listen to the radio.
"I have a phone which I only use to call and text. I don't know how to use all these new technologies like watching videos online," he said.
"My helper tried to teach me but I find it hard to understand. I also feel sad because my family won't be able to gather at my home unlike the previous years."
Singapore's Arab Street with the Masjid Sultan Mosque. PHOTO: South China Morning Post​​​​​​
Even though prayers have shifted to digital platforms, academics have highlighted how seniors who are not digitally savvy tend to be from lower income brackets or live apart from family members.
These elderly people would feel bereft and cut off from loved ones during the circuit breaker period, potentially affecting their mental health.
About 14 per cent of Singaporeans are above the age of 65 and more than half of these citizens live alone or only with their spouses.
Natalie Pang, a senior lecturer in communications and new media at the National University of Singapore, describes such seniors as being "digitally estranged".
ALSO READ: PayNow green packets, virtual visitations: Singaporean couple shares how they're celebrating Hari Raya differently this year
"They do not have social support around them to give them access to digital devices and provide support when they are navigating digital tools … In other words, the digital inequality is widened even more with the [coronavirus] crisis," she said.
"Not being able to go about their routines, not being able to access entertainment and information like before … is something that will impact their emotional and mental well-being in the long run."
A Hari Raya like no other
For Muslims around the world, the Eid religious holiday that marks the end of a month of fasting from dawn to dusk was quieter than normal because of coronavirus restrictions.
In Malaysia, where most the population is Muslim, people can only gather at specific mosques located in 'green zones' for prayers – although no more than 30 people are allowed at any one time.
Interstate travel remains banned except for those with emergency situations such as a death in the family, although authorities have reported thousands of people trying to return to their hometowns.
"Don't bother queuing at police stations seeking permission any more. The police will no longer be allowing interstate travel," Defence Minister Ismail Sabri Yaakob said on Thursday.
Similarly, Indonesia, where about 90 per cent of its 270 million people are Muslim, has banned the annual mudik homecoming, telling citizens to stay home out of fear they may cause new clusters of infections and further overload the health care sector.
But Indonesians have been reportedly using fake medical certificates to prove they do not have Covid-19 to get past security authorities stationed at checkpoints so they can return home.
The Islamic Religious Council of Singapore (Muis) announced last week that Hari Raya visits or gatherings were not allowed, emphasising that visits to elderly family members should be deferred unless important caregiving is needed.
Many of Singapore's Muslims, who form 14 per cent of the 5.6 million population, made preparations to take their family celebrations online through Zoom video calls.
Muis had also launched several initiatives to help Muslims fulfil their religious duties without flouting social distancing laws, including live-streaming prayers and sermons via Facebook Live and radio broadcasts.
A Muis spokesperson said the organisation is "fully aware of the need for our seniors to stay informed" and will be communicating information through Malay newspapers and radio stations, social media platforms and messaging applications such as WhatsApp.
Mosque social development officers had also ramped up outreach efforts, with regular phone calls to vulnerable elderly people, during which they will also remind seniors about Muis programmes available during the Hari Raya celebrations.
Muis encouraged families to interact with seniors through video conferencing applications and make virtual Hari Raya visits "to keep our ties and traditions alive".
Even though 88 per cent of Singaporeans are internet users and 79 per cent are active social media users, according to a report published this year by We Are Social, academics said the pandemic will test the digital divide in society, with some seniors unable to adjust to the changes.
Masrifah Ayoob, 53, the owner of a bakery, said her parents have had difficulty accepting social distancing laws.
"My parents are sad and frustrated and they keep asking me if we can visit them.
"I had to keep telling my mother not to cook for the rest of the family but she already went ahead and spent a lot on ingredients," she said.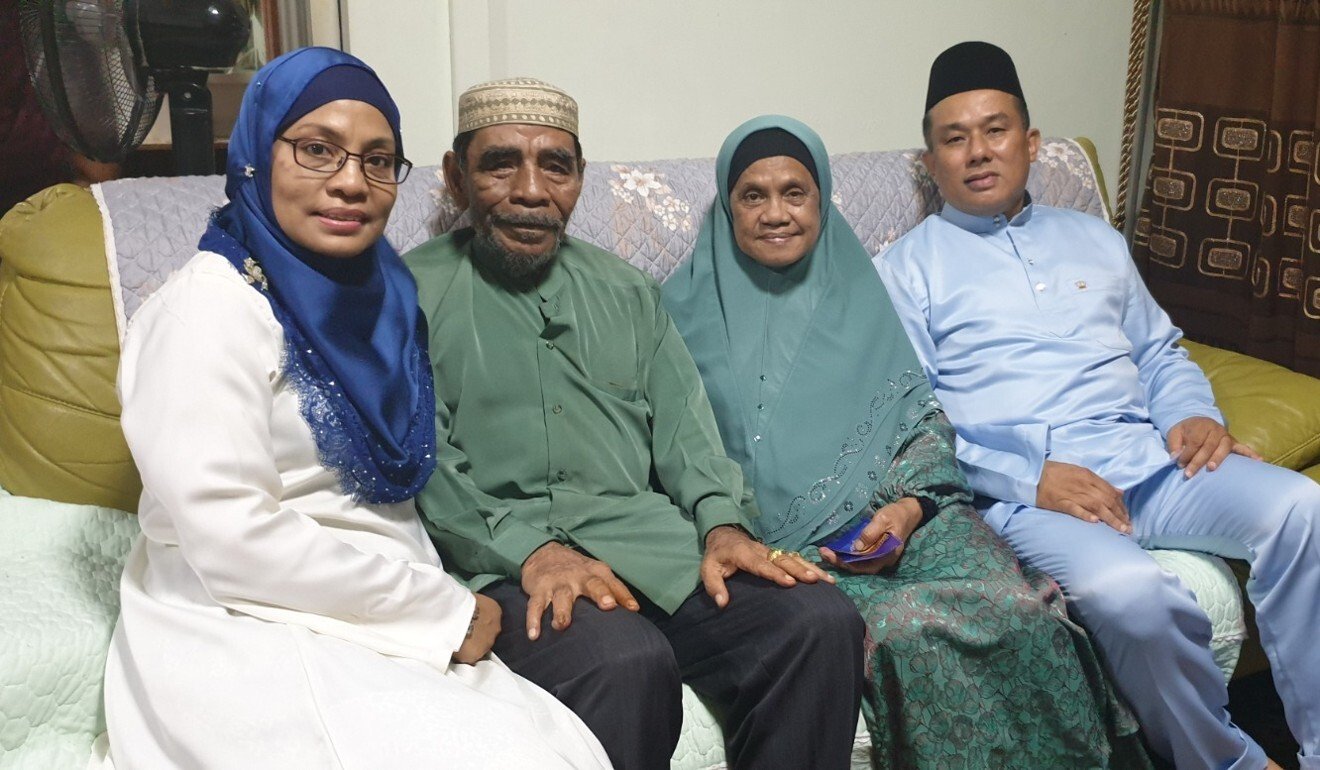 A handout photo of Masrifah Ayoob with her parents and husband during Hari Raya celebrations in Singapore last year.  PHOTO: South China Morning Post
Shamil Zainuddin, a research associate at the Institute of Policy Studies (IPS), said the lack of face to face visits will have the biggest impact on the elderly.
"Not having the company of their children or grandchildren on Hari Raya might be hard for them."
He added that many Muslims in Singapore have close relatives living overseas which may aggravate matters for these seniors due to the travel restrictions in place now.
However, it could also be an opportunity for seniors to become more digitally savvy. Aisya Amira Abam Malik, 23, a bank analyst, said her grandparents were upset that they were not able to give green packets in person this year, so she taught them how to send virtual ones instead.
"At first, they were disappointed because they needed help setting up [internet banking accounts].
"But after that, they found it interesting and learned that they can send money so easily, without physically going down to a bank," the bank analyst said.
Shamil said the younger generation can help their parents and grandparents overcome digital barriers.
"A relatively more youthful population, coupled with large families who live together, means less 'digital estrangement' during this Hari Raya."
To reach seniors who live by themselves, community, cultural and religious leaders should provide additional support, said Norshahril Saat, a senior fellow at Iseas-Yusof Ishak Institute.
"They [leaders] must convince the elderly of the light at the end of the tunnel … Exchanges of goodies, monetary contributions to the needy, and buying new clothes for them must still continue, and the only cultural practice that requires adjustments is visiting."
The academics agreed that while there is no easy solution as digital literacy is often tied to other factors, digital access remains paramount during this period.
"For those without such access, we must emphasise that this lack of access and knowledge can affect them adversely.
"In our rush to cope with the pandemic, we must not forget that inclusion should also be a priority in policies that emerge during this pandemic," said Pang.
This article was first published in South China Morning Post.