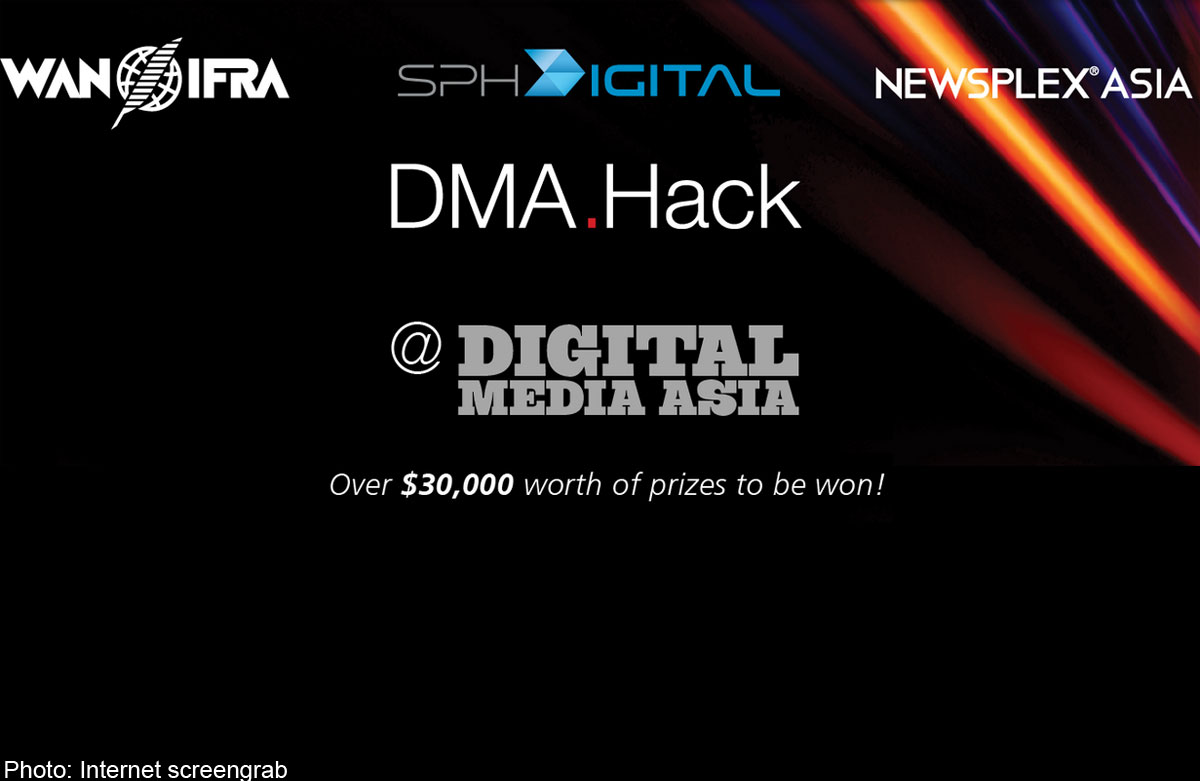 SINGAPORE - The Digital Media Asia Hack (DMA.Hack), is a hackathon focusing on advanced technologies aiding news delivery that will be held in Singapore from 14 to 16 November. Part of the World Association of Newspapers and News Publishers' (WAN-IFRA) global series of conferences on media, it is being co-sponsored by SPH Digital for the first time.
DMA.Hack is a component of the Digital Media Asia conference series where publishers, editors and technology professionals explore the latest technological trends in attracting audiences for news media companies.
The hackathon aims to support news companies with innovative solutions. It features teams that comprises technology professionals, journalists and entrepreneurs who would huddle together for three days to produce solutions answering the hackathon's theme on "Search and Content Discovery".
To facilitate this competition and make it as realistic as possible, SPH Digital will make application programming interfaces (APIs) available to all teams, allowing participants to retrieve real-time breaking news contents published on The Straits Times website.
Unlike traditional hackathons where participants were solely software developers, DMA.Hack teams consist of three to five members with at least one member coming from a non-technical field such as marketing, sales, design or even business development to complement the skillsets of developers.
The DMA.Hack will be launched at the National Design Centre on the evening of 14 November. Participants will be briefed by Mr Michael Chng, Group Sales Director of SPH Digital on the digital news landscape. Thereafter, teams will be left to brainstorm and work on their ideas at the Microsoft Auditorium on 15 and 16 November, where they will develop an app fitting to the theme.
Ms Tan Su-Lin, Deputy Head of SPH Digital and a jury member, said: "Such a hackathon serves not only as an accelerator for technological innovation within the news industry, but also helps us harvest innovative solutions at the end of the competition. DMA.Hack also stems deeply into SPH Digital's ethos of innovation, creativity and enterprising thinking, which has been the trend in the media landscape evolution."
Mr Gilles Demptos, Director of WAN-IFRA and the organiser of DMA.Hack, said: "Legacy media companies are constantly disrupted by the fast-paced transformation of the digital economy. In order to remain competitive with pure digital players, news organisations must become part of the innovation ecosystem formed by technology providers, start-ups and research centres. By organising this event as part of our annual Digital Media Asia conference, we hope to contribute connections and partnerships between news media companies, technology suppliers and the start-up community. DMA.Hack also hopes to increase the awareness and interest of young developers and tech entrepreneurs for the fascinating opportunities that digital media holds for the future."
Winning teams will walk away with prizes worth up to $30,000 after demonstrating their prototypes at the end of DMA.Hack on the evening of 16 November before the jury. Apart from the prizes, the top three teams will also have a chance to demonstrate their products at Digital Media Asia Conference, plus get the opportunity to pitch their winning idea to premiere venture capitalist Golden Gate Ventures.
The judges of DMA.Hack are:
Ms Tan Su-Lin, Deputy Head, SPH Digital, Singapore
Mr Alan Soon, Managing Editor, Yahoo! Southeast Asia, Singapore
Mr Kim Svendsen, Marketing Manager, CCI Europe, Sweden