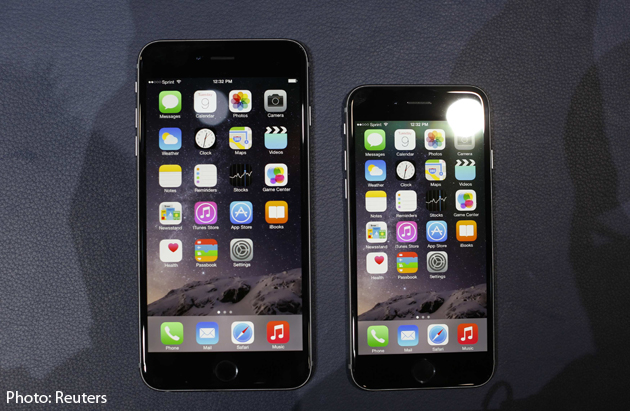 All three telcos, SingTel, StarHub and M1, will start offering the new iPhones from Sept 19.
But only StarHub users here will be able to make 4G calls on the two newly unveiled iPhone models for the first two months.
When the big-screen iPhone 6 and 6 Plus smartphones go on sale in Singapore on Friday next week, SingTel and M1's networks will not be ready to take advantage of the new feature.
M1 said it is testing 4G calls over its network, and expects to launch the service in November.
SingTel said its 4G calls service, launched in May, will be available to iPhone 6 and 6 Plus users "soon". It did not explain why. But sources said that the delay is due to "compatibility issues", requiring SingTel to tweak its 4G network.
Now, calls made by 4G customers are still on 3G networks. This is due partly to limited handsets: Only two other models - Samsung Galaxy Note 3 and LG G3 - support 4G calls.
But there are many benefits: 4G calls are much clearer, as background noise is eliminated, and call connection times are faster at one to two seconds, instead of six to seven seconds for 3G.
Another plus: Any Web surfing or online gaming can take place simultaneously without slowdown even when a 4G call is taking place. Calls made on the 3G network slow down surfing even among 4G phone users.
Consumers welcome uninterrupted surfing when a call comes through, but many do not see the need for higher-quality calls.
Advertising consulting director Benjamin Koe, 34, said uninterrupted surfing is crucial as he uses his phone for Web surfing, sending e-mail and reading e-books.
"I don't make many calls and don't talk for long," he said.
itham@sph.com.sg

This article was first published on September 11, 2014.
Get a copy of The Straits Times or go to straitstimes.com for more stories.