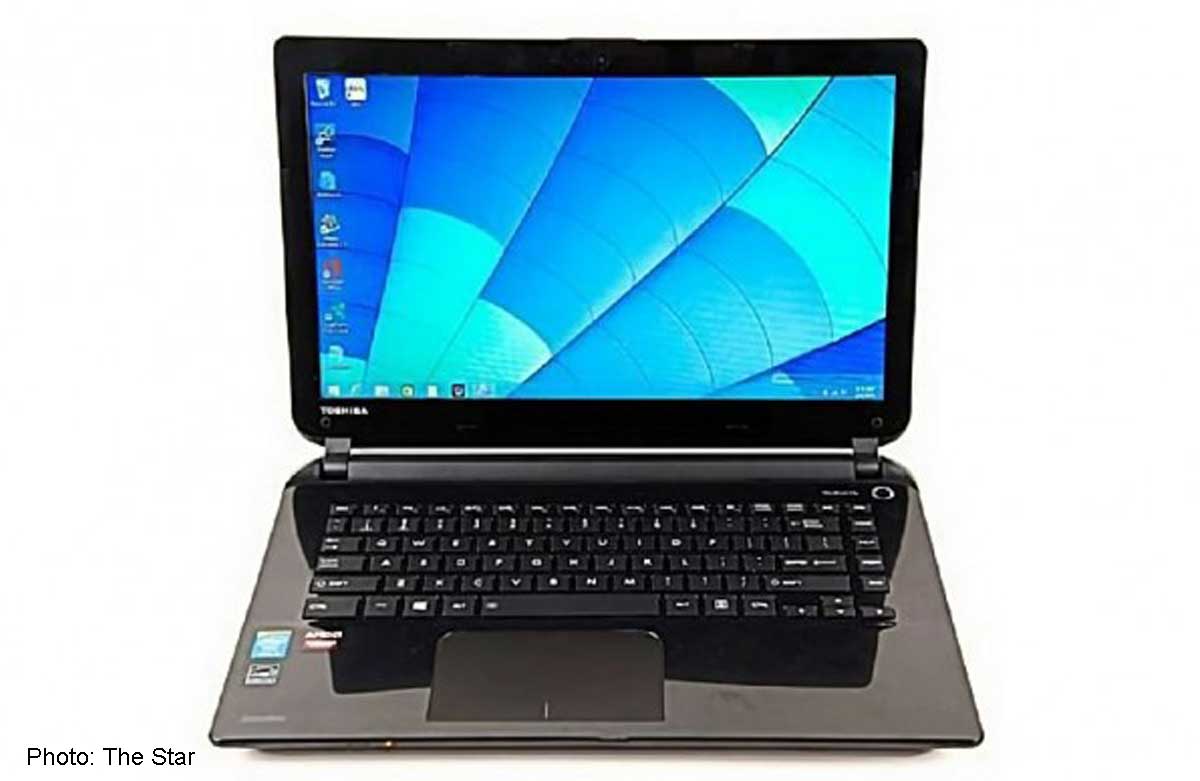 We often get high-end stuff for our reviews - after all, most companies want us to publicise their best machines.
So, it was rather surprising that Toshiba sent a regular workhorse laptop like the Satellite L40. It may be an entry-level model but it's not without standout features and it's a good all-rounder with a reasonable price.
So what does it offer the buyer? Read on to find out.
Aesthetically pleasing
Like many budget-priced laptops, the L40 isn't small and light by any means. At 1.9kg and nearly an inch thick, it's ideal for those that only need to take it out of the house occasionally.
Nevertheless, the design is quite nice - I like the L40's curves and the hinge is stiff enough to keep the laptop closed but will still allow you to open it with just one finger, without having to use the other hand to hold down the bottom half of the laptop, as you lift up the lid.
The keyboard is the usual chiclet style that every laptop on the market has right now and the key travel feels good.
The Synaptics touchpad on the L40 is generous - it's about as big as the ones found on MacBooks and has all the standard two-finger scrolling and tapping options.
In fact, the laptop feels very solid and well put-together.
There is one concession that Toshiba has made to keep the price down - instead of a 14-inch display with a resolution of 1,920 x 1,080 pixels, the L40 has a 1,366 x 768-pixel TN (twisted nematic) panel.
The resolution itself is fine if you're just browsing and doing word processing, but movie buffs or professionals who use Photoshop are going to miss the extra screen space and resolution offered by a 1080p display.
This being a TN panel, vertical viewing angles aren't all that great - the screen will darken even if you just tilt the screen a few inches backward.
Nevertheless, this is actually par for the course in this price range for every manufacturer although I really wish they would put in much better LCD panels into their machines at every price point. Surely it can't cost that much anymore, as even budget tablets come with IPS (in-plane switching) panels these days.
One surprising inclusion in the L40 is a DVD burner - optical drives are getting quite rare in laptops these days and it's quite nice to see that Toshiba still includes one, although at the expense of weight.
Stress test
On the performance front, the L40 actually does reasonably well. In addition to the built-in Intel HD graphics, the L40 also has discrete graphics in the form of AMD Radeon R7 M260.
This means that graphics performance is quite reasonable for games like Diablo III, although if you want to play more demanding games on it, you're going to have to seriously lower resolution and quality settings.
In any case, the L40 is not meant to be a gaming machine, but it's nice that you can play some games on it, albeit at lower settings.
Battery life on the L40 is about four to six hours with the brightness set to reasonable levels.
Of course, battery life also depends on whether you're using the built-in Intel graphics or the Radeon discrete graphics. The Radeon will give you more performance but at the cost of battery life.
The standout feature of this budget-friendly laptop has got to be the built-in Skullcandy speakers. I played a couple of movies and the speakers were loud and clear, which makes this a really good multimedia machine.
Like most Toshiba laptops, out of the three USB ports, there's a single USB port (in this case the one USB 2.0) that can be used to charge your mobile devices even when the laptop is powered down.
Conclusion
There's not much more to say about the Satellite L40 except that it's a pretty good laptop for the price point.
It'll be more than adequate for HD movie watching, photo editing, word processing and perhaps some not-so-demanding games.
I can't speak for the long-term durability of this particular model but based on past experience with other Toshiba models, I don't expect it to be any worse.
Pros: Reasonably priced; DVD burner built-in; stereo speakers are pretty good.
Cons: Heavy; screen could be better.