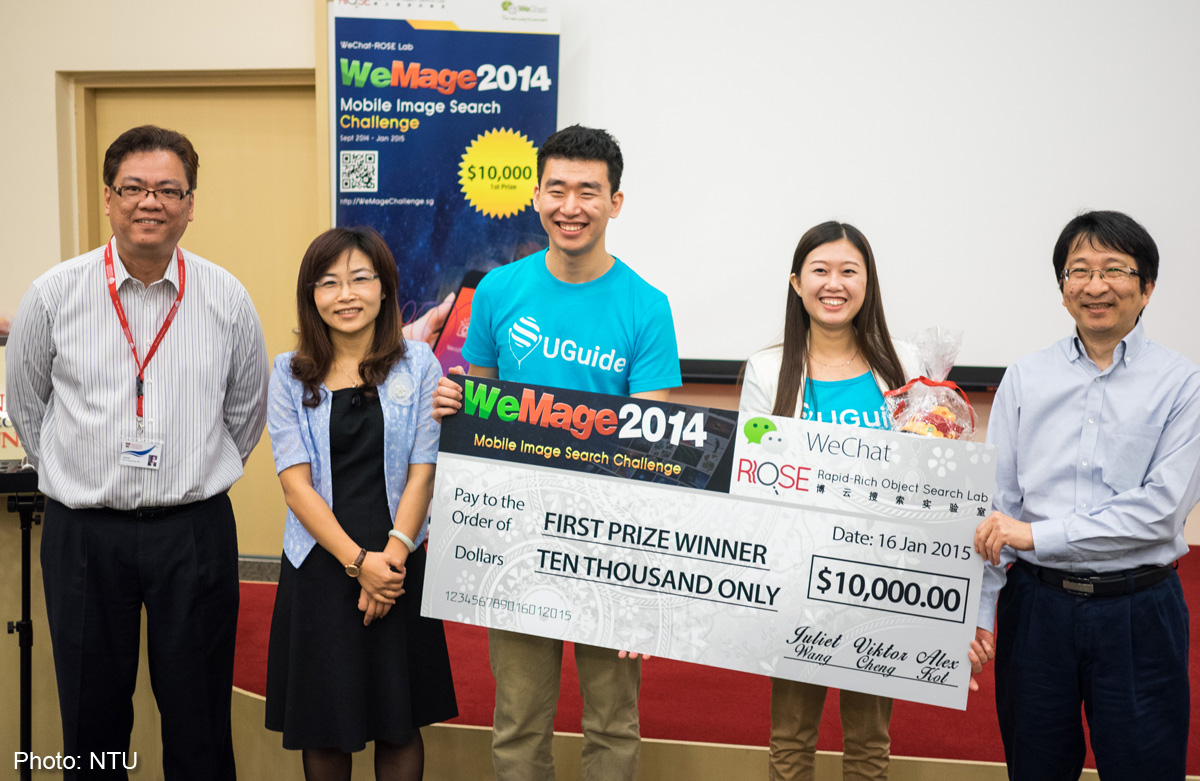 SINGAPORE - Developed by two students from the Nanyang Technological University (NTU) - engineering PhD student Liu Kai, 24, and undergraduate Li Jing, 22 - the UGuide app allows users to take a photograph of a building or landmark. Image recognition software will then pull up information of it from a database and provide an audio commentary about it.

Get the full story from The Straits Times.
NTU's press statement
NTU organises South-east Asia's first WeChat app competition
Participants develop mobile apps using made-in-NTU technology
Soon you may be able to take a photo of an iconic building using your smartphone and have its history read out to you through your ear-phones using an app called UGuide. Or you can take a photo of your lunch and have Market - A Foodie's App automatically fills in the dish name, price and the restaurant of origin for your social media posts.
Such innovative mobile applications were developed by the six finalists at the WeMage Challenge 2014, organised by Nanyang Technological University (NTU) and Tencent, one of Asia's largest Internet companies.
The WeMage Challenge is Singapore's first competition aimed at developing mobile applications for WeChat, Tencent's mobile messaging service which has more than 400 million active users worldwide.
The WeMage Challenge will see the winning team walk away with S$10,000 in cash. Tencent's first such competition in South-East Asia, it is supported by NTUitive and TechBiz Xccelerator, NTU's incubation and commercialisation arms respectively.
To develop the apps, participating teams must use the WeChat Smart Platform developed by Tencent's WeChat team and the Rapid-Rich Object Search (ROSE) Lab, a joint research centre by NTU and Peking University.
This free-to-download WeChat smart platform includes a breakthrough image recognition and search software that is faster than any other similar software currently available. This allows for a photo search function that can retrieve information on almost anything that a camera is pointed at.
Professor Alex Kot, Director of NTU's ROSE Lab and Associate Dean (Graduate Studies) for NTU's College of Engineering said, "The creative mobile apps designed by the participants are a clear indication of the strength and versatility of the rapid image search technology developed by NTU. We see a number of promising apps developed in this inaugural competition which have the potential to add new capabilities to the already ubiquitous smart phone. Some of theideas are taking us one step closer to turning what we see in science-fiction movies into reality." Ms Juliet Wang, Corporate Vice President of Tencent said, "Tencent attaches great importance to research collaboration with top universities. The academia-industry partnership with NTU and PKU through ROSE lab has proven very effective. We are very glad to see this challenge boost a lot of brilliant ideas on mobile visual application. We believe that the collaboration between Tencent and ROSE Lab will yield more mutually beneficial results in the future."
Chief Judge Mr Viktor Cheng, Chief Executive Officer of TechBiz Xccelerator, said he was very impressed with the quality of entries.
"Many of the finalists showcased creative solutions drawing upon the same application programme interface (API) platform - demonstrating once again that useful applications can be developed using API building blocks that contain complex algorithms like image recognition," said Mr Cheng, an experienced judge in start-ups and an expert on intellectual property. Such programming skills will become more prevalent in future where more people can easily custom build their mobile application using readily available API platforms."
The WeMage Challenge attracted 136 participants in 48 teams. The criterion for application was that each team should include at least one NTU student.
The 48 teams were then provided with training through Idea Creation workshops by NTUitive, as well as technical workshops taught by NTU professors and Tencent engineers.
A total of six teams made it to the finals today, where the top three finalists were offered the opportunity to be incubated at NTUitive should they wish to continue commercialising their application. If incubated, they will be granted up to $10,000 in seed funding.
The team who developed UGuide won the top prize, while Market - A Foodie's App was one of the two runner-ups, with the other being Image Retravel, which allows you to "travel back" using Google Street View to where you were, based on the photos you took on your holiday.
This inaugural WeMage Challenge is part of NTU's strive towards making a global impact in areas of Innovation Asia and New Media, two of the University's Five Peaks of Excellence. The other three peaks include Sustainability, Future Healthcare, and the Best of East and West.