For the anti-government protesters in Hong Kong, privacy is a priority. The cautious steps they have taken to protect their identities include wearing masks on the streets, paying for single-trip MTR fares with cash and using encrypted messaging apps.
Telegram, the most widely used app for the city's protesters to organise and disseminate information, is moving to provide additional layers of anonymity to its users - from new security setting that would effectively conceal their mobile phone numbers to the launch of its own cryptocurrency.
The planned security update to Telegram will allow protesters to cloak their mobile numbers, preventing authorities from discovering their identities in the app's large group chats, according to a recent Reuters report, which quoted a person with direct knowledge of the matter.
The app's new digital coin, called the Gram, will be released within the next two months, The New York Times reported last week, citing three investors who spoke on condition of anonymity because they had signed non-disclosure agreements with Telegram.
This cryptocurrency can be stored in a Gram digital wallet, which will be made available by Telegram to its more than 200 million users worldwide.
Those development show how technologies to avoid surveillance and persecution are not only becoming more sophisticated but also how there is a broader awareness today about the extent of digital snooping in the world.
Telegram's initiatives come at a time when the Hong Kong police force have made about 1,117 arrests since the protests in the city began in earnest nearly four months ago.
On Friday, police arrested prominent pro-democracy activists and three lawmakers in a crackdown ahead of a banned major march and what became the 13th straight weekend of anti-government protests.
In June, Ivan Ip, who served as administrator for a Telegram group that shared information about the protests, was arrested for conspiracy to commit public nuisance, which involved plotting with others to charge the Legislative Council complex and block neighbouring roads. Ip said he merely shared information online and did not take to the streets to protest.
Created in 2013 by Russian entrepreneur Pavel Durov, Telegram will make its security setting update available soon, according to the Reuters report. The app, which allows users to search for other users by uploading phone numbers, will offer an option to disable that matching system.
Telegram did not immediately respond to a request for comment via the app.
Telegram has become a popular messaging service in Hong Kong because it allows a group chat to have up to 200,000 members - nearly 800 times more than WhatsApp's maximum of 256. Marketed as a secure messaging app, Telegram also offers an encrypted "Secret Chat" function that makes such messages accessible only on the device first used to start the chat.
First-time installations of Telegram in Hong Kong surged in July, when the app gained about 110,000 new users, according to data from app analytics firm Sensor Tower. That was up from 26,000 users who installed the app in the same month last year.
To be sure, the decentralised messaging system that has made Telegram widely adopted by Hong Kong protesters is also why it has become popular with certain terrorist organisations, such as Islamic State, and white nationalist groups in the US. Telegram has moved to shut down public channels that promote violence in any form.
The app has also run afoul of certain governments. Iran blocked Telegram soon after protests started there last year, while Russia banned the app because it did not comply with laws that required encryption keys to be stored and handed over to the country's security service.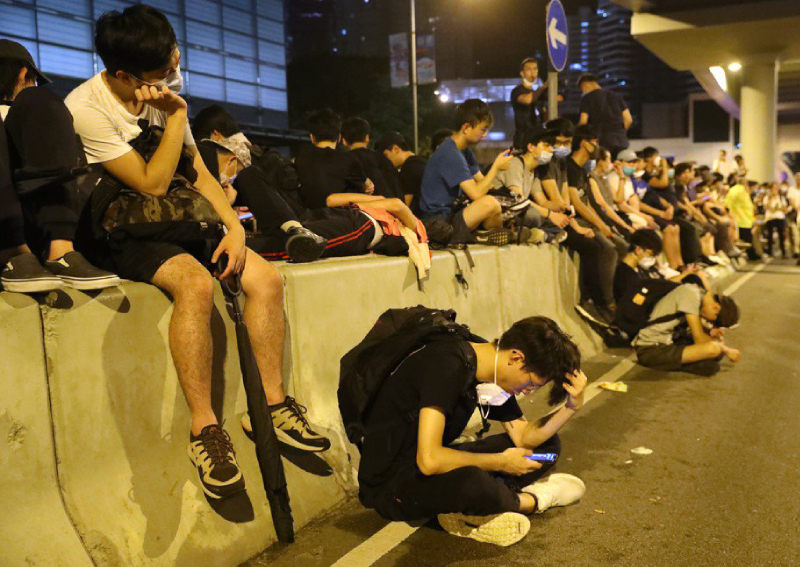 Hong Kong protesters' use of encrypted messaging apps, such as Telegram, on their smartphones provide them with more secure ways to communicate with each other. PHOTO: South China Morning Post
A larger worry for governments, however, could be when Telegram's own cryptocurrency, the Gram, is finally released and made available to its users. Telegram plans to deliver the initial batch of Grams to investors by October 31, or give back their money, according to legal documents seen and cited by The Times in its report last week.
Telegram raised a total of US$1.7 billion for its Gram, which would allow users to store them in a digital wallet available on the app. Compared with regular money, backed by governments and issued as legal tender when needed, cryptocurrencies like bitcoin and Gram are not under any central authority and its supply has a fixed, mathematical ceiling.
Like bitcoin, Gram runs on blockchain technology - a form of decentralised database - which automatically updates transactions across a network of computers. That means anyone who owns such digital money can make payments with it or transfer their money easily across borders, and in an anonymous manner. This could also mean Telegram has the potential of becoming a fundraising platform for social movements and militant groups.
https://twitter.com/CoinsandTech/status/1168439543483326464
Some human rights activists believe that cryptocurrency is an essential tool when it comes to helping drive social movements and preserving freedom in a connected world. "In my view, bitcoin is a similar phenomenon to democracy and the internet, technologies which respectively smashed the tyranny of political power and corporate control of knowledge," wrote Alex Gladstein, chief strategy officer for the Human Rights Foundation, in a recent article for the non-profit advocacy group Coin Centre.
Whether Telegram's launch of its cryptocurrency could help the protest effort in Hong Kong will depend on several factors, according to Steven Stalinsky, executive director of The Middle East Media Research Institute, which had studied how groups like Islamic States used cryptocurrency.
"It really depends on when Telegram releases Gram protests are still going on," said Stalinsky. "If Telegram is the most popular app that people in Hong Kong are using for communications [during protests], I would expect they would also use it for money."
Genesis Block, a cryptocurrency automated teller machine vendor, provided protesters on July 1 with water bottles and umbrellas, which were funded by international donations of bitcoin cash, a cryptocurrency spun off from bitcoin, according to a Forbes report. The bottles were also labelled with a QR code that allowed recipients to donate bitcoin cash to help fund further supplies.
Some merchants in Hong Kong have also accepted cryptocurrency for payments since the protests began. Department store chain operator Pricerite, for example, said on Monday that it would accept bitcoin, ethereum and litecoin at its shop in Kowloon Bay.
This article was first published in South China Morning Post.