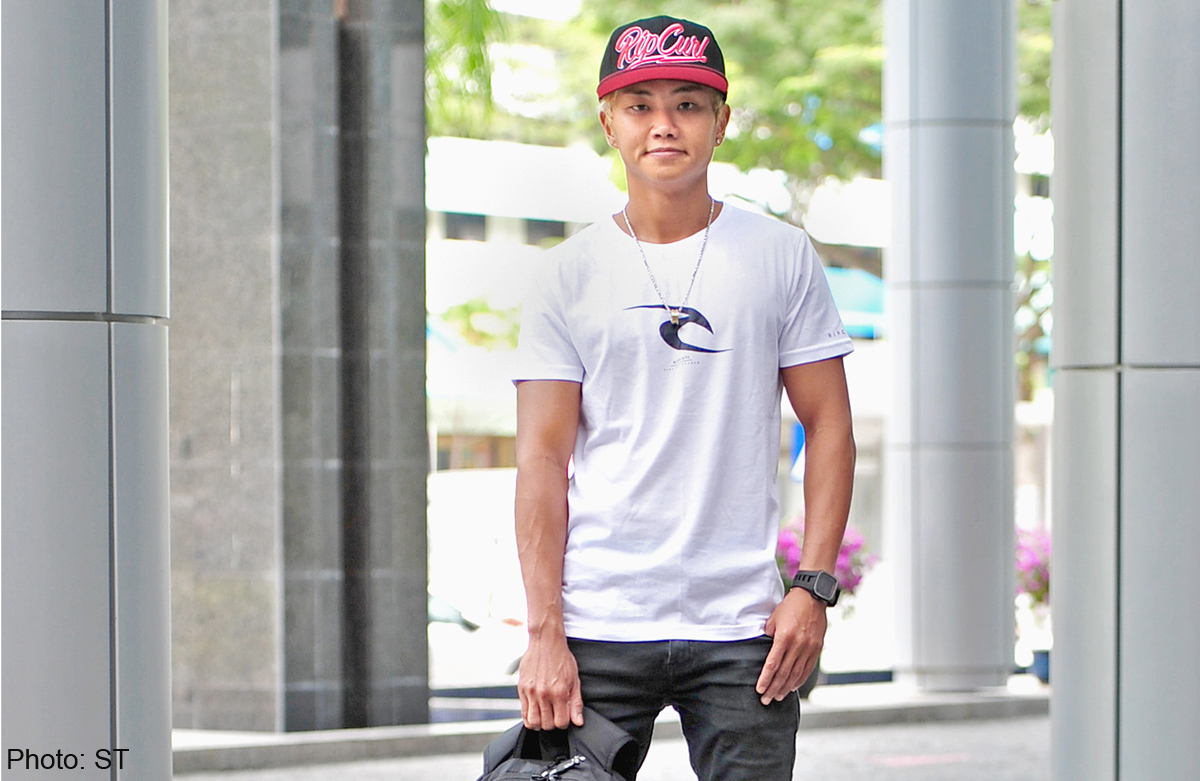 Visit Sentosa and you may just see Arthur Kor performing tricks at Wave House, effortlessly manoeuvring his board on the machine-generated waves.
Unlike in surfing, flowboarders ride waves generated by powerful pumps. The waves can move at speeds of up to 48kmh, over surfaces designed to replicate the shape of ocean waves, in a shallow pool.
Mr Kor, 31, has been flowboarding and competing for years. Flowboarding comes naturally to him. In his very first competition in 2009, he finished third.
He caught the eye of surfing sportswear company Rip Curl and sports equipment manufacturer Oakley in 2010. They decided to back him, making him the first sponsored flowboarder in the world.
To prove it was not blind luck, he won first place in the Barrel League 2012, and also in the Sony Freestyle Competition - Flow Barrel category last year. In Flow Jam 2014 last month, he came in third.
After Wave House opened at Sentosa in 2010, he joined them as a flowboarding instructor. By then, he had already been honing his surfing skills for years.
At 12, he was already surfing in Malaysia. While on vacation at Desaru in Johor, he would surf all day, catching the big waves churned up by the monsoon winds.
"I'd wake up at 6am for breakfast, then go surfing for six hours. A short break for lunch and I'd be back at it until sunset," he said.
This would be his routine throughout his family's three weeks at Desaru. No one else in his family surfs.
He said this of his obsession: "It's hard to put into words - you're surrounded by nature, just focused on catching that next big wave.
When I do ride that long wave, I feel stoked. It feels like the sea is my playground."
That passion led him to flowboarding.
"The board for flowboarding is smaller - you have to position your toes and heels and keep your centre of gravity differently from surfing. The tricks can be harder to perform but it feels great when I pull them off."
When he is not flowboarding, he is busy training to stay fit. This year, he launched Kor Dynamics, which offers fitness classes and flowboarding lessons. He was recently certified as a professional personal fitness trainer by the International Personal Trainers & Fitness Academy.
"Throughout my years in flowboarding, there were many times when people would tell me, 'Arthur, can you teach me how to ride?' I would gladly respond and give my 110 per cent to teach them," he said.
He is serious about helping people get fit, in part because of his own experience with injuries. Two years ago, he dislocated a shoulder after a trick went wrong and it landed him in hospital.
"I was told to stop all water sports for six months. This did not stop me from competing in the International World Championship qualifiers held in Singapore - I competed three weeks after my injury took place."
His decision turned out to be a bad idea which almost ended his career.
"To my dismay, my shoulder almost gave way. I had to give up."
His new aim is to help other surfers and flowboarders avoid making the same mistake.
"I realised that most of the flowboarding and surfing enthusiasts in Singapore don't do regular workouts to keep fit and injury-free," he said.
"I want to change that. I want to promote and encourage the importance of a healthy lifestyle."
OAKLEY SUNGLASSES

I have two pairs, one is a Frogskins and the other is an Oakley limited-edition model to mark its 30th anniversary. They help to protect my eyes especially when I go for my runs and my physical training classes.
RIP CURL TRESTLES PRO TIDE
I've had this watch for five months and it's great for surfing and flowboarding. It tells the tide level and even the lunar phases. It's comfortable and waterproof, so I wear it all the time.
GOPRO HERO 3+
I use this to record my own flowboarding sessions, so that I can replay and see how to improve in the future.
SONY WALKMAN W262 This was a prize for winning a competition. It's waterproof so I can listen to my music underwater and it helps motivate me to keep moving.
SONY WALKMAN W262
This was a prize for winning a competition. It's waterproof so I can listen to my music underwater and it helps motivate me to keep moving.
Background story
WHO:Arthur Kor, 31, is a professional flowboarder, the first to be sponsored by Rip Curl and Oakley. He has won several awards in flowboarding competitions and recently started his own company, Kor Dynamics, to offer personal fitness and flowboarding classes.
HIS RIP CURL BAG: This was a gift. I've had it for about four months. It's water-resistant and stores all my stuff, even my skateboard.
This article was published on Aug 13 in Digital Life, The Straits Times.

Get a copy of Digital Life, The Straits Times or go to straitstimes.com for more stories.