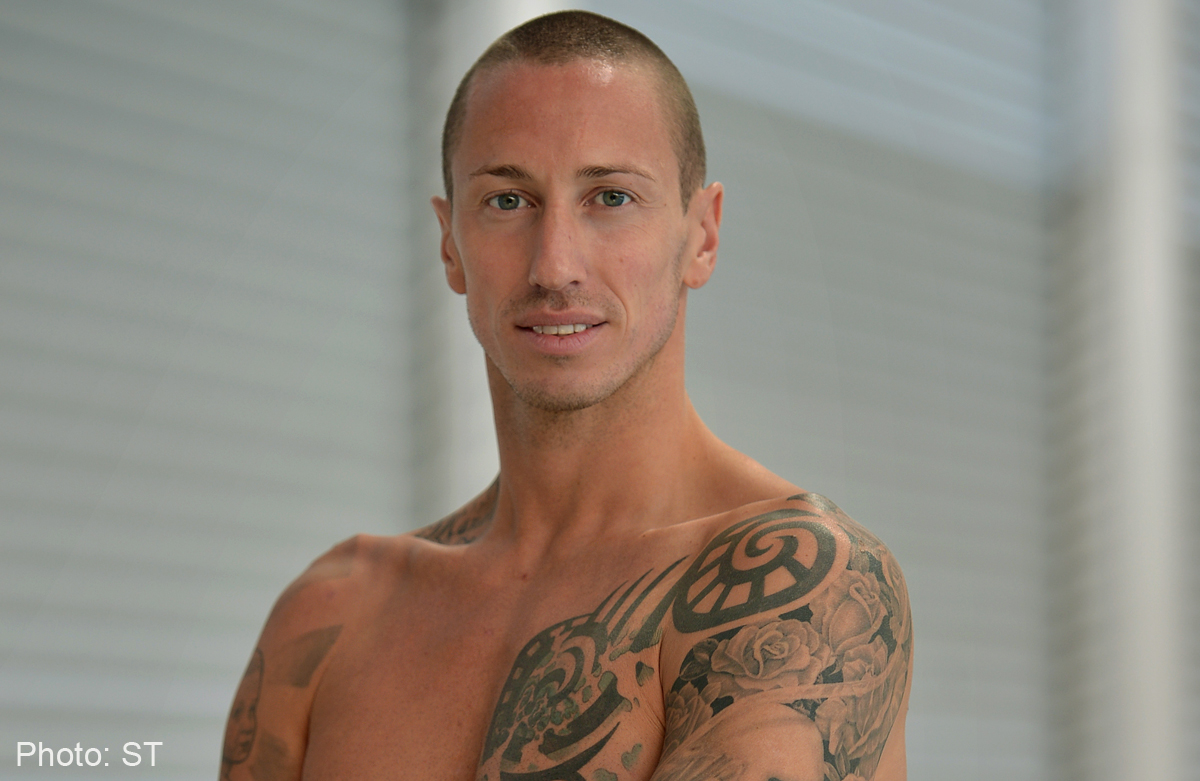 It is hard not to stare at French swimmer Frederick Bousquet's body. Not because it is lean and muscular as one would expect of a top athlete, but because it is covered in tattoos.
"I started getting tattoos when I was 16. It was really bad, as in France, you are allowed to have them only when you are 18," he said.
His sister signed the parental consent form required for him to get his first tattoo.
"My parents were okay with it when they found out a few weeks later," he added, laughing. Getting tattoos is a way for him to express himself, he explained.
Bousquet, 33, will be here this weekend for the inaugural Prudential Singapore Swim Stars meet, though he will not be competing as he is recovering from shoulder surgery.
Instead, he is the sports director for the competition, which entails inviting his friends in the swimming fraternity to Singapore. "I call them, e-mail them or WhatsApp them and tell them about this new major swimming event that we are putting on here," he said.
Unlike conventional swimming meets that may take up to eight days, the Singapore Swim Stars event lasts just two hours.
"It is a one-shot. You get one opportunity to win or to lose," he said.
Among the swim stars expected to make their splash at the Sports Hub's OCBC Aquatic Centre are four-time Olympic gold medallist backstroke specialist Kosuke Kitajima and 100m freestyle Olympic champion Nathan Adrian.
As he counts the 50m freestyle his pet event, Bousquet is most excited about the speed tournament format for the 50m freestyle at the meet. This is how it works: Eight to 10 swimmers compete in the first round, then the number is whittled down to four, then the top two compete one-on-one. Between each round, swimmers get only 30 minutes to recover.
He rated going under 21 seconds in the 50m freestyle as one of the best moments in his career so far. "So far, there are only two men who have done this. I wrote history. I might not be the only one but I was the first," he said.
The current 50m freestyle world record holder Cesar Cielo from Brazil is the other. The two swimmers were roommates when they trained in the United States between 2007 and 2010.
"It is all very friendly. I'm actually very good friends with Cielo," said Bousquet.
As a child, he dreamt of being a professional footballer. But his hopes were crushed when he was 12.
"I grew up very quickly, but my bone structure was weak. Every time I fell, I would break something - my wrist, my ankle, my knee," he said.
The Marseille resident still follows football and is a fan of his local club, Olympique de Marseille.
He took up swimming because his doctor's other suggestion - ballet - "was and is still not an option". Because of his late start, his swimming technique was not as good initially as that of other competitive swimmers who had started at a younger age.
Now, he believes that he is still able to compete at 33 precisely because he started late and is not sick of swimming yet. But he would not push it beyond the 2016 Olympics, he said.
Catch Bousquet and his fellow swim stars from Friday to Sunday at the OCBC Aquatic Centre. Tickets are priced from $30 to $160.
---
WHO: Swimmer Frederick Bousquet, 33, has represented France in freestyle and butterfly at the very top level, including the Olympics and the Fina World Championships. In
2009, he set a then world record time of 20.94sec for the 50m freestyle, becoming the first person to complete it in under 21 seconds.
HIS APPLE IPHONE 5s: I don't use any apps for training. I take it along mainly to listen to music.
Facebook
I use it to update my Facebook page www.facebook.com/FredBousquet . Officiel and interact with my followers. (At last count, he had more than 49,000.)
L'Equip.fr
This is a French sports newspaper. I am a fan of all sports and like to keep updated on what's happening.
The Weather Channel

I use this app a lot. It allows me to have weather updates anywhere. It is pretty accurate too. I enjoy using it and find it very useful when I'm travelling.
Uber
I use Uber when I don't really know the transportation system, such as when I'm in Singapore or in Paris. I am from Marseille and every time I take the subway in Paris, I get lost. Taxis in Paris are so expensive and they never stop. Uber saved my life there. It is the most useful app on my phone.
This article was published on Sept 3 in Digital Life, The Straits Times.


Get a copy of Digital Life, The Straits Times or go to straitstimes.com for more stories.