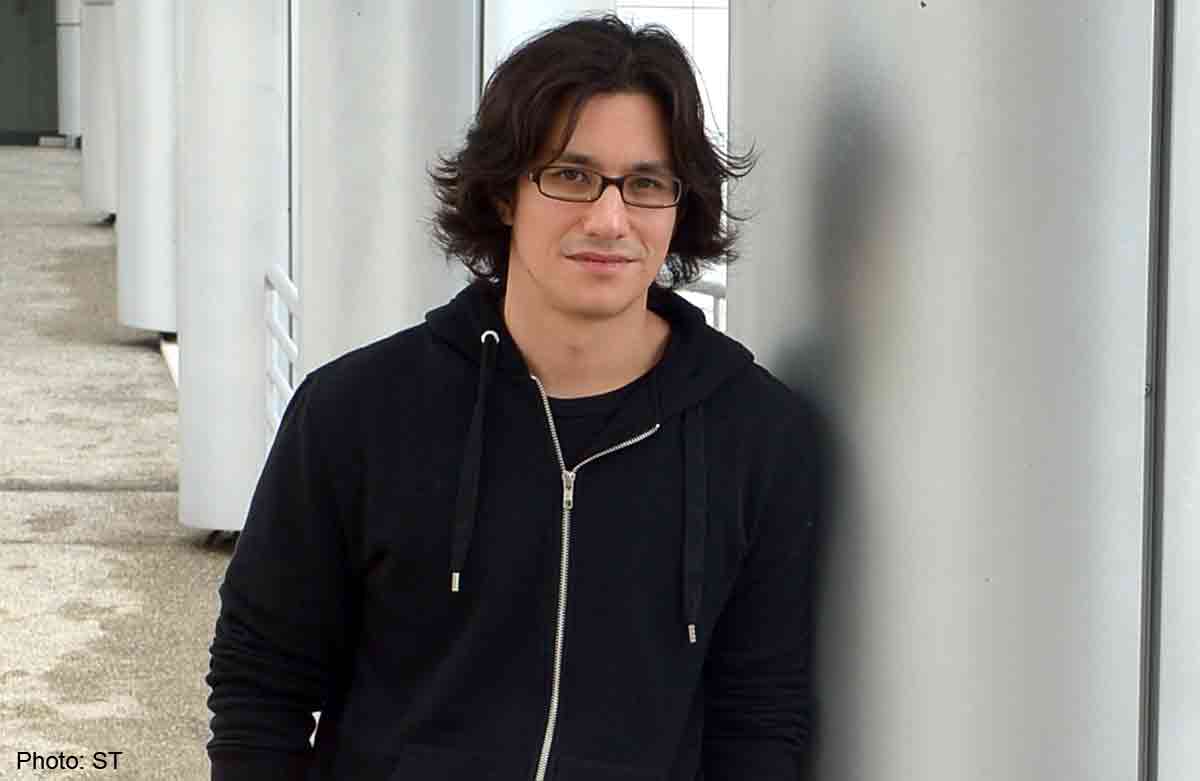 It was pouring the day I met Gavin Yap. Huddled inside his jacket, the boyish-looking actor does not look his age - 37 going on 38. Short and slim enough to pass as a student, he reminds of Back to the Future actor Michael J Fox, but a Malaysian version.
But his stature belies his huge and versatile talent. He has tried almost everything in the industry - acting, directing and writing - except singing ("If I could sing, I would do it, too") and has won accolades for his work, including the 2007 National Arts Award in Malaysia for directing.
Singapore audiences may remember him as Cecily Cardew in Wild Rice's production of The Importance Of Being Earnest (2013), and as the male lead Tom in Pangdemonium's Fat Pig last year.
In Tribes, he is working again with Pangdemonium. The play, which also stars Adrian Pang and Ethel Yap, is about "a very eclectic English family, who are kind of closed off from the outside world".
"It's a very funny play, but it has a lot of very real moments. People who see it will definitely recognise certain elements of their families in it, not to say theirs are like that. You'll recognise the archetypes," he said.
His own family is unusual by most standards. His mother is Scottish-Irish and his father is Chinese. Gavin was born in London, though he has spent most of his life in Malaysia.
"I'm Malay-educated, never went to an international school. I lived in the United States for a few years, then Britain for a few years," he said.
Approached by a talent scout when he was eight, Gavin started acting in commercials and TV dramas, and acted in his first movie at 13 - "a heist film, a terrible show".
Last year, he wrote and directed a full-length movie about a hitman, Take Me To Dinner. The film, made for less than 10,000 ringgit, is the subject of his upcoming book, A Decade Of Favours.
"Over the years, a lot of people have come up to me and said that if I ever made a movie, they would help me out. When I couldn't wait any more, I called in every single favour that was owed. If I had to pay for everything I got, the cost of the movie would probably have been six figures," he said.
To tie in with his book, Gavin plans to release Take Me To Dinner as a digital download later this year. He is still deciding if he should put it online for free.
He wrote and directed a short film last month - The Incredibly Strange Tale Of The Man Who Lost His Love But Bought It Back With A Packet Of Duck Rice. It will be available for free on YouTube in July.
"I actually wrote the script while I was in Singapore in 2013. It is based on about five or six different conversations that I had with five or six taxi drivers," he said.
He has no preference for acting, directing or writing.
"I enjoy all of them, just as much as I don't enjoy all of them. None of them gives me pleasure to the point where I can say I would do that for the rest of my life."
However, he finds directing the most relaxing and therapeutic. Acting is stressful "because you get so wrapped up in what you're doing, you become very self-absorbed".
"I get bored very fast; I need different things to jump to when I get bored of one thing," he added.
His next jump will see him curating his first art show on Malaysian pop culture in August.
"I collect poster art as a hobby. I have been into that for a long time, and one day, I told myself, 'you've been buying this stuff for so long, it's time you create your own'."
---
Tribes script
I read the script at least four or five times a week because you constantly discover things that you might not have noticed before. I have this bad habit of never taking notes. So I listen and then I'll sleep on it.
When I read my script again, I'm reminded of the missing notes.
---
Samsung Galaxy Note 2
This is my first smartphone. I use it for very simple things, like making calls and sending messages.
The only apps I use on a regular basis are Twitter and Instagram and that's more for work. I used to have Facebook but I got rid of it because of all the notifications.
My phone is always on silent. I hate the sound of a phone ringing.
---
Holy Cow by David Duchovny
I'm a big X-Files fan. When I found out that David Duchovny was writing a book, I figured I've got to check that out.
It's told from the perspective of Elsie, a cow. I'm at the point of the story where she finds out why cows are raised and she's freaking out about that. It's also a morality tale and the horrors of the meat industry.
---
Apple iPod touch
I'm a huge music fan. I have always liked listening to music on the go.
I usually make up different playlists when I'm doing different shows. With Tribes, I'm listening to a lot of instrumental and classical music, like the Cloud Atlas soundtrack. The music gets me into the mindset.
---
Empire magazine
I'm a big movie fan, though I haven't seen anything recently because I'm busy rehearsing. I like the tangible copy and I buy it most months.
This article was first published on May 28, 2015.
Get a copy of Digital Life, The Straits Times or go to straitstimes.com for more stories.