After a long and exhausting shift driving his taxi, 33-year-old Wu Fuchun pulled over to find a toilet. Five minutes later, a message popped up on his phone saying his car had been parked in the wrong place, in violation of traffic laws.
What came next was three penalty points on his licence and a fine of 200 yuan (S$39).
Far from being surprised, Wu accepted his fate, as being fined like this is nothing new in Chongqing, officially the world's most surveilled city.
As of 2019, Chongqing had about 2.58 million surveillance cameras covering 15.35 million people, meaning about 168 cameras per 1,000 people and even higher than the number in Beijing, according to an analysis published in August by Comparitech, a website providing research on tech services.
Out of the top 10 cities in the survey, eight are Chinese with only London and Atlanta making an appearance from the Western hemisphere.
Closed-circuit television (CCTV) cameras can be seen almost everywhere in this mountainous city in southwest China. Whether it is to monitor traffic, prevent petty theft in restaurants and supermarkets, or monitor public safety in parks and shopping malls - you can be sure there is a camera following your every move.
First-tier cities like Beijing and Shanghai already employ surveillance cameras plus AI and facial recognition technology to regulate traffic and identify drivers who violate road rules. While in Shenzhen, jaywalkers will not only be publicly named and shamed on large LED screens, they will also be notified of their wrongdoing and fined via instant messaging.
But why does Chongqing take the crown and not, say, a tech hub like Shenzhen, which came second in the survey? The answer depends on who you ask.
Some experts say the legacy can be traced to a high-profile campaign to crackdown on organised crime and gangsters under the rule of Bo Xilai, who served as the Communist Party secretary in Chongqing from 2007 to 2012 - before he himself was put on trial for corruption and imprisoned. The campaign involved the launch of major electronic surveillance operations in the city, with wiretaps, eavesdropping, and the monitoring of internet communications.
Surveillance cameras on Chongqing streets, October 2019. PHOTO: South China Morning Post
Others point to Chongqing's prominent role in the "Skynet Project", China's national surveillance system which has more than 20 million cameras in public spaces across the country, according to state media. Dedicated to "live surveillance and recording", there are plans to add millions more by 2020.
State media describes Skynet as the world's biggest surveillance network, calling it "the eyes that safeguard China" - but it has also led to fears about the impact of constant surveillance on the public at large, and that it might be used to target dissidents.
"With its lack of actionable privacy rights, a long-standing commitment to surveillance, and political commitment to developing technology, it's not a surprise that China is high in these rankings," said Sophie Richardson, China Director of Human Rights Watch. "Increasingly people across the country cannot live outside the state's line of sight."
Repeated calls to the Chongqing Public Security Bureau seeking comment from authorities on the rankings were not answered.
What is striking though is that while some Chongqing residents were surprised by its No 1 surveillance ranking, some see this as a good thing.
"It's better to have more surveillance cameras," said cab driver Wu. "It gives people a sense of security and there are fewer crimes. It is really good."
After being a taxi driver for over three years, Wu also recognises the different types of cameras on the streets and their purpose.
Cameras packed inside long white cuboids and installed on metal frames over streets detect driving speeds and whether seat belts are fastened, says Wu, while cameras with rotating lenses in central business districts and shopping zones detect illegal parking. Cameras installed on tall metal poles near big traffic crossings monitor the volume of vehicles on the road and can adjust traffic light intervals accordingly.
Meanwhile, cameras with a spherical lens can zoom in and monitor public safety in large open spaces.
Liu Gangqiang has been a taxi driver in the city for six years, and he concurs with Wu - the surveillance camera network helps to prevent traffic accidents and can guard against unruly passengers.
He recalls when a passenger lost her bag in his car. She did not remember his number plate but managed to find him after calling the local taxi management platform, which recognised Liu's car via surveillance camera footage. The passenger got her bag back within hours.
But what about the privacy concerns that have seen US cities such as Oakland and San Francisco ban local police and other agencies from using such facial recognition technology because of the potential for abuse? A legal challenge has also been mounted in the UK against the use of facial recognition tech by police, on the grounds that it constitutes an unlawful violation of privacy.
In line with many people in China who appear willing to trade some privacy for extra security or a practical improvement in their daily lives when it comes to new tech adoption - Wu does not seem unduly worried.
"There is no impact [on personal privacy] if you do not steal, rob or break laws," he says. "You just do what you should do. It is not really relevant to privacy since they [government departments] have not installed cameras in your home."
Liu agrees with his fellow taxi driver.
"As long as they [the surveillance cameras] do not shoot inside my bedroom and bathroom, it does not matter. Why do we need personal privacy in public spaces?"
However, cameras have recently moved from being outside cars to in them. Taxis in Chongqing older than six years now have to be scrapped and the new models have cameras inside, says Liu.
According to an announcement on the official website of the Chongqing Traffic Bureau in 2018, 15,000 licensed taxis will be upgraded with internal cameras to monitor if drivers smoke and to ensure that drivers are properly identified against a registered database.
"Subconsciously, I'm a little repelled by the notion of having a camera inside my car," says Liu. "It makes me feel that an eye will be staring at me. But I have to get used to it. As long as I want to do the job, I can only accept it."
Another Chongqing resident, 41-year-old Tu Jianquan, says that when his daughter attended a private kindergarten there were surveillance cameras inside the classroom and parents could monitor what their kids were doing in real-time.
"When she first went to kindergarten, my parents were really worried," says Tu. "I had to open the computer at home and they would stare at the screen [to see what she was doing and gain reassurance]."
To be sure, Chinese citizens have voiced concerns about omnipresent surveillance and Tu himself said he would not want to be watched by a camera inside a taxi in case his personal phone information is harvested without his knowledge.
International activists have also warned about how the technology might be used for wider state control.
"I'm pretty sure cities in Xinjiang and Tibet are under even tighter surveillance but obviously independent researchers have no access to the regions," said Patrick Poon, a researcher with Amnesty International's East Asia office.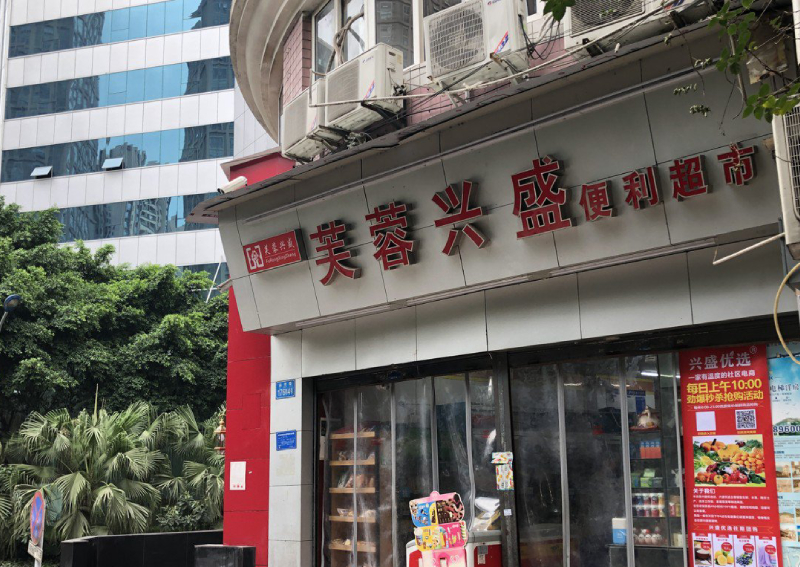 Chen Yuan, a convenience store owner in Chongqing has installed five surveillance cameras inside his 60-square-metre store since 2015. PHOTO: South China Morning Post
According to a 2018 Bloomberg report, a facial recognition system was used in a Muslim-dominated village in the western region of Xinjiang that would alert authorities when a targeted person moved more than 1,000 feet beyond a designated "safe area". This formed part of the so-called Xue Liang [sharp eyes or public shaming] surveillance campaign, an extension of Skynet that mainly targets less developed areas.
What is not in doubt is the boom for camera makers and security firms as a result of China's passion for surveillance.
The value of China's video surveillance equipment market (excluding home video surveillance) reached US$10.6 billion (S$14.6 billion) in 2018 and is expected to reach US$20.1 billion in 2023, according to a report by market research firm IDC in August.
"This is mainly because of the construction of smart cities. On the one hand, existing smart city projects need to be constantly upgraded. Urban security and traffic management are related to video surveillance," said Richard Lu, an analyst from IDC. "In addition, China's urbanisation rate is still increasing and more new smart city projects are appearing."
The IDC report revealed that government spending accounted for 47.6 per cent of the total spending in China's video surveillance industry in 2018, with the transport sector accounting for 10.7 per cent and education services for 7.1 per cent.
And China is the main driver of expansion in the global video surveillance market.
In 2018, the country accounted for nearly half (45 per cent) of global video surveillance revenue worth US$18.2 billion. Excluding China, the global market grew by just 5 per cent, according to research firm IHS Markit.
"A major factor … is the government's Xue Liang programme, which promotes investment in both city surveillance projects and the extension of city surveillance systems into surrounding rural areas," said Jon Cropley, principal analyst with the IHS Markit video surveillance and security services group, in a report published in July.
"The Xue Liang programme is forecast to conclude in 2020, causing China's growth to decelerate after that," said Cropley. "However, in the meantime, Xue Liang will continue to generate strong growth for the Chinese and global surveillance equipment markets."
Meanwhile, surveillance in China's private sector is also increasing - with practical concerns driving adoption.
Chen Yuan opened a convenience store in 2015 and installed five surveillance cameras inside his 60-square-metre shop. Four cameras take footage from different vantage points and there is another to monitor activity at night. If somebody tries to break-in, an alarm sounds and Chen also receives an instant text message.
It cost him about 2,000 yuan to buy all the equipment, including a monitor beside the cashier. Chen said that most shop owners do the same.
"This system has helped me catch thieves several times. Even if I called the police [for theft], they would just file the case," said Chen. "There is little chance that I can get the cashback as it's a small case with little money involved."
This article was first published in South China Morning Post.