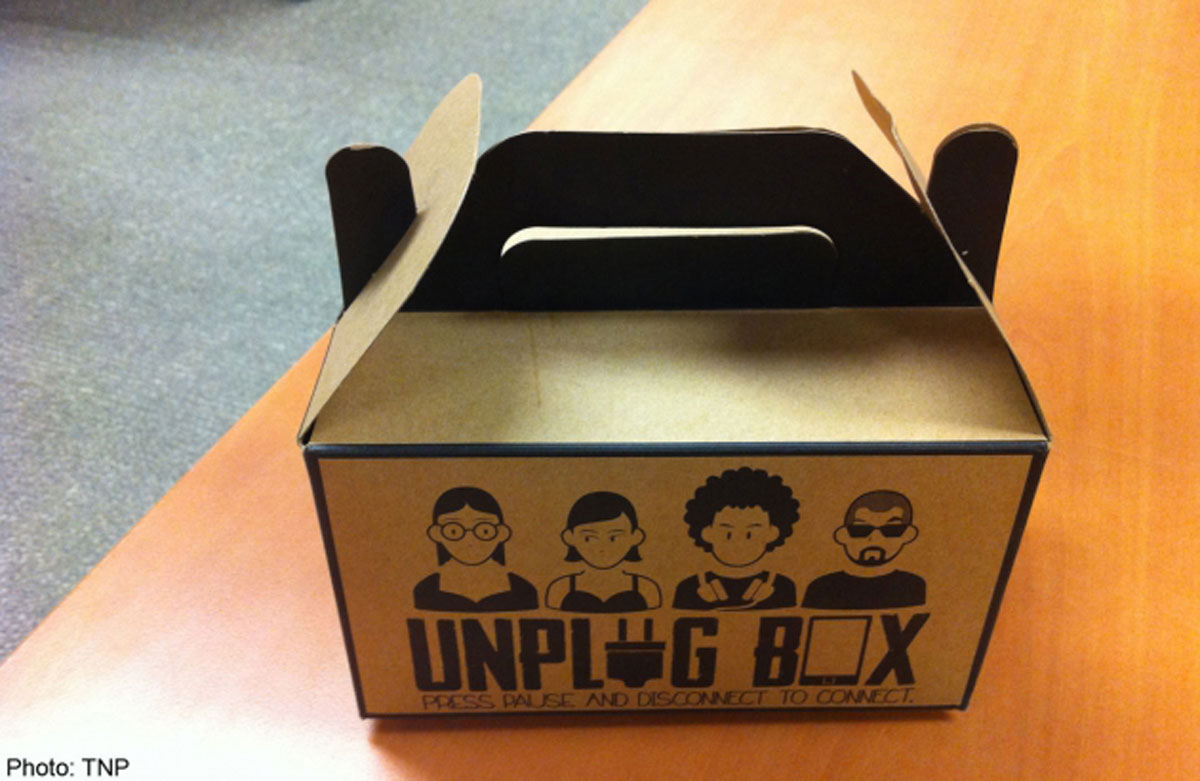 Among the condiments on the table at The Manhattan Fish Market's United Square outlet stands a cute-looking cardboard box that reads Unplug Box.
If diners were to put their phones in the box and finish their meal without touching it, they would be rewarded with a $5 dining voucher.
This is part of a campaign that The Manhattan Fish Market rolled out in mid-January to change the obsession that Singaporeans have with their smartphones and encourage them to connect with their friends and family.
The campaign was to coincide with Chinese New Year and a total of 10,000 boxes were produced and distributed to the various outlets for the one-month long "Unplug" campaign.
It was brought back for Mother's Day and Father's Day because of the good reception.
The campaign is over at most of its outlets as they have run out of the boxes, which are given to customers on request. The United Square outlet is continuing as they have 200 left.
A spokesman said the campaign was very successful during the Chinese New Year period and more than 70 per cent of customers took up the challenge.
She said: "We noticed that a lot of our guests are connected to their phones during meal time. So we wanted to encourage people to disconnect and engage in conversation with their family."
She also said that the restaurant has had tourists writing in to request for the box, students asking for general advice on how to carry out a similar project, and a lot of people commenting positively on their Facebook page.
Since there was such a positive reception, the spokesman said they would consider the possibility of bringing the campaign back again.
SOLUTION?
When asked if there is a permanent solution to change Singaporeans' gadget obsessions, she said: "I think this campaign is quite a good start. At least it allows people to be aware that something is wrong, gets them to think about their eating habits, and gives them some tips and tools to re-connect."
The United Square outlet's supervisor, who gave his name as Maung, 24, said: "A lot of people participated in the campaign when it first started, but the take-up rate is not as high nowadays.
"Many people said they need their phones to take photos or that they are waiting for someone when we told them about the campaign."
When TNP went down to the outlet at about 3pm on a weekday, none of the four tables with about 15 diners in total took up the challenge in the thirty minutes that we were there.
Of these, five were using their phones while the rest were chatting away.
Those on their phones were so engrossed with social media like Instagram and Twitter that they would look up and chat for a while before going back to their phones again.
Two ladies in their late 30s chatted and used their phones at the same time.
Mr Heng Chia Ang, manager at the Bugis+ outlet, said that as a lot of his customers are office executives during the lunch hour rush, most of them "won't even take notice of the box".
He said those approached gave the same reasons Mr Maung was told.
Some, like the group of seven at the United Square outlet, did not even know what the box is for.
When told, a man in his 50s said he could have easily won the voucher, then pointed to the younger ones in the group and said: "But I don't know about them."
Encourage social contact and etiquette
Ms Jayanthi Manohar, a counsellor at the National Addictions Management Service, said: "An addiction is present when compulsive use is involved and where that leads to significant impairment in the individual's domains of life.
"We have not seen cases that present purely with smartphone addiction. We do, however, see cases of excessive Internet use in which smartphones are among the gadgets that enable such excessive use."
Consultant psychiatrist Brian Yeo, 53, said one of the reasons why those who use their smartphones excessively cling to their gadgets is because they do not want to feel lonely.
Said Dr Yeo: "Smartphones have moved on to be more than just a phone - it can keep people in contact with large groups, it is a storage device and also serves as a camera, among its many other functions.
"So unfortunately, it has become a normalisation of life where it seems like if you are not part of it, then you are out of it."
When asked if there is a way to get people to use their phones less, he said the draw must be towards the other direction. He said: "We should tout the advantages of face time, social contact and etiquette so as to encourage people to engage in more face-to-face interactions."
Mrs Karen Quek, 54, a parent of two sons in their 20s, said her children used to be very engrossed with their phones during mealtimes.
"They seemed to be in their own world and it felt like they were not there with you. I was very angry because it was very impolite and disrespectful," the administrative manager said.
She laid down the rule about five years ago, saying there should be no phones while eating.
She said: "They complied and they don't use their phones during meal times anymore, unless when it is for something urgent."
Ms Jayanthi gave some tips on how to guard against excessive use:
- Recognise the pattern and frequency of usage
- Set clear boundaries on usage and keep to them. For example, not using it during a meeting or dinner
- Listen to family or friends because they can recognise warning signs
- Engage in healthier activities to relax or to cope with stress
- Maintain a balanced lifestyle. Dedicate time to eat, sleep and exercise
- Avoid using it as the preferred choice of communication. Make the effort to have face-to-face meet-ups instead.
yueys@sph.com.sg
Everyone is doing it
Report by Darishini Thiyagarajan
darit@sph.com.sg
Does cellphone usage during meals vary according to the type of restaurant or the age group of the diners?
The New Paper's team surveyed eight eateries over three days, observing the phone habits of Singaporeans during mealtimes.
We went to Marina Square, Bugis, Suntec City, Junction 8, Joo Chiat, Serangoon Gardens, Lau Pa Sat and Marina Bay Sands.
WHERE: Marina Square food court
TIME: Thursday evening at about 7pm
WHO: Elderly couple
There were people of all age groups using their smartphones, be it to text, surf the Internet, update social media or to speak with someone.
An elderly couple were engrossed in their smartphones.
The woman was caught up playing Bejeweled, a game that involves swiping jewels around to get the same colours in threes or more.
The man was checking his text messages and call history.
Although both of them had finished their dinner, they remained glued to their phones and neither tried to start a conversation with the other.
WHERE: Coffee shop in Serangoon Gardens
TIME: Monday, 6.15pm
WHO: Father and daughter
In a coffee shop that was bustling with people getting ready for dinner, a father-daughter pair were at a table and immediately after ordering their food, the man whipped out his phone.
He seemed to be checking his e-mail, not once looking or speaking to his teenage daughter.
She looked around for a few minutes before deciding to seek companionship in her phone.
Both continued to use their phones till their food arrived about ten minutes later, but put them aside and did not use their phones throughout the meal.
WHERE: Toastbox at Marina Bay Sands
TIME: Tuesday, 2pm
WHO: Family of three
A family of three - father, mother and preadolescent son - were seated with electronic gadgets and phones in their hands. The man was surfing the net on a tablet, while the mother was busy replying text messages on her smartphone.
After looking around for some time, the boy pulled out his phone.
None of them talked to each other over a 15 to 20-minute period.
When the couple got up to pay the bill, the man put his tablet on the table and the boy reached forward for it and started to play a game on it.
- Additional reporting by Melody Ng and Yue Yong Sheng

This article was first published on July 30, 2014.
Get The New Paper for more stories.