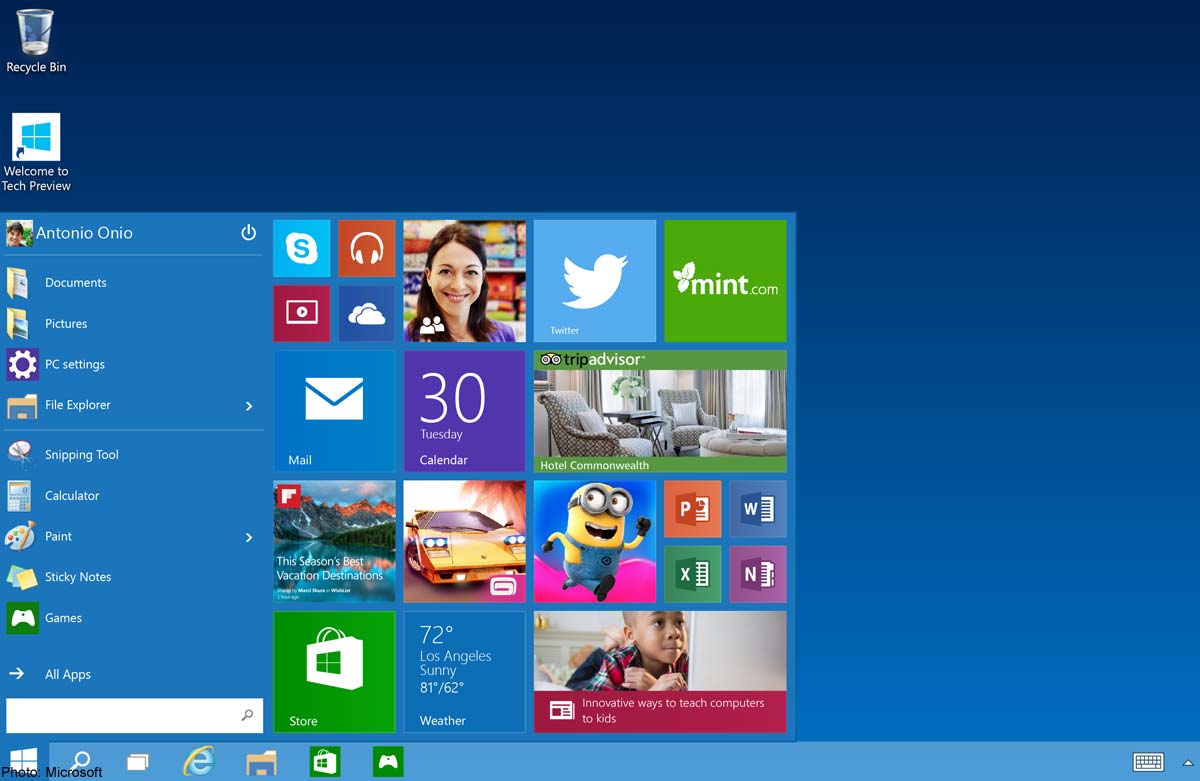 When I first saw the tiled interface of Windows 8 over two years ago, I was intrigued by its whiff of freshness. Its attractive and colourful tiles beckoned me to touch it, as if it were a bag of sweets for a six year old. It was simply irresistible.
Fifteen minutes later, I knew Microsoft had created a disaster. The "Metro" touch interface was beautiful, but like flowers that wilt, it was skin deep. For over 20 years, Windows faithfuls like myself stuck to the boring desktop interface of Windows because we were used to it. I have never even considered the more seductive looks of the Mac OSX, because of my familiarity with Windows. I don't need my PC operating system to have "sex" (appeal) as the late Apple boss Steve Jobs would put it. I just need it to work.
Windows 8 is a nightmare. Microsoft literally shoved its new Start screen - filled with the new spiffy "Modern" apps from its new Windows Store - down our throats. But I don't want the Weather app or the News app. I want to type my stories, view my photos, surf the Web on my favourite Chrome browser and play my favourite PC games. I want to get stuff done, not consume content as I would on my smartphone and tablet. The familiar Desktop interface was relegated to an app on the new Start screen, like a war veteran who has served his purpose and is now sent to a nursing home to convalesce, forever.
To get to the familiar Windows interface, I had to click on the Desktop app on the Start Screen. When I got there, I had no idea how to launch my programs. In the past, I would have simply clicked on the Start button to launch the Start menu and then clicked on the desired programme to launch it. But this time, I could only stare at the screen. Both the Start button and Start menu were gone. Windows 8 was not a brand new operating system - it was a skin overlaid on top of the Windows 7 engine to make it work in the world of touch. It was not built ground up for touch. It became an unmitigated disaster of the highest proportions.
The first round of 2-in-1 hybrids in 2012 which were supposed to work as tablet and laptop were particularly bad, and seemed hurried. The touch screens were too thick and too heavy. Adding a detachable keyboard to a Windows tablet might make it look like a laptop but the heavy topside meant that the device was unstable and easily tipped over with a slight nudge. PC vendors came up with all sorts of form factors to kickstart the new hybrids. Convertible laptops which had screens that could be folded all the way to become tablet were born. But who would want to carry a 1.2kg tablet when tablets from Apple and Samsung were just over 600g at that time?
Over the last two years, I have watched Windows touch-screens become thinner and vendors pouring out their souls to innovate to make new hybrids that would take advantage of duality of Windows 8. The best incarnation of the Windows 8 dream is probably the Microsoft Surface Pro 3. But I am still not sold on the idea of having a 2-in-1 device, not when my iPad is still the better and lighter tablet while I stay faithful to my non-touch Windows laptop.
Hardware may have improved, but apps remain the bugbear of Windows 8. The selection of these "Modern" apps on the Windows Store remain pathetic today when compared to the Apple and Google equivalents. There is, still, no official You Tube or Gmail app. Popular games such as Clash of Clans, Candy Crush and Subway Surfers are, still, not be found on the Windows app store. This hard truth has not escaped Microsoft's attention - it marketed its new Surface Pro 3 as a replacement for the Macbook Air laptop, not as a competitor to the iPad.
There are two versions of many programs - one version for the good old desktop and another for the Start Screen. For instance, there are two versions of Internet Explorer, two versions of the default photo viewer and two versions of the built-in video player. The system sets the default photo viewer as the Modern app version called Photos instead of desktop version called Windows Photo Viewer. The new Photos app is not intuitive because it does not let you navigate to the next image when you are opening a photo in a folder, like when viewing your digital camera roll. There are even two versions of the Control Panel, with the Modern version named PC Settings.
The tech titan was used to hegemony and being at the top of its game. That's the world of PC. But in the mobile arena of smartphones and tablets, it was painfully insignificant. Three years ago, Microsoft could only observe from the sidelines as the iPad and Android tablets took the world by storm. Apps and app stores were the rage, and rivals Apple and Google were earning a sweet 30 per cent cut for every app sold through their app marketplaces.
Microsoft did not even have an operating system made for tablets at that time. Its Windows Phone operating system had a low single-digit market share. It could have ported over its smartphone into the bigger screen, as rivals Apple and Google did. But it would take too long to gain traction and possibly might never catch up. Meanwhile, sales of PCs were bleeding red as consumers chose tablets over a ultra-light laptop for their second computing device. So Microsoft decided to rely on its old faithfuls of over 1 billion Windows PC users out there by making a new version of Windows that would work on both tablets and PCs. Windows 8 was the answer - or so thought Microsoft.
I hated it so much that the first thing I do these days when I test a new Windows 8 PC is to download a software called Start 8 which literally brings the desktop back to the game. It lets me boot directly into Desktop mode brings back the Start button and Start menu. I can even add the new Windows apps to my Start menu, so that I can launch both desktop programs and the new spiffy apps. The truth is - I do not have a single spiffy Windows app on my Start menu. Oh, and I always immediately change the default programme to open up image files from the Modern Photos app to the good old Windows Photo Viewer. Windows 8 works for me, only because I have made it look and feel like Windows 7.
Sometime last year, Microsoft said it heard the complaints of its customers and decided to bring back the Start button with the release of the Windows 8.1 free update. I was so excited that I updated my PC immediately. I almost jumped for joy when I saw the return of the Start button. But it was yet another disappointment. Click on the Start button and it launches the new Start Screen. Microsoft obviously missed the whole point about users demanding to have the Start button and Start menu back for familiarity. Or it too was caught up with the whole duality disaster it created with Windows 8.
According to research firm NetMarketshare, only 13.4 per cent of desktop PCs globally are running Windows 8, compared to 51.2 per cent which are on Windows 7 and 23.9 per cent on Windows XP. While consumers have had no choice but to go for Windows 8 when buying a new PC, business PCs typically come with the option to downgrade to Windows 7.
Yesterday, Microsoft announced its next operating system and skipped a number. Instead of Windows 9, it is calling it Windows 10 with its executive explaining that the next Windows was such a different approach that it would not be right just to call it Windows 9. After watching the recorded video of the press conference, it is clear that Microsoft has finally saw the light.
Windows 10 is a complete reversal of Windows 8. The good old desktop look and feel is back as the main interface when you boot up your laptop or desktop PC. The Start button and Start menu is back. What is new is that the Start menu now has two parts. The left side will list your favourite desktop programs in good old Windows 7-style while the right side lets you select your top Modern apps. Modern apps can now also be "windowed" so that you can have Windows 7 and Windows 8 apps side-by-side on the new Desktop interface and switch among them seamlessly. Microsoft has not ditched the duality, but it has clearly put the Desktop back into the driving seat.
There is also a new feature called "continuum" which is designed for the 2-in-1 hybrids. When using a hybrid device like the Surface Pro 3, detaching the keyboard signals to the system that the user is planning to use the hybrid as a tablet. A prompt then appears, asking if the user wants to switch to tablet mode. When this happens, hitting on the Start button now brings up a new version of the tiled Metro interface.
Microsoft is saying that the Windows 10 will offer a tailored experience for the various devices in its family of consumer products - phones, tablets, computers and even its Xbox game console. More will be unveiled in the months ahead as Microsoft gears up for the planned launch of Windows 10 in the second half of next year. Yesterday's briefing was just a glimpse into the chassis of Microsoft's new drive. The cool bells and whistles will be announced later. This time round, this old Microsoft faithful who started using Microsoft DOS over 30 years ago is thrilled, all over again. To be able to use Windows again in a familiar manner without having to install workarounds is a big deal for me, especially when I am spend so much of my work and play time on it. A bag of sweets doesn't thrill me anymore. But you can't go wrong with vintage single malt.

This article was first published on October 2, 2014.
Get a copy of Digital Life, The Straits Times or go to straitstimes.com for more stories.