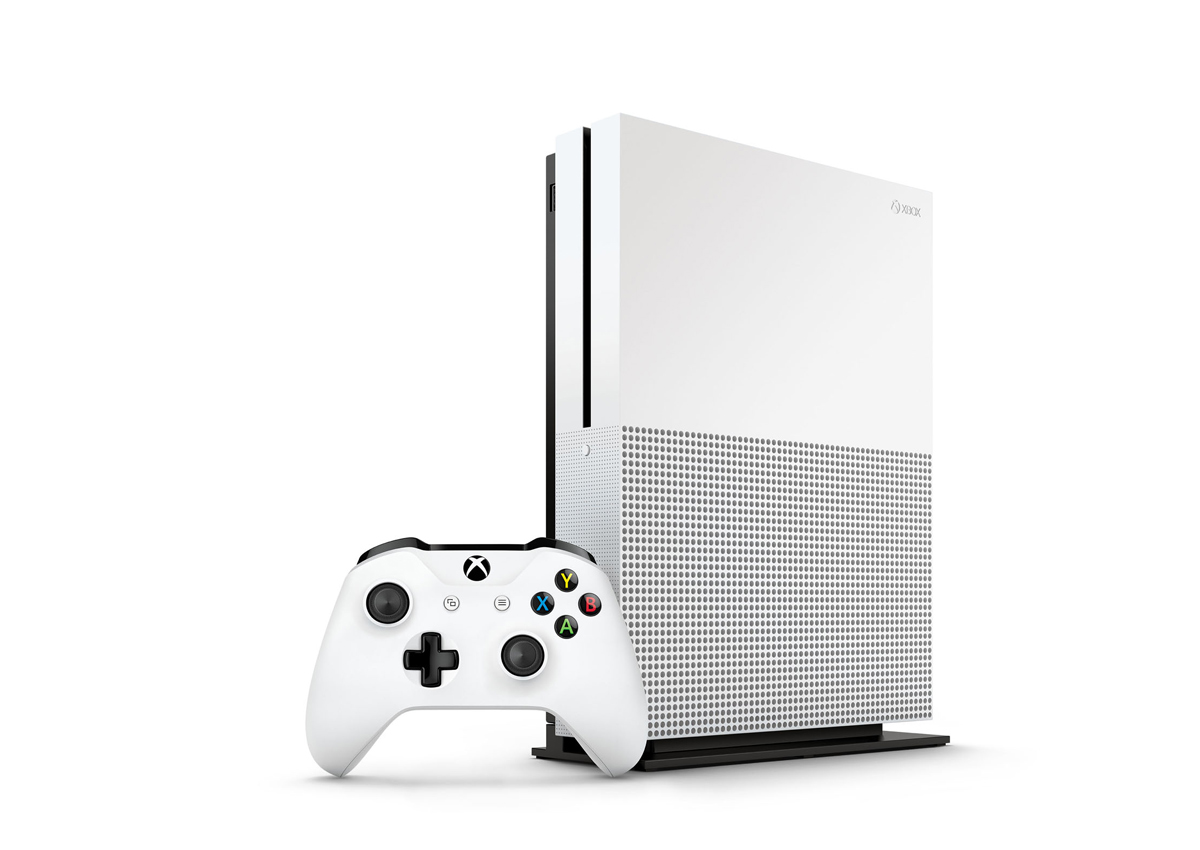 Microsoft's gaming console, the Xbox One, gets a small upgrade with the S. Maybe S stands for small or slim.
The new Xbox One S is 40 per smaller than its predecessor.
It also features an internal power supply, unlike the Xbox One which has a big, chunky external power supply.
Thus, the One S takes up much less space on your TV console.
Unlike its predecessor that had to be placed flat down, the One S can also be positioned vertically to save even more space.
Design-wise, the One S looks much sleeker with cleaner lines.
The new black-and-white colour combo seems to take its inspiration from Star Wars' Stormtroopers.
I like the fact that its shell is now made of matte plastic, instead of the original Xbox One's glossy black plastic that is a dust and fingerprint magnet.
One design change I particularly like is the physical power switch.
I always accidentally activate the Xbox One's touch-sensitive power button during house-cleaning.
Another design change is the siting of the USB port and controller-pairing button in front for easy access, instead of at the side in the original.
Speaking of controllers, the One S comes with the new Xbox Wireless Controller that is Bluetooth-enabled and can thus connect to a Windows laptop or PC.
So if you have a Windows gaming rig, there is no need to get another game controller.
Perhaps the unique selling point of the One S is that it doubles as a native 4K or Ultra High-Definition (UHD) Blu-ray disc player.
The One S also supports 4K video streaming, as well as High Dynamic Range (HDR) for richer colours and greater contrast in both videos and games.
For this review, I hooked up the One S to a 55-inch LG E6 Oled TV that is a 4K TV with HDR capability.
There are only a handful of games, such as Gears Of War 4 (GOW4) and Forza Horizon 3 (FH3), that support 4K currently.
Even so, it is not native support as Xbox One games can go only full HD. The One S will upscale the full HD output to 4K on the 4K TV.
I played GOW4 and FH3 on One S and found the 4K graphics really breathtaking.
Images are super- sharp with almost no jagged edges.
In addition, for a game like GOW4 that is pretty dark, the HDR allows me to see details, like scratches on walls, in the dark areas that were hard to see when I played it on the Xbox One.
In terms of performance, there does not seem to be much difference between the One and the One S.
But, considering that the latter upscales its video output, its performance is pretty good.
Slotting in a 4K Blu-ray disc, the One S immediately starts the Blu-ray disc player.
Watching Superman vs Batman on the 4K Blu-ray disc, I can finally see all the details during the dark Doomsday battle I missed when I first watched the movie on a plane.
TECH SPECS
PRICE: $499
PROCESSOR: 1.75GHz AMD Octa-core Custom
GRAPHICS: AMD Radeon-based graphics engine
MEMORY: 8GB GDDR3
STORAGE: 1TB
PORTS: 3 x USB 3.0, HDMI 2.0a, S/PDIF, Ethernet
RATING
FEATURES: 4/5
DESIGN: 4/5
PERFORMANCE: 4/5
VALUE FOR MONEY: 4/5
OVERALL: 4/5
Verdict:
If you already own the Xbox One, there might not be any reason to upgrade. But if you own the Xbox 360, then the new Xbox One S is definitely the one to get. You get an affordable 4K Blu-ray disc player as well.
trevtan@sph.com.sg

This article was first published on January 4, 2017.
Get a copy of The Straits Times or go to straitstimes.com for more stories.