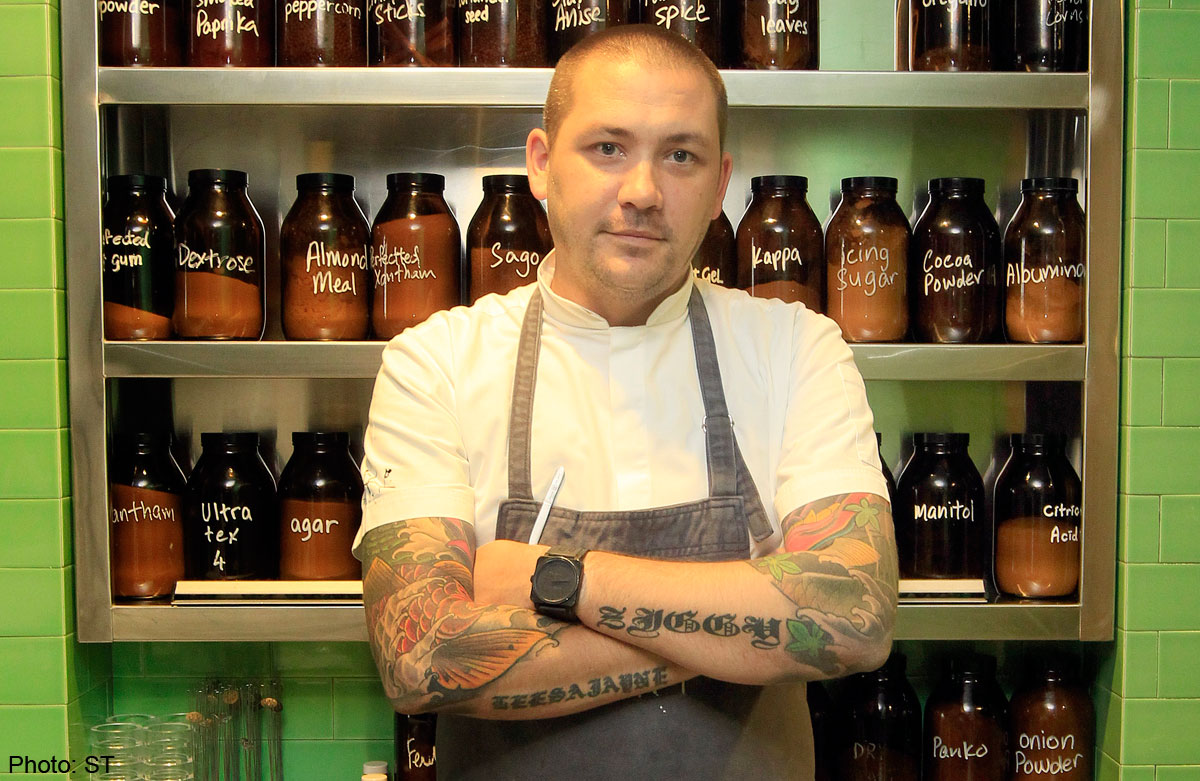 After six years in Singapore, the Tippling Club's chef-owner Ryan Clift hopes he has shed the label of the "weird guy cooking molecular".
The 37-year-old British chef says: "When I came here in 2008, I started thinking that it was a grave mistake to move here.
"I thought I was doing something wrong because people said that my food was weird, and my drinks were too strong. But you ordered a martini!"
Avant garde restaurant Tippling Club opened in 2008 at Dempsey and moved to its new location at Tanjong Pagar Road two months ago.
Its research and development kitchen on the second floor will open in the next few weeks.
And the move has clearly re-energised the tattooed chef, who also supervises the upcoming menu changes at Open Door Policy in Tiong Bahru and Ding Dong at Ann Siang Road.
Clift says: "Now, people realise we're cooking serious food here. It's nice to see the older generation come in and high five each other over the table. We're not hoity toity or stuffy."
Born to a Burmese father and English mother, he started working as a dishwasher at age 14 in a Michelin-starred restaurant in his hometown of Devizes, Wiltshire, to earn pocket money.
He recalls: "One day, the chef told me he had fired someone and passed me an apron because he saw potential in me. I was scolded, punched, kicked and slapped in the kitchen, but I learnt so much."
With two years of cooking experience, he went to culinary school and completed a three-year course in just a year.
Clift, who then worked at Claridge's hotel in London, has also earned his chops working for the likes of British chef Marco Pierre White, New Zealand-born chef Peter Gordon and Australian chef Shannon Bennett.
He moved to Melbourne, Australia, in 1999 to be with his Australian wife Leesa, who works with him now.
There, he was head chef of Bennett's Vue de Monde for 8 1/2 years. The couple have two sons - Ziggy, two, and six-month-old Buster.
In 2008, he moved to Singapore to set up Tippling Club, a collaboration with the Spa Esprit Group's founder Cynthia Chua.
And while he may be known to be a straight-talking, opinionated chef, Clift insists that he is not a fussy diner.
He says: "I appreciate people cooking for me, especially my wife. I'm not Gordon Ramsay, I'm not going to say there's not enough salt."
What's your take on the dining scene in Singapore?
It needs to slow down. The staffing bubble has already burst and restaurants are suffering. This will affect the food and businesses will suffer.
Culinary schools are doing their best to help the industry, but fine dining cannot run on just students or interns.
It would be great if the Government can reassess the situation.
What's the ultimate compliment that a chef can receive?
When you can move a diner emotionally until he or she cries. My wife burst into tears after dining at French chef Michel Bras' restaurant.
I didn't cry, but I was speechless for six hours after my first dining experience at El Bulli in Spain. I got a cigar, went to the beach and just sat there.
What are your favourite local foods?
Chilli crab and black pepper crab. I never ate it in Melbourne, as I was always told that it was very spicy.
But when I tried it here, it became a severe addiction. I would eat it three times a week, sometimes as takeaway from Long Beach at Dempsey after work. There would be crab sauce everywhere.
It's mental how much food is available here. You could probably go three years without eating the same thing.
What are your favourite restaurants?
For my ramen fix, I go to Ippudo in Mandarin Gallery. It may be a chain, but the quality is consistent, and I love the melt-in- your-mouth char siew.
I also like Esquina at Jiak Chuan Lane, Burnt Ends at Teck Lim Road, Moosehead Kitchen at Telok Ayer Street, and Bar-Roque Grill at Amara Hotel.
Are you an adventurous diner?
Yes. My craziest experience was in India when I was filming for National Geographic, where I drank milk straight from a camel. It was pretty cool, and tasty too. The milk was a bit salty.
I've also eaten live fish, live octopus and live turtle in Japan. The worst thing I ate was fermented skate in Korea which smells like ammonia.
Is there anything you don't eat?
Funnily enough, I hate salmon. I just don't like the flavour. But when I go to restaurants, I won't say anything if they serve it to me.
Have you had any kitchen disasters?
In Australia, we baked bread daily using a 35-year-old starter dough that was given to us from an old baker, and you have to "feed" it every day.
Once, I was on vacation and the young cook in the kitchen didn't feed the dough. When I returned and realised what had happened, it was like a person had died. The cook had no idea what he had done.
If you could invite someone (dead or alive) to a meal with you, who would you pick?
The late French chef Auguste Escoffier. I would love to be a fly on the wall at one of his lavish banquets.

Get a copy of The Straits Times or go to straitstimes.com for more stories.