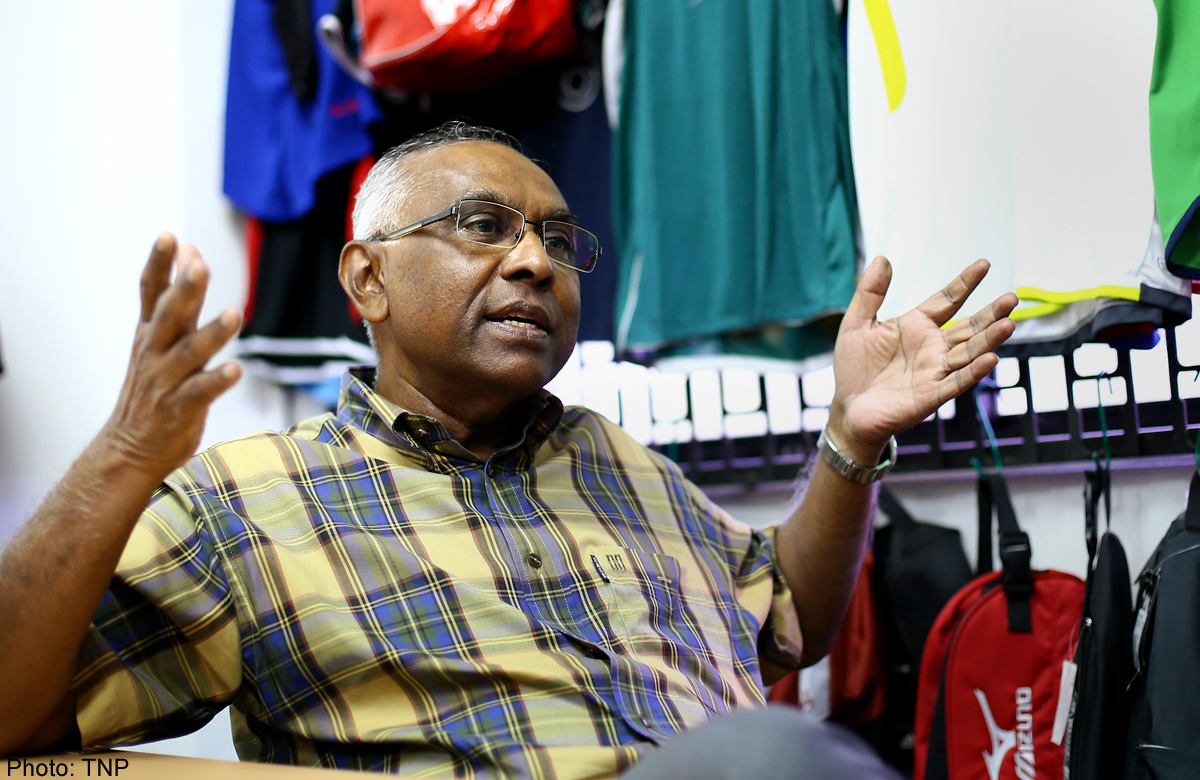 As a council member of the Football Association of Singapore (FAS) and chairman of S.League club Balestier Khalsa, S Thavaneson plays a part in making decisions that affect football, and also has to deal with the effects that follow.
While he stands firmly by FAS policies on issues like its youth development programmes, he concedes that there are things that can -and should - be tweaked.
"There are criticisms that are valid, some that are not so valid, and others that are certainly not valid," he told The New Paper.
"But I work closely with the FAS and credit must be given because they put a lot of time, resources and work into their plans, and if anyone questions that, they don't know their facts.
"But it is simple, if there are things that can be done better, we should do it."
While Thava (right), 64, concedes that there are some areas in youth development that can be improved, the football calendar is one aspect of the senior game here that he feels strongly about.
PROBLEMS
Pointing to problems with coaches, a dearth of training facilities and funding, he insists that "youth development can't purely be an issue for clubs," but requires FAS intervention.
The current youth development system sees only three of eight local S.League clubs run Centres of Excellence due to stringent FAS criteria, and critics have bemoaned the fact that it reduces the already small pool of players here.
"While we will only see its effects in the next three to four years, I believe players will benefit from the higher quality training they receive," said Thava.
The veteran football administrator did concede that there may be a need to re-evaluate how players are selected for the FAS's National Football Academy (effectively the national age-group teams).
He feels the selection policy for the NFA may not be exhaustive, and one option could be to work in tandem with the many privately run football academies to find the best young talent in the country and groom them.
But he was unequivocal in his thoughts about football and National Service.
He said: "It has a disruptive effect, and has and will continue to mean our players will mature later, but that is something we have to work around.
"Nobody should be questioning the NS issue, nor bringing it up as an excuse."
His thoughts on the local football calendar are equally clear.
"We must have a proper football calendar like what we see in European football," he said, with reference to the S.League having to deal with postponements and other schedule changes to accommodate mainly national team requirements.
"All parties must respect what professional football means."
One of the longest serving administrators in the local game, Thava called for the fraternity to come together to find the best way forward.
"We (FAS) could have done things better, we could have done things differently, but no one should doubt the effort put it," he said.
"All of us should come together to evaluate if things are being done right, and what needs to be tweaked."

This article was first published on September 12, 2014.
Get The New Paper for more stories.