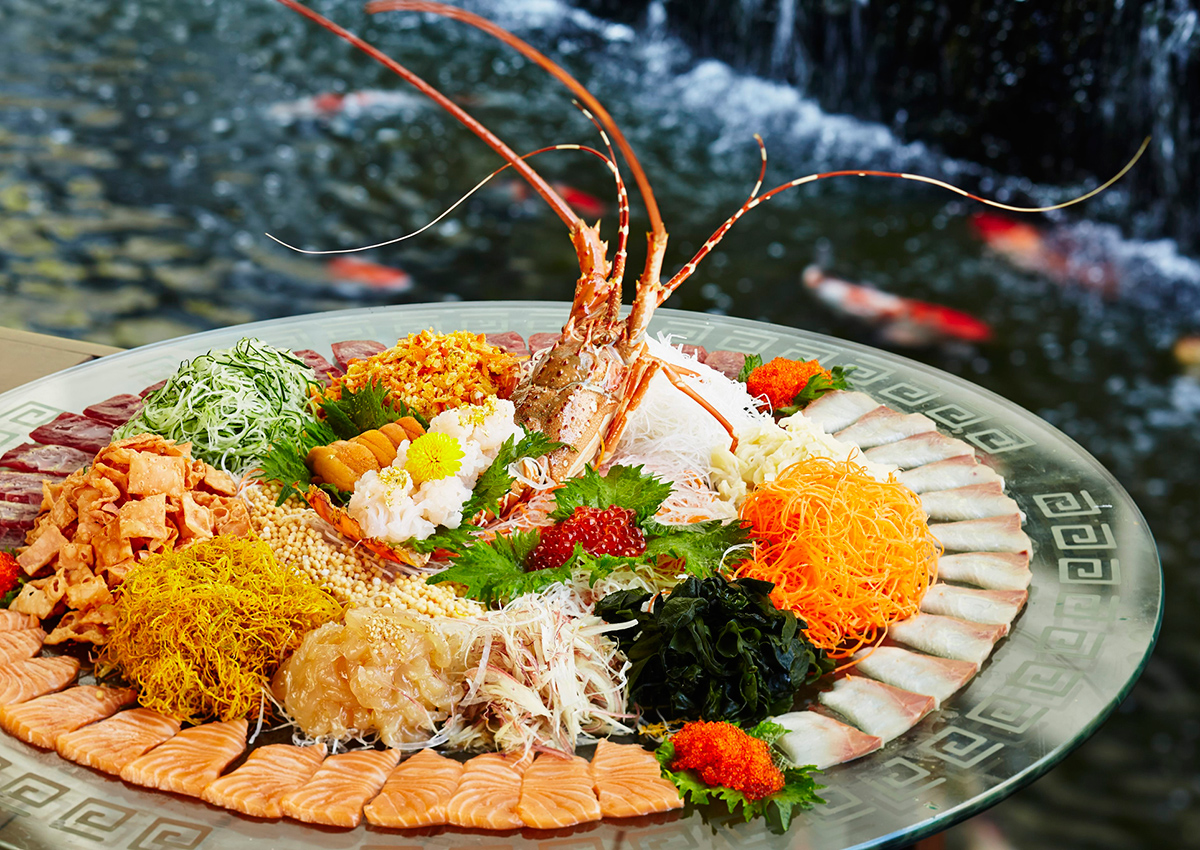 This Chinese New Year, hotels and restaurants are offering alternatives to the usual raw fish salad, or yusheng, an important part of festive meals during the season.
The moves follow the National Environment Agency (NEA) ban, announced on Dec 5, on the sale of raw freshwater fish at all food establishments. The ban comes after the agency issued an advisory in July against the use of raw toman (snakehead) and song (Asian bighead carp) fish in dishes.
NEA also reminded consumers of the risk involved in eating raw fish because of harmful parasites or bacteria.
The move comes after the Health Ministry was notified of about 360 cases of Group B Streptococcus (GBS) infections this year, with two fatalities. About 150 of the cases were linked to the consumption of raw freshwater fish and involve an aggressive strain known as Type III GBS Sequence Type 283 (ST283).
Since the ban, some hotels and restaurants have started to receive queries from concerned diners about the types of fish used in the yusheng for Chinese New Year and whether alternative options are available.
Hotels and restaurants tell The Sunday Times that their suppliers are licensed by the Agri-Food and Veterinary Authority of Singapore, their staff and chefs attend food and hygiene courses, and that the handling of raw ingredients follows stringent guidelines such as separating raw fish from other fish intended for cooking, to prevent cross-contamination.
Even though the ban is on freshwater fish, hawker stalls selling ikan parang, a saltwater fish also known as wolf herring or saito, have been badly hit. Some restaurants will continue to use it for Chinese New Year, which falls on Feb 8 and 9.
Goodwood Park Hotel, however, has taken ikan parang yusheng off its menu, after NEA's announcement of the freshwater fish ban, says the hotel's director of marketing communications, Ms Justina Loh.
Its Chinese restaurants, Min Jiang and Min Jiang at One-North, will continue to sell yusheng with salmon, hamachi (amberjack), abalone and lobster.
The hotel has also introduced two new yusheng items, planned since September. One is a crispy salmon skin version ($118, for dine-in and takeaway at Min Jiang) and the other is a fruity one with bacon and white truffle oil ($78 or $128, dine-in only at Min Jiang at One-North).
However, for those who prefer the traditional ikan parang, Li Bai at Sheraton Towers, Wan Hao Chinese Restaurant at Singapore Marriott Tang Plaza Hotel, Spring Court in Upper Cross Street and Dragon Phoenix restaurant at Liang Court will still be serving it.
Li Bai's executive chef Ee Ming Hwa says: "For diners who want to include the fish component in yusheng, but are concerned about eating it raw, our chefs are able to cook it for them."
The restaurant also offers a variety of cooked options for yusheng, including blanched lobster, abalone, fried scallop and crispy fish skin.
Other alternatives include Orchard Hotel's Hua Ting Restaurant's citrus-cured Hokkaido scallop and crispy conpoy lohei; as well as Pan Pacific Singapore's yusheng platters, such as abalone, Hokkaido scallops, surf clams, Norwegian salmon, mushrooms and gold and silver flakes (from Hai Tien Lo); and wafu yusheng (from Keyaki).
In addition, there is the smoked salmon, lobster and abalone yusheng; the bird's nest and pear yusheng; and the fresh lily bulb vegetarian yusheng from Regent Singapore's Summer Palace.
While diners are not particularly worried about eating raw fish, they are not taking any chances either.
Housewife Lilian Foo, 56, says: "I will wait until closer to Chinese New Year before picking the yusheng to buy for my family.
"Or I might buy it from a Japanese restaurant, as the salmon it uses is meant for eating raw anyway. To be safe, I will use a cooler bag or ice box to make sure the fish stays cold until I get home."
Marketing consultant James Lim, 33, says: "Personally, I'm fine with eating the raw fish in yusheng. But as we will be dining with older folk, we are likely to have the fish cooked or opt for ones with abalone or smoked salmon.
"It may not be traditional, but no one wants to be sick during Chinese New Year."
euniceq@sph.com.sg

This article was first published on December 13, 2015.
Get a copy of The Straits Times or go to straitstimes.com for more stories.