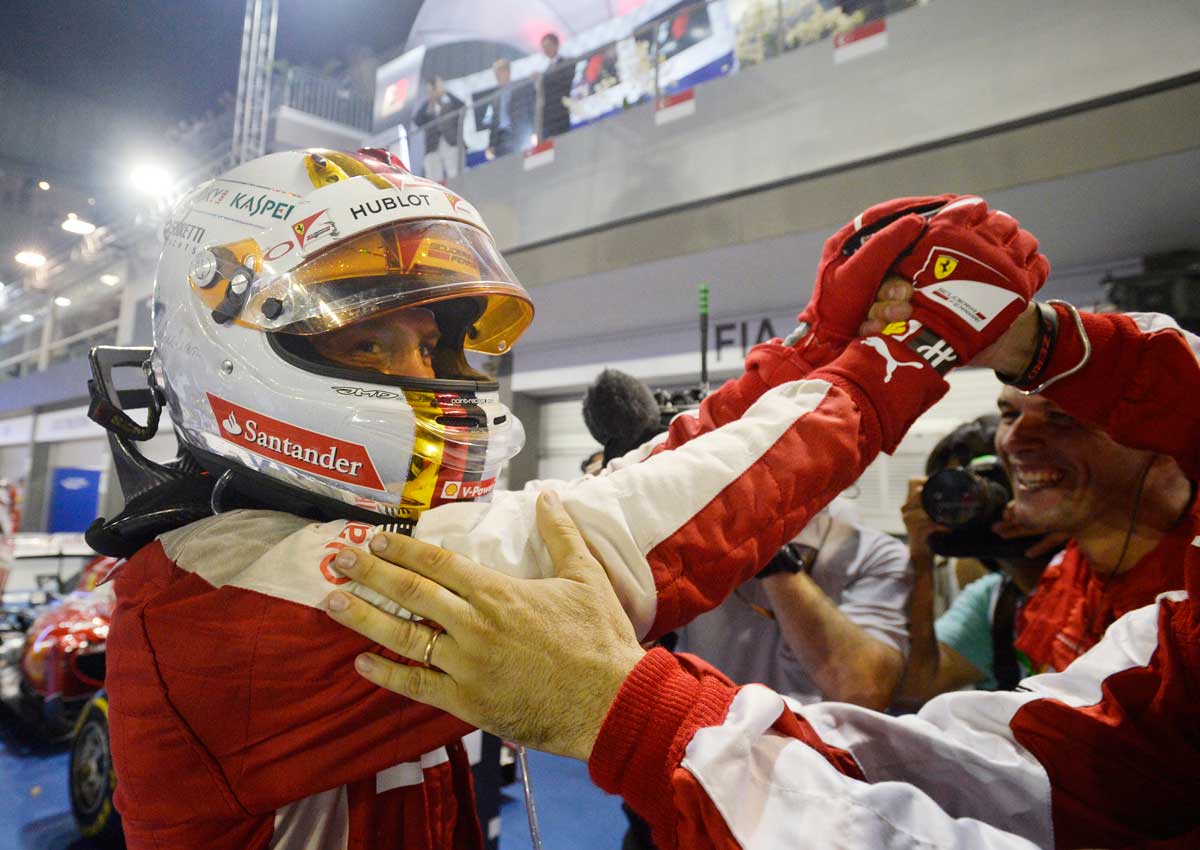 Amidst the skyscrapers and winding streets, in front of a global television audience, Sebastian Vettel and Singapore exposed Lewis Hamilton's Achilles' heel, proving that the reigning Formula One world champion can be beaten and his Silver Arrow can be broken.
Less is indeed more at the Marina Bay Street Circuit, as the German's Ferrari, despite a less efficient power unit than that of Mercedes, relied on downforce to stick to the twisting track while his British rival struggled to find enough traction to keep up.
"A perfect weekend," Vettel beamed when asked to describe his Formula One Singapore Airlines Singapore Grand Prix victory last night.
He is now the outright record holder with four victories in eight races here. He has also amassed 42 career wins - one more than the late great Ayrton Senna - in just 152 outings. Only Michael Schumacher (91 wins) and Alain Prost (51) have more.
But Vettel remains grounded, saying: "Prost is in sight but Michael is just ridiculous, his number of wins, his number of poles...
"So I think I'm far away. If you have 23 turns in Singapore, I am at Turn 1, Michael is at Turn 23."
Vettel accelerated from the grid as if he had fallen off a cliff. The lead kept building as he led by a massive five seconds before Force India's Nico Huelkenberg collided with Williams' Felipe Massa on Lap 13 at the pit lane exit.
That resulted in the 11th deployment of the safety car in eight editions of the Singapore GP.
Even the unwanted appearance of a track invader on Lap 37, triggering another safety car cameo, failed to shake Vettel's focus. It was the 28-year-old's third win of the season, adding to his victories in Malaysia and Hungary.
With a narrow track that allowed little overtaking and 23 turns each waiting to ambush an errant driver, Vettel strapped Sir Isaac Newton into the driver's seat and let the laws of physics do the rest.
Red Bull's Daniel Ricciardo, who finished second, spent the entire race staring at the Ferrari's carbon-fibre rear end without a single chance to overtake.
Kimi Raikkonen was third, giving the Scuderia two drivers on the podium for the first time in 46 races.
"I consider myself the luckiest racing driver in the world," Vettel said. "I got into a position where I always got great teams around me. Things are definitely improving (at Ferrari). The spirit is very high, the direction is the right one.
"We are not yet where we want to be and expectations are fairly high. There is still a lot of homework to do."
But with F1 drivers losing two to three litres of water in the race, Vettel was thirsty and ready to celebrate before mounting an all-out assault on Mercedes.
He said, of why he loves Singapore: "The party on Sunday night. We will have some drinks, definitely. My drink bottle failed halfway through the race so I am quite thirsty.
"If we have more weekends like this, yes we can catch Mercedes. Massive attack. Maybe we can make the impossible possible - we will definitely go for it."
meng@sph.com.sg

This article was first published on September 21, 2015.
Get a copy of The Straits Times or go to straitstimes.com for more stories.