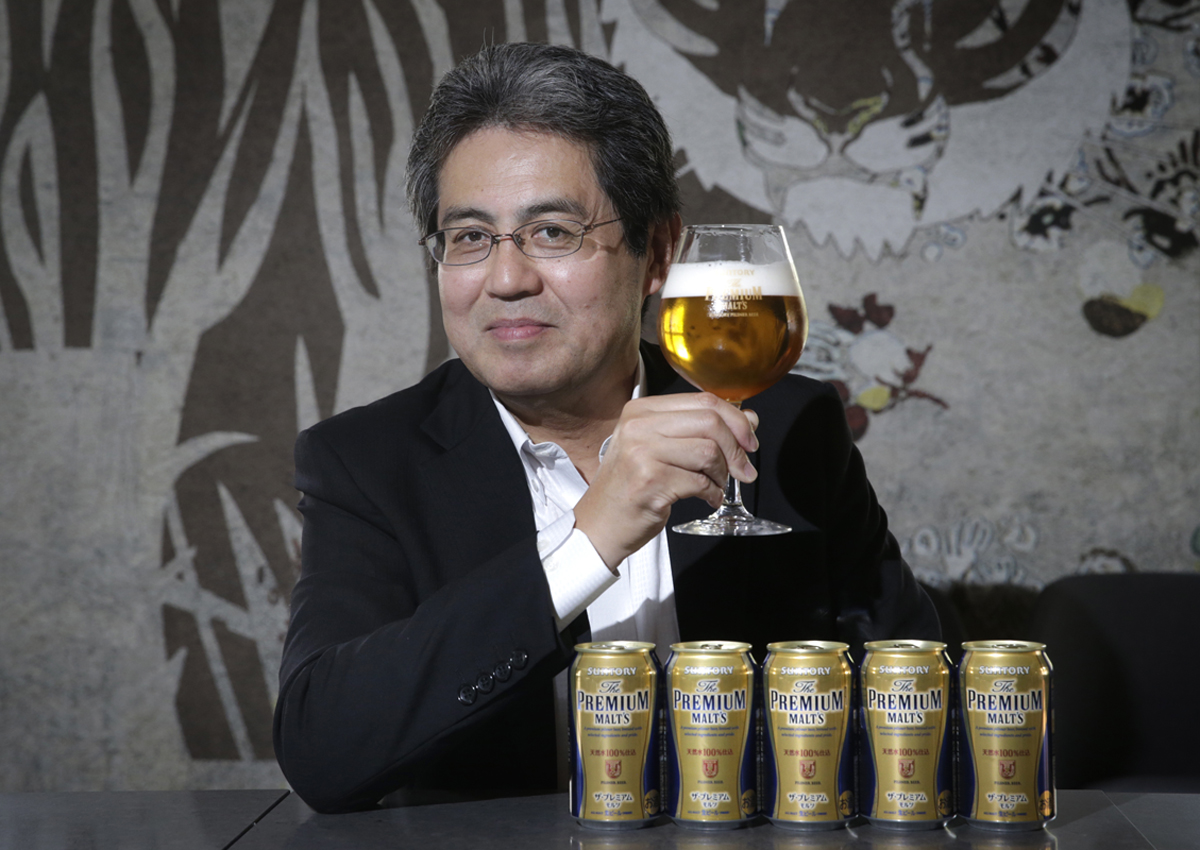 Beers are usually drunk bottoms up after boisterous clinking of mugs and pint glasses.
However, Japanese alcohol giant Suntory is introducing a slower way of enjoying beer - in wine glasses.
Instead of chugging the beer in a jiffy, drinkers are encouraged to take time to swirl the beer in a wine glass and take in the aromas that perfume the creamy top layer of beer foam.
To do so, Suntory has come up with a wine glass, reminiscent of a snifter glass with a large rounded mouth, to go with The Premium Malt's Beer label, which includes varieties of beer such as pilsner, hyojun ale and dark larger.
Over the past 11/2 years, Suntory has been introducing these wine glasses in Japan. The glasses are not available for sale here and are currently served in only two bars. They are The Flying Squirrel in Amoy Street and Wakanui in Boat Quay, where Suntory's pilsner beer is offered on tap.
A six-pack of Suntory The Premium Malt's Beer, which comprises pilsner beers, costs about $28 in supermarkets here.
According to Suntory's beer ambassador Akira Isoe, beers can be appreciated the same way as wines.
The 59-year-old, who was in town recently to promote the Japanese beer label, says: "Beers are known for their uniform and dry tastes, but with the growing diversity of craft beers, it has become more exciting to drink beers as there is a wide variety of flavours and aromas."
He is referring to the elegant and floral aroma that wafts from The Premium Malt's Beers. The delicate scent comes from the hops, a type of cone-like flower, which impart a tinge of bitterness in the gold-hued tipple.
The hops, which are imported from Europe, are brewed with two-row barley malt and warm natural water to produce a wort (unfermented beer). It is then boiled twice to yield a rich umami flavour.
Fine aroma hops, which are the highest grade of hops and air-flown from Saaz in Czech Republic and Hallertau in south Germany, are added as soon as the wort starts to boil, to bring out its spicy and bitter taste, and just before the end of the process, to give a floral finish.
The hops also help create a top layer of creamy foam, which retains the beer's aroma longer, freshens the beer by absorbing its bitterness and lends a pleasant mouthfeel.
Mr Isoe adds that water is also an essential component of the beer, as it makes up 90 per cent of its contents.
Each of the four breweries in Japanese cities such as Kumamoto and Tokyo, is linked to underground sources of spring water, which is characteristic of the production of Suntory's whiskies, such as the Yamazaki.
He says: "The water is soft. It consistently contains a moderate amount of minerals, such as calcium and magnesium, that draws out the best of the umami flavours from the barley malt and hops."
On the newfangled way of drinking beer in wine glasses, he says: "While drinkers cannot go kanpai (cheers in Japanese), this style is more about enjoying the experience and taking in the flowery aroma."
However, this may take some getting used to for regular beer drinkers.
Sales executive Janice Koh, 27, who likes drinking beers, thinks it is "strange" to sip beer from a wine glass.
She says: "Beers usually come with a strong smell, so I will try to finish it quickly. But if the beer has a pleasant scent, I don't mind drinking it from a wine glass."
kengohsz@sph.com.sg

This article was first published on January 17, 2016.
Get a copy of The Straits Times or go to straitstimes.com for more stories.