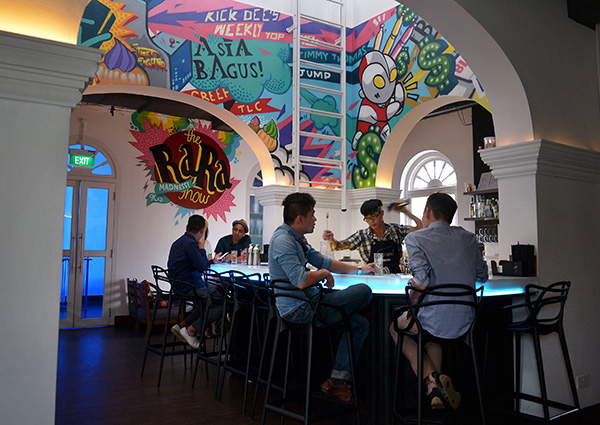 Inside three-month-old Shin Gi Tai, a bar in Waterloo Street, bartender and co-owner Anthony Zhong is shaking up classic cocktails using Japanese techniques, and creating delicate garnishes for his drinks.
Here, favourites such as gimlets and negronis are made using precise portions of premium spirits, shaken or stirred with flawless technique.
If you fancy it, Mr Zhong, 32, will even create a bespoke cocktail to suit your palate.
Only six years ago, the sort of service and quality of tipple he serves was a rare find in Singapore's nightlife scene.
In fact, he was among a handful of local bartenders, along with veteran barmen such as Ethan Leslie Leong of Maison Ikkoku and Din Hassan of now-defunct bar Klee, who were trained in the art of craft mixology at the time.
Not anymore. Today, there are more than 40 cocktail bars and restaurants here offering a similar experience, up from fewer than 10 in 2009.
In May this year, two bars popped up: Shin Gi Tai and Club 39 in Duxton Hill, a multi-concept venue with a bar headed by Mr Mark Graham Thomas, formerly from restaurant Bacchanalia.
Then there is Open Farm Community, a new restaurant in Minden Road opened by The Spa Esprit Group, chef Ryan Clift of Tippling Club and urban farming company Edible Garden City.
The restaurant boasts a cocktail menu curated by Czech bartender Kamil Foltan of Tippling Club.
Late last month, Mr Shawn Kishore of food and beverage consultancy firm Bespoken Concepts launched Fresh!, a bar at boutique hotel The Sultan that serves "lager, ales and kicka** cocktails".
And next month, the folks behind cocktail bars Jigger & Pony and Sugarhall in Amoy Street will open Gibson, one of three food and beverage concepts in a shophouse in Bukit Pasoh Road, which it shares with the Gan Clan Association.
In a report published in Life on Aug 1, Mr Indra Kantono, 31, co-founder of Jigger & Pony and Sugarhall, said the 36-seater bar will offer about 40 cocktails, created by its bar programme director Aki Eguchi and served in vintage glassware.
The bar will be on the second level of the shophouse while the first floor is shared by Humpback, a seafood restaurant, and dive bar The Flagship.
Both have opened for business.
The exploding bar scene has meant more choices for bargoers and healthy competition among bartenders.
Mr Thomas, 30, says: "Having more themed bars means you have more choices and more places to visit rather than the same haunt."
He adds that the challenge ahead is to groom talent and service staff to keep up with the growing scene.
Mr Zhong, who has been bartending for nine years, says: "I don't think the scene is saturated. The main thing is consistency.
"We have guests who go to other bars and try other cocktails, but I'm lucky 80 per cent of my clientele are regulars."
He has previously worked at celebrity restaurant Cut by Wolfgang Puck at Marina Bay Sands, Jigger & Pony and Coffee Bar K in Tokyo.
Some bar owners and bartenders are concerned about their ability to keep business brisk long after the novelty of being the new kid on the block wears off.
Mr Kishore, 29, notes that the scene is becoming "a little pretentious", with many cocktail bars "spreading themselves too thin". He explains: "With a cocktail bar, you need a head bartender who makes fantastic drinks and is mediafriendly.
"That limits choices. Even if the operator imports talent, that talent may be irrelevant, depending on the concept and the local market."
It is why he decided not to open a purely cocktail bar, but a bar with DJ club nights and serving beers, club house pours and cocktails instead.
But the vibrant bar scene also encourages bartenders to push creative boundaries with the way they incorporate fresh fruit and herbs into their drinks, and techniques that include sous vide infusions and hand-carving ice.
Mr Kantono says: "It allows us to be ambitious with the concept developments, knowing that the talent base to execute them is there.
"We can pursue a more niche focus with each new concept, knowing that customers have an in-depth appreciation of the cocktail genre."
It also means existing bars have to up the ante and constantly update themselves to stay relevant.
Bars such as Operation Dagger in Ann Siang Hill, Ding Dong bar in Ann Siang Road and The Powder Room in Cecil Street are among those which have recently updated their cocktail menus.
Operation Dagger's head barman Luke Whearty, 32, says: "In the last few years, I've definitely noticed a difference in what the patrons in Singapore are open to.
"If you asked me to open (my bar) five years ago, I would have said. 'What? You're crazy.'
"Now, more people are open to new ideas."
But he adds: "Singapore has become a challenging market because people do know their food and drink."
Other bars, such as one-year-old Nutmeg & Clove in Ann Siang Road, have simplified their cocktail menus.
Since last November , the bar has been selling bottled cocktails - $50 to $80 for a 500ml bottle - as an additional source of revenue. It sold out all 180 bottles of its first batch within one month.
Co-owner Colin Chia, 36, says of the importance of keeping things fresh: "The novelty of a new bar is between eight and 12 months, after which you have to start reinventing the wheel."
Additional reporting by Gurveen Kaur
Fresh!
What: Experience a blast from the past at Fresh!, where 1990s hits reverberate through the bar and walls are adorned with flashy graffiti of popular icons from the era, such as Japanese TV character Ultraman and the multi-coloured slides at the former water park Big Splash in East Coast Park.
The bar has a laid-back atmosphere, though head bartender Mike Cheong and his crew take their drinks seriously, concocting original blends, punches and funky variations of classic cocktails.
Try: If you are feeling especially patriotic after the National Day celebrations, take a swig of Xin Jia Po Sling ($22), a variation of the popular home-grown cocktail, the Singapore Sling.
It has a more varied flavour profile with smoked gin, Cointreau, pineapple juice, a hibiscus and jackfruit shrub, and is topped off with a splash of Tiger beer.
To accompany the tipple is old-school snack Want Want rice crackers.
The Hola Papi Lychee ($22) is a modern twist on the classic lychee martini infused with tequila, lychee syrup, lemon juice and plum bitters. Do not be deceived by the dainty presentation - it is served in a pretty teacup with flower motif - as the cocktail packs a tangy punch.
Where: 02-01 The Sultan, 101 Jalan Sultan
Open: Monday to Thursday, 6pm to midnight; Friday and Saturday, 6pm to 2am
Club 39
What: Club 39 is in a four-storey shophouse that also houses an Italian restaurant, a bar and a members-only club which works on a referral or invitation-only basis, with an annual fee of $2,000.
The man behind the bar is former Bacchanalia bartender Mark Graham Thomas, 30, who is known for incorporating cooking techniques in crafting his cocktails.
He describes the bar as a no-frills place focused on making good quality drinks at affordable prices.
You can enjoy a premium Monkey 47 gin and tonic for under $20, or order a fancy bespoke drink.
Try: The Negroni Chiaro ($26), which is a white version of the traditional spirit-forward negroni, using house-blended vermouths, homemade bitters and gin infused with rhubarb and orange blossom using the sous vide technique.
Mr Thomas also elevates a party- time favourite, the margarita cocktail in the Spiced Pear Margarita ($24). It is concocted with house-made spice syrup, spice pear liqueur, William pear liqueur and aged tequila.
Where: 39 Duxton Hill
Open: Daily, 8am to midnight
Shin Gi Tai
What: This three-month-old bar is headed by seasoned local bartender Anthony Zhong, 32.
He is best known for the refined and balanced taste in his classic cocktails, including the Aviation and Negroni.
He says Shin Gi Tai (a Japanese term referring to heart, mind and body) refers to the heart and soul put into each drink, and the constant need to improve technique and stay focused in the art of bartending.
Try: The Osmanthus Gimlet ($20) is a play on the classic gin and lime juice combination using gin that has been infused with dried osmanthus flowers using pressurised nitrogen.
Those with a sweet tooth can go for the comforting Hot Peanut Butter Rum ($22), a winter classic with a nutty twist that uses rum, brown butter and dark maple syrup.
Where: 51 Waterloo Street
Open: Monday to Saturday, 6pm to midnight
NEW MENUS
Ding Dong
What: This casual restaurant and bar, which opened in 2013, puts a fun spin on South-east Asian dishes and uses fresh Asian herbs and spices in its drinks.
Head bartender Silas Lee, 27, worked with group bar consultant Kamil Foltan on a few new drinks, some of which pay homage to quintessential Singapore culture.
Try: The Orchard Boulevardier ($20), which pays homage to the classic Boulevardier cocktail - first mentioned in Harry McElhone's book, Barflies And Cocktails (1927) - andOrchard Road. It mixes Yamazaki Distiller's Reserve whisky, Bokbunja (Korean fruit wine) and Aperol.
Some caster sugar is added to enhance the stirred cocktail's sweetness and preserve the dry, aperitif-style appeal of the drink. The Stylo Milo cocktail ($20, right) is a combination of Hakushu Distiller's Reserve whisky, green chartreuse, freshly brewed Milo and condensed milk.
It is served in a bright green cup as a reminder of the Milo trucks that were parked at schools and special events in the 1990s, serving the ice-cold malted chocolate drink in green paper cups.
Where: 23 Ann Siang Road
Open: Monday to Friday, noon to 3pm, Monday to Saturday, 6pm to midnight
Nutmeg & Clove
What: When this bar opened a year ago, it was touted as the place to go for serious Asian-centric cocktails, which use ingredients such as ginseng, barley and jujube shrub.
Today, the bar still prides itself on Asian-inspired drinks, but has a more laid-back approach. You can knock back craft beers and gin and tonics, tuck into hearty local fare such as chicken curry and enjoy well-crafted drinks from new head barman Adam Bursik.
Try: Do not leave without trying the signature Nutmeg & Clove No. 2 cocktail ($20, right), which uses vodka infused with nutmeg and cloves, a homemade hawthorn syrup, lychee liqueur and fresh lime juice.
It also has a refreshing rendition of the iconic Singapore Sling ($22), which uses the traditional recipe of gin, pineapple juice, Angostura bitters, cherry liqueur and DOM Benedictine, but is aged in oak barrels for four weeks.
There are two special cocktails served throughout the week - the selection changes every Monday.
Where: 17 Ann Siang Road
Open: Monday to Saturday, 5pm to midnight. Happy hour from 5 to 8pm
Operation Dagger
What: This year-old bar, hidden in a cosy basement space behind restaurant Oxwell & Co in Ann Siang Hill, takes an experimental approach towards its cocktails.
Headed by mixologist Luke Whearty and a strong team of bartenders that include Diplomatico World Tournament Singapore winner Vijay Mudaliar, the bar offers drinks that give clever twists to classic cocktails in both taste and presentation.
Try: Whearty, 32, has introduced eight new cocktails. They include Man Versus Pig, which took two years to create and pays tribute to famed Spanish chef Ferran Adria.
It uses sherry fat-washed with Spanish Iberico ham, a hazelnut distillate, fresh rock melon juice and a house-made red wine vinegar.
There is also the Bee Pollen (right), a variation of the classic Old Fashioned using wild bee pollen sourced locally, which is infused with rye and bourbon whiskies. It is served over ice and comes with a sprig of thyme dusted with dark chocolate, lemon charcoal and bee pollen. Cocktails are priced at $22 to $25 nett.
Where: 7 Ann Siang Hill
Hours: Tuesday to Saturday, 6pm till late

This article was first published on August 14, 2015.
Get a copy of The Straits Times or go to straitstimes.com for more stories.