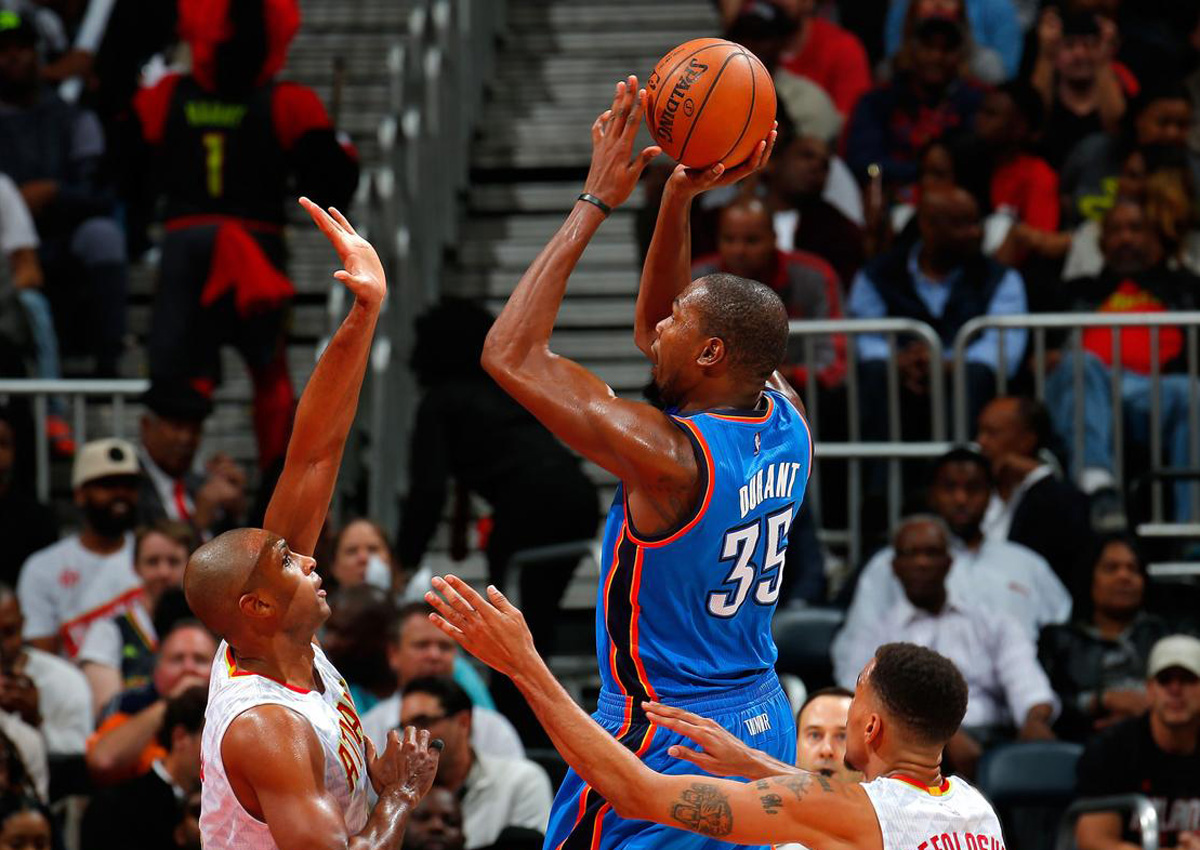 Forward Kevin Durant recorded a triple-double to lead the Oklahoma City Thunder to a 107-94 victory over the Atlanta Hawks at Chesapeake Energy Arena on Thursday.
Durant shot 8-for-14 from the field en route to 25 points, and he added 10 assists and 12 rebounds. Forward Serge Ibaka had 23 points and 10 rebounds. Guard Russell Westbrook finished with 23 points, 10 assists and six rebounds for Oklahoma City (14-8).
It was the first time Westbrook and Durant each had at least 20 points and 10 assists.
Guard Kent Bazemore came off the Atlanta bench to score 22 points on 7-of-11 shooting. Guard Jeff Teague scored 18 points for the Hawks (14-10) but forward Paul Millsap was held to seven points and eight rebounds.
Durant put the Thunder up 92-83 with 6:50 left in the fourth quarter before Millsap hit a tough one-handed jumper to close the gap to seven points.
Durant drained a three-pointer from the top of the key, Millsap then sank three of four from the foul line before Durant hit another jumper.
Trailing 97-90, the Hawks had the ball with 2:38 left in the game but Bazemore missed a three-point attempt and the Thunder got the board, leading to an Ibaka jumper.
After another defensive stop, Durant put the game away when he took a pass from Westbrook and threw down a dunk baseline to give Oklahoma City an 11-point cushion with 1:40 to go.
The Hawks' defensive philosophy to start the game seemed to be not to let Westbrook or Durant beat them. Each time either of them touched the ball, Atlanta tried to force a pass.
It was Ibaka who took advantage of the open shots first, posting 11 points in the first nine minutes.
Bazemore entered and began lighting up the Thunder defense. He kept the Hawks in the contest by shooting 6-for-6 in the first half for 18 points but Atlanta still trailed 60-49 at halftime.
Defense and hot shooting allowed the Hawks to claw back into the game and they trailed 76-75 with just over two minutes left in the third quarter but the Thunder ended the quarter on a 7-0 run to lead 83-75 going into the fourth.
One of the biggest changes Thunder coach Billy Donovan made in recent games is to stagger the minutes of Westbrook and Durant to make sure at least one of them is on the court. That has allowed Oklahoma City to end quarters in a strong fashion.