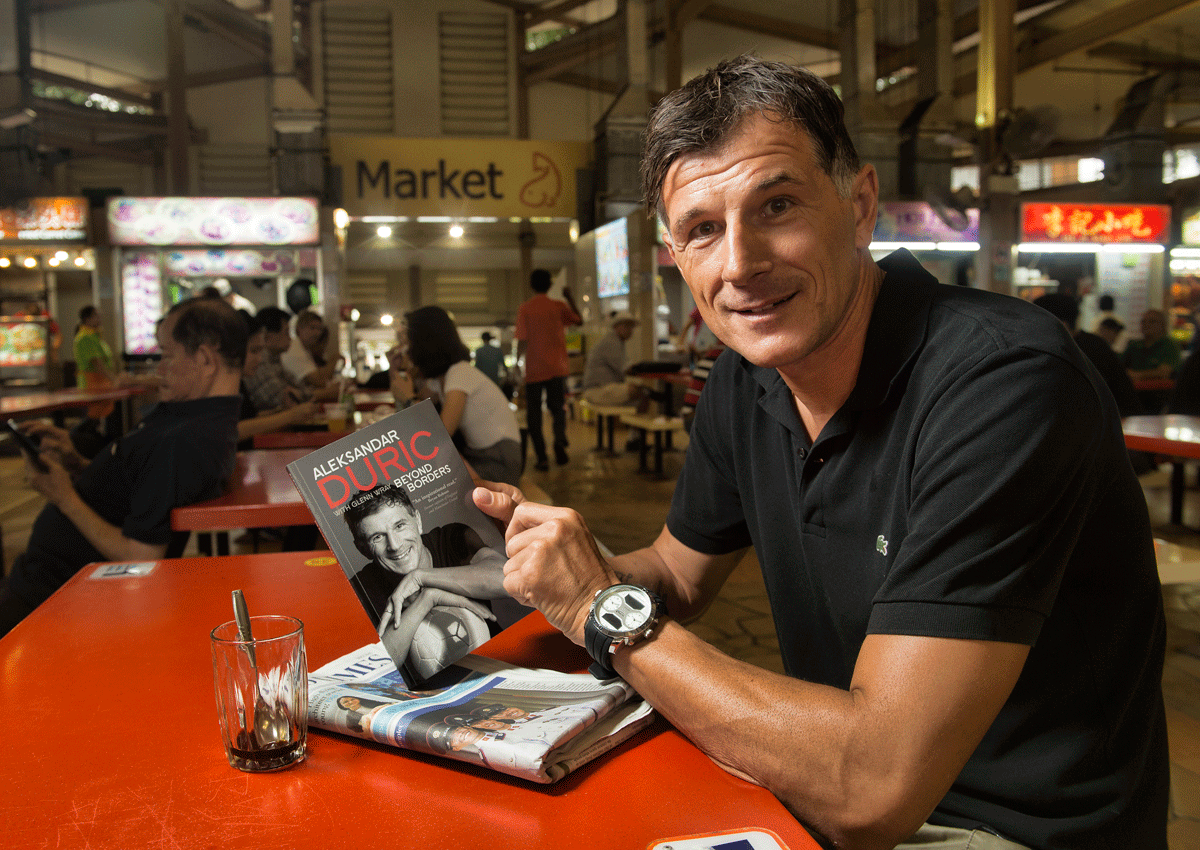 As the S-League heads into its 21st season buoyed by the signing of former English Premier League winger Jermaine Pennant, the health of Singapore football has come under attack from one of its own.
In his autobiography to be released on Monday, former national stalwart Aleksandar Duric expressed concern at the state of the local game, noting that it is in "a very bad shape, the worst I've ever seen it".
Once renowned for terrorising defences across the region, the Bosnia-born striker this time took aim at the Football Association of Singapore (FAS), claiming it "chooses short-term measures to try and paper over the cracks".
The S-League's most successful player - he won the title eight times with three different clubs - was critical of the presence of foreign teams in the competition, pointing to the financial troubles of now defunct French club Etoile FC and Chinese outfit Beijing Guo'an's past disciplinary issues.
He also disagreed with the policy of fielding the country's top Under-23 players in one team (Young Lions), preferring for them to be distributed across all six local clubs.
The 45-year-old, who played in the S-League from 1999 until his retirement in 2014, wrote: "Without major structural changes from the top down... the S-League will be finished within a couple of years.
"Unfortunately, too many people involved in running Singapore football don't understand football anywhere near as well as they understand spreadsheets."
The local game is going through a rough patch, with dwindling S-League attendances, repeated failures by the Lions in international competitions and the Singapore Under-23 team crashing out at the SEA Games group stage last June.
Speaking to The Straits Times yesterday, Duric stressed that his comments should be viewed constructively to avoid repeating past mistakes.
"For example, the LionsXII were kicked out of Malaysia last year, it was a failed experiment and yet, FAS is talking of fielding them again in the ASEAN Super League next year," he said with a sigh.
"People may think I'm ungrateful because Singapore football has given me so much, but that's why I care about where the game is heading.
"I don't know the answers, but there are questions that need to be asked."
Duric's finishing on the field and frankness off it made him a fan favourite during a 22-year professional career, where he set benchmarks not just on the goal charts but in fitness tests as well.
But he was hesitant at first to pen his thoughts down in a book, only to be persuaded by friends to detail his remarkable journey.
He has gone from being a Balkan war refugee to a record-breaking footballer - and an Olympic canoeist in between.
Described by former England captain Bryan Robson as an "inspirational read", the 245-page book is catered not just to the average football nut, according to Duric.
He writes adoringly of his wife of 15 years Natasha, and their three children Isabella Nina, 12, Alessandro Hugo, 10, and Massimo Luca, four.
There was also appreciation for his "second father" Teo Hock Seng, the former Tampines Rovers chairman whom Duric said treated his players and staff with respect, "unlike so many people involved in the S-League".
Quirky anecdotes are sprinkled throughout, including how a Sunday Times article seemingly helped smoothen his application for Singapore citizenship in 2007.
He also recalled his S-League debut for Tanjong Pagar United, when he was verbally abused by then Geylang United forward Mohd Noor Ali who, ironically, would go on to become one of his closest friends.
True to his forthright nature, he revealed his monthly salary was $4,000 at the time - or "peanuts", in his own words.
"It's the true story of a boy who grew up with nothing but chased his dreams, following passion and not money," Duric reflected.
"My biggest obstacle was my alcoholic father but I never gave up, which is a message to youngsters to stand by your beliefs and not be swayed by anyone else."
In his book, Duric praised former national coach Raddy Avramovic, writing that the Serb "definitely had b****, he never shied away from risky moves", such as fielding him on the left wing at age 42 as well as making him the Lions' first foreign-born captain.
The duo won the 2012 ASEAN Football Championship together.
On his own future, Duric hopes to find a new role in the local sporting scene after Tampines Rovers did not extend his contract as assistant coach.
But he will always have a soft spot for the S-League, which he jokingly refers to as "my fourth child".
He said: "Some people are saying Pennant joining Tampines will be a game changer.
"But the real change should take place at the top, where we need people with passion, knowledge and respect for Singapore football."
nsanjay@sph.com.sg

This article was first published on January 19, 2016.
Get a copy of The Straits Times or go to straitstimes.com for more stories.