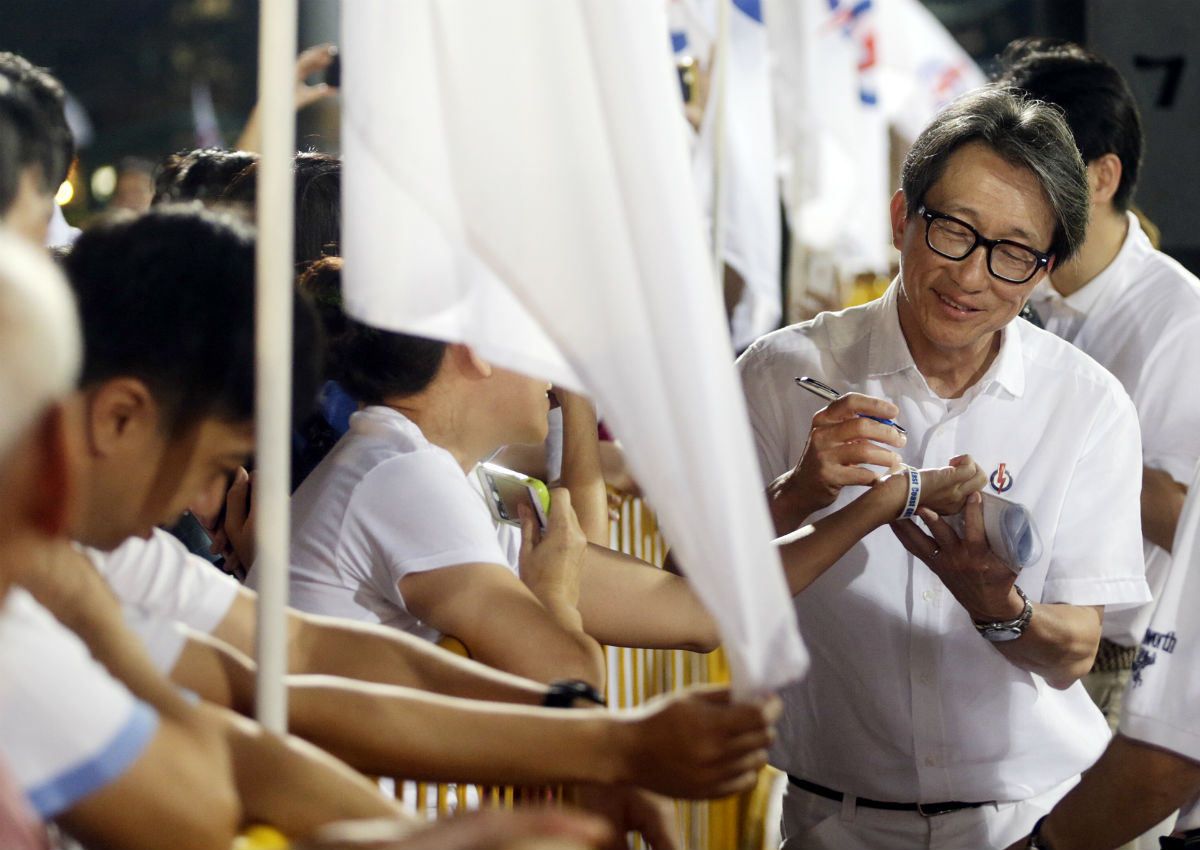 As the group representation constituency that the People's Action Party (PAP) retained by the closest margin against the Workers' Party (WP) at the 2011 General Election, it should come as no surprise that East Coast GRC is once again billed as a hot battleground.
While the PAP team's first rally on Thursday was bereft of the fiery speeches one might expect in hotly contested seats, Manpower Minister Lim Swee Say knows it will be another tight race when Singaporeans go to the polls next week.
"We expect GE2015 to be hotly contested. We expect the results to be close," Mr Lim, who leads the PAP slate in East Coast GRC, told The Straits Times yesterday. He added: "We will never know until results come out at the end of polling."
Still, the gloves remain firmly on, at least for Mr Lim and his PAP teammates, who refrained from hitting out at their WP opponents at the rally. It is not the East Coast way, Mr Lim, 61, said at a rally at Bedok Stadium on Thursday.
Rather, speeches from the quartet of PAP candidates - the other three are Senior Minister of State Lee Yi Shyan, 53; Minister of State Mohamad Maliki Osman, 50; and backbencher Jessica Tan, 49 - were full of examples of what they had been doing for residents: home improvement projects, caring for the old and needy, and communicating complex national policies to residents.
"We believe that the most constructive way of competing for votes is for each party that is contesting in a ward to present themselves to the voters," Mr Lim told reporters at a walkabout yesterday.
That was exactly what they had been doing for the past 41/2 years.
In the 2011 General Election, the PAP won 54.8 per cent of votes in East Coast GRC against the WP.
The last time the area saw such a slim victory for the PAP was in 1988, when it won 54.9 per cent of votes against a WP team in then three-member Bedok GRC.
And the WP has been walking the ground intensely in the GRC, including in private housing estates that make up close to half the households here, in recent years.
But the PAP has not stayed still. This "deep engagement" which Mr Lim never fails to repeat in his media interviews was on display when the candidates lobbied for votes in the past few days.
There are 99,118 voters in the GRC, where households are almost evenly divided between HDB dwellers and those in private housing.
On the few occasions when The Straits Times followed the PAP team on the campaign trail, all four candidates mingled with ease among residents and shopkeepers, taking time to interact with them. This did not change even after the cameras were long switched off.
But as for how far this improved engagement will go in lifting the PAP team's vote share beyond the 54.8 per cent it got in 2011, a 9 percentage point drop from 2006, Mr Lim would only say: "We go for every vote."
But voters in the GRC are divided.
Consultant Ivan Loong, 46, said he was "leaning more to the blue side" to have more opposition voices in Parliament. "The impression is that they have one or two candidates who seem credible on paper. If they are charismatic, speak well, it could change the direction of our decision," he added.
The WP team contesting here is led by Non-Constituency MP Gerald Giam, who was in the team that stood here in 2011 and has gained some visibility since then.
Law student Wu Guo Wei, 24, said he is "very undecided" about which box to cross on the ballot. He acknowledged that the PAP team "did a good job" managing the constituency, but was also struck by some of the issues Mr Giam had raised in Parliament.
Another resident, Mr Derek Peng, 48, a director in a logistics company, is also of two minds.
"We need to see what both parties can offer. But the opposition, they are no longer school dropouts; the feeling is that they are credible," he noted.
Asked about such views that have come about as a result of having better-qualified opposition candidates, Minister Lim said: "You can be someone from the top university of the world and so on, a person may know a lot, the question is what (do) they care about?"
While a number of voters find themselves sitting on the fence, there are those who have made up their minds - choosing a proven track record over just academic qualifications.
They include Mr Kendrick Khoo, 44, who runs his own business. He said he is leaving nothing to chance.
"Given the current economic outlook here and around the world, I still want a stable team who has been taking care of Singapore to be in charge," he added.
It is a view shared by housewife Malavika Bayanagari, 53. "The Government is already motivated and has a genuine interest in the well-being of the country," she said.
For a constituency that has benefited from significant estate upgrading programmes over the past five years, municipal matters are not major sticking points.
National issues - rising home prices, overcrowded trains, immigration - which the electorate was upset about in the last elections have also been progressively addressed by the Government.
After more than four years of the GRC being tagged as a hot ward, it appears no one is quite sure where the domino will fall come Sept 11, and it is hard to call even at this midpoint of the hustings.
The PAP has been working especially hard to secure support from younger voters as well as those in private residential estates.
These groups of voters are thought to be in favour of a greater diversity of voices in Parliament that can act as checks and balances on the Government.
With five days to go before campaigning ends, the probably not insignificant number of swing voters who are in the middle will have a lot of thinking to do.

This article was first published on September 5, 2015.
Get a copy of The Straits Times or go to straitstimes.com for more stories.
: