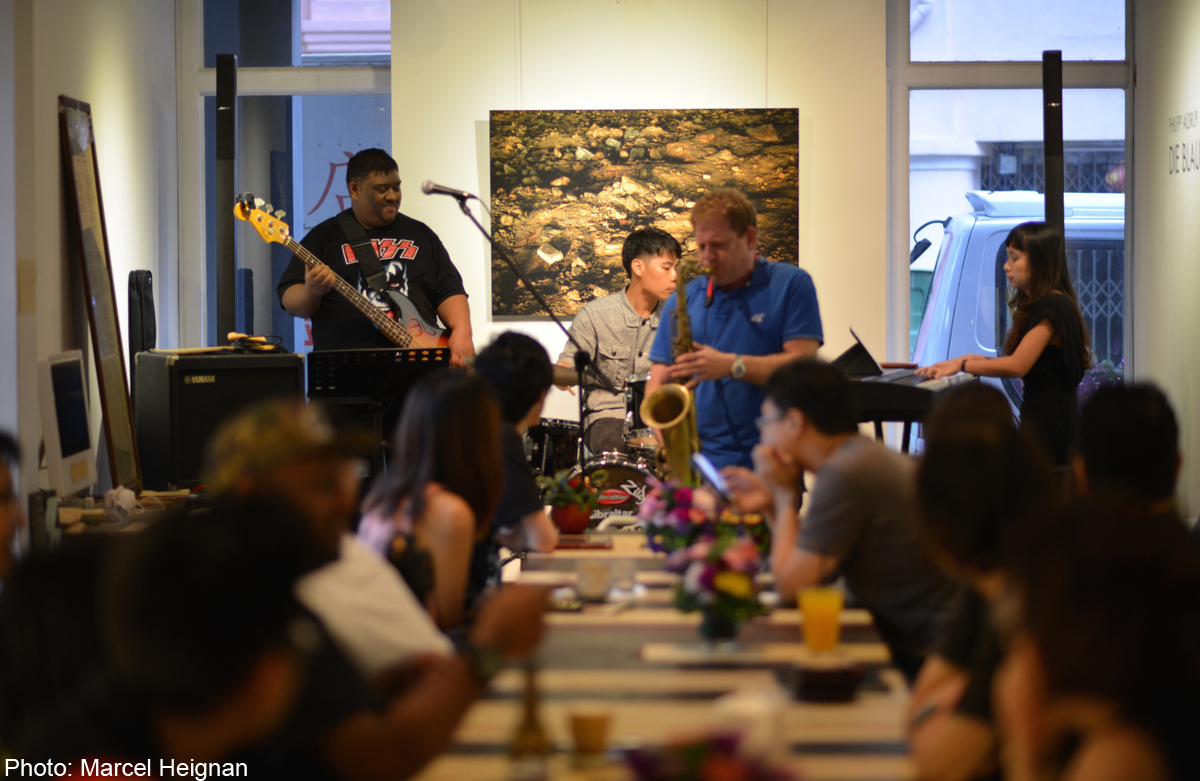 It is Friday evening at Japanese charcoal grill restaurant Rocku Yakiniku and customers are grilling slivers of meat and vegetables. Amid the cooking and noshing, someone begins to sing - a two-piece band has taken to the stage in the middle of the restaurant.
The joint in Bugis Plus is among a growing number of restaurants and cafes here offering diners live music, which was once exclusive to bars. At least 10 F&B joints that serve lunch or dinner have added musical treats in the last two years, giving singers and bands a new platform. All have to apply for a public entertainment licence from the police.
From a North Indian restaurant to a bakery-cafe, these establishments are going the extra mile to stand out from competitors.
Ms Bonnie Wong, 26, marketing manager of Creative Eateries, which manages Rocku Yakiniku, says: "To differentiate itself, Rocku Yakiniku defies convention by melding a traditional style of Japanese dining with modern entertainment."
The eatery offers live music from Thursday to Saturday, with a different resident singer each night.
Business has improved since performances started in December 2012. For instance, takings on Thursdays have climbed an average of 12 per cent compared with Wednesdays when there are no performances, says Ms Wong.
Financial analyst Jesse Tan, 27, a frequent diner at Rocku Yakiniku, says: "In South Korea and Taiwan, the idea of eating while being entertained is popular. Restaurants should add value beyond food."
The notion of a complete experience beyond satisying the tastebuds is why the owners of North Indian restaurant Shahi Maharani in Raffles City Shopping Centre has had live music since it opened in 1997. It is believed to be among the first eateries here to offer such entertainment.
A band from India serenades patrons with ghazals (a centuries-old form of poem and song) and Bollywood tunes six nights a week.
"It's not loud music like in a club. Instead, it adds to the ambience, showing off India's rich culture and heritage," says Ms Chitra Mirpuri, 39, the restaurant's director.
It costs about $5,000 to fly in a three-man band from India for six months, including accommodation, Ms Mirpuri reveals.
"But we make that extra effort as customers come to Shahi Maharani with the experience of music and food in mind," she adds.
For Ms Arianna Majeed, owner of Muslim-run bakery-cafe Spatula in Frankel Avenue, the decision to offer music gigs last October was inspired by her love of live music. She wanted to give her customers, a predominantly Muslim crowd, more options.
"Normally, live music can be found only in bars, which most Muslims don't frequent. So I thought, why not incorporate this element into a more casual, family-friendly setting... and share this with the Muslim crowd?" says the 27-year-old.
She usually invites her younger sister and friends who play in bands to perform radio-friendly English hits from Friday to Sunday.
At ice cream parlour Ben & Jerry's outlet in Dempsey, offering live music on Friday and Saturday makes it "one of the few places where the entire family can enjoy a great time together, unlike bars or clubs", says Mr Wong Toon King, 48, Ben & Jerry's franchise owner.
This is true for Ms Ifa Harmifa Mohd, 42. The fashion designer and owner of a women's boutique has been visiting the Dempsey outlet almost every Friday since 2012 with her three teenage children.
"The music adds to the relaxed vibe of the place and I doubt we would go if there was no music," she says.
Mr Fatool Ayob, 33, one of the regular singers at Ben & Jerry's, appreciates the wider range of venues for musicians such as himself. Having worked in the live music scene for 15 years, he notes how different singing in bars is from cafes and restaurants.
"At times, I'm not sure if the bar patrons who have been drinking really appreciate my music or just treat it as background entertainment," he says.
In settings such as Ben & Jerry's, where the crowd is more diverse and can include kids and the elderly, he feels he is reaching out to a wider audience and achieving what he loves - entertaining people.
"They ask for a variety of songs, including oldies such as those by Elvis Presley. Moments like these give me a greater sense of satisfaction," he adds.
But Mr Rai Kannu, 36, of singing duo Jack & Rai, points out that not all eateries offer a conducive environment for live music gigs. He says: "Some F&B joints resort to live music to draw the crowds and set up only a small space in the corner for the band."
In such cases, he wonders if diners do pay attention to the music while eating. He adds: "How they conceptualise the place is important. In some cafes, live music is treated more as a showcase and there is a good vibe that complements the music."
One such cafe is Artistry in Bugis, where eight to 10 music events are scheduled each month.
"We felt the platform for singers to showcase their craft was missing here. There are lots of live music gigs, but they are generally Top 40 covers, which are drowned out by people talking over a few beers," says Mr Marcel Heijnen, 50, co-founder of the gallery-cafe which began staging these events in November 2012.
He adds: "This is a clear sign that a subculture is developing in a big way and refuses to be contained to just the obvious spots."
gurveenk@sph.com.sg
ARTISTRY
What: Up for a music experience beyond the usual radio-friendly hits? From jazz to reggae to folk music, this gallery-cafe is the place to be if you want to widen your musical horizon. There are eight to 10 music events each month, ranging from monthly themed sessions such as Bluemonks Jazz Jam to gigs by new bands or established artists such as The Observatory.
Where: 17 Jalan Pinang
When: The schedule of music gigs is posted on Artistry's Facebook page two to three weeks in advance. Live music is performed from 8pm till late
Info: Go to www.facebook.com/artistryspace
ROCKU YAKINIKU 
What: At Japanese charcoal grill joint Rocku Yakiniku, three resident bands take to the stage on different nights. Mandarin music fans have cause for cheer as this is one of the few live music joints here that offer both English and Mandarin song performances.
Where: 04-06 Bugis Plus, 201 Victoria Street
When: 7 to 10pm from Thursday to Saturday
Info: Call 6634-3313
FISH & CO AT THE GLASS HOUSE 
What: Besides its distinctive all-glass facade, this Fish & Co outlet also stands out from other restaurants in the area with its live music gigs. Customers can tuck into seafood platters while listening to English pop and rock tracks courtesy of local bands Wingmen and Advance Press four nights a week.
Where: 01-24 Park Mall, 9 Penang Road
When: 7.30 to 9.15pm on Tuesday, Thursday, Friday and Saturday
Info: Call 6334-1858
SHAHI MAHARANI
What: Expect a dining experience fit for royalty when you enter North Indian restaurant Shahi Maharani. Just like the upper crust who enjoyed live music at dinner during the Mughal era in India, customers will be pampered by the soothing ghazal (an ancient form of poem and song) tunes artfully spun by Indian band Saaz.
Where: 03-21B Raffles City Shopping Centre, 252 North Bridge Road When: 8 to 11pm daily except Tuesday
Info: Call 6235-8840
BEN & JERRY'S AT DEMPSEY
What: Savour ice cream as you sway to your favourite English pop hits performed on Fridays by husband-and-wife duo Fatool Ayob and Ana Fazlina, who take requests. Mr Fatool performs solo on Saturdays. Singers are also invited to show off their vocal prowess
during open mic sessions on alternate Wednesdays. Where: 01-14, Block 8 Dempsey Road
When: 9 to 11pm on Friday and 8 to 10pm on Saturday. Open mic sessions are held every fortnight from 7.30 to 10pm
Info: Call 6473-3231
SPRUCE AT FIRE STATION 
What: Housed in the iconic former Bukit Timah Fire Station, modern American restaurant Spruce's outlet in Upper Bukit Timah sees three bands crooning a mix of classics, soul, R&B and pop hits on three weekday evenings. There are plans to introduce a live music experience at Spruce's other outlet in Phoenix Park this year.
Where: 01-01, 260 Upper Bukit Timah Road
When: 7.30 to 10.30pm on Tuesday, Thursday and Friday
Info: Call 6466-5582
STUTTGART BLACKFOREST BOUTIQUE S-CAFE
What: The cafe might scream all things German with waiters dressed in traditional Swabian costumes and cuckoo clocks dotting the place. However, the music is anything but German, with bands playing English songs dating from the 1980s. Jazz duo Ernesto Valerio (above left) and Gregory Anderson (above right) frequently perform there.
Where: 01-01 GSM Building, 141 Middle Road
When: 7 to 10pm on Friday
Info: Call 6336-8675 or go to www.facebook.com/sbbscafe
SPATULA
What: If you are a cupcake or waffle fan and love acoustic live music, then Spatula is the place for you. Echoing the mellow, laid-back atmosphere of the cafe, the radio-friendly anthems played by the owner's sister or friends are the icing on the cake to an already sweet evening.
Where: 87 Frankel Avenue
When: 5.30pm and/or 8pm from Friday to Sunday. Not all slots feature performances each week. Check the cafe's Facebook page for updates.
Info: Call 6243-3208 or go to www.facebook.com/hello.spatula.bakery
THE QUEEN & MANGOSTEEN
What: In line with the theme of the British restaurant-bar, eclectic home-grown band Trisno Bushmen Collabo belts out British radio hits as patrons chow down on English staples such as shepherd's pie or bangers and mash.
Where: 01-106/107 VivoCity, 1 Harbourfront Walk
When: 8pm till late from Tuesday to Thursday Info: Call 6376-9380
CM-PB
What: Set amid the lush greenery of Dempsey Hill, CM-PB (short for Contemporary Melting-Pot & Bar) offers the perfect getaway for a relaxing night of Western and fusion food and music. Be serenaded by the chill-out acoustic tunes of seasoned home-grown singer Jee Yon, bands 3AM and Amanda Tee And The Dugong Warriors, who each perform a night each week.
Where: 01-05, Block 7 Dempsey Road
When: 8.30pm till late on Thursday and 9.30pm till late on Friday and Saturday
Info: Call 6475-0105
This article was first published on Jan 16, 2015. Get a copy of The Straits Times or go to straitstimes.com for more stories.