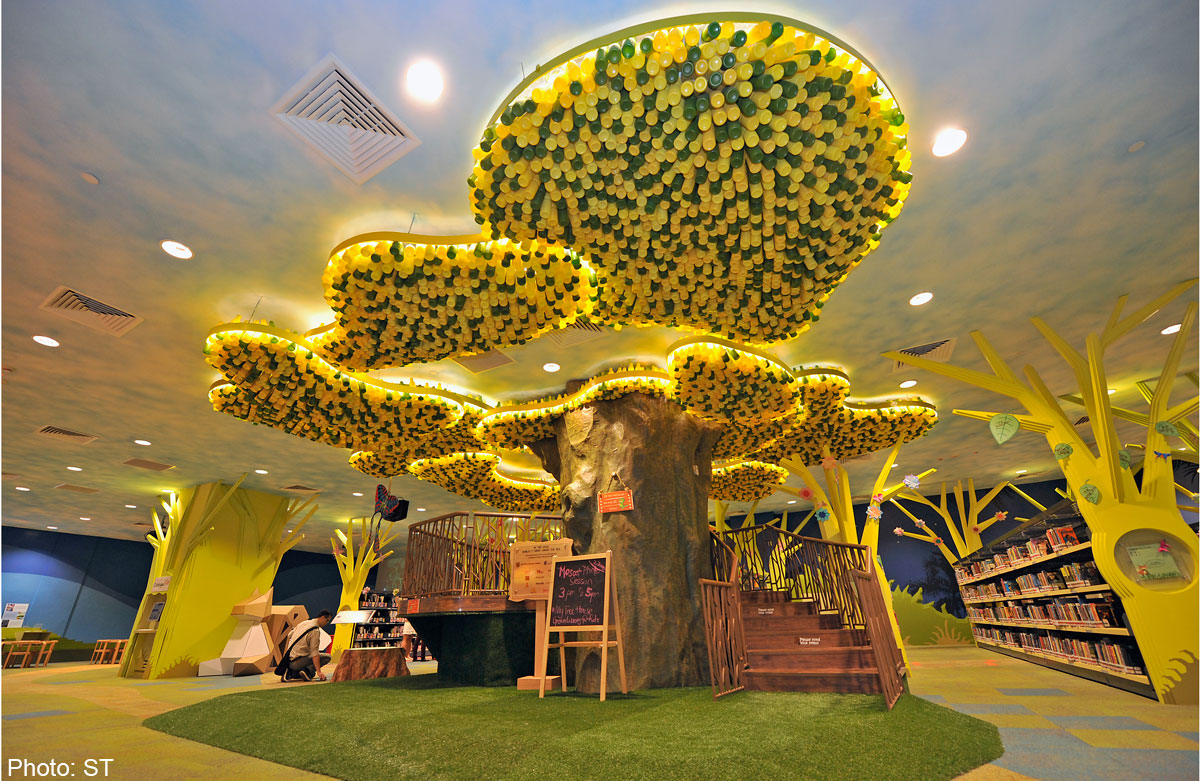 Besides browsing titles from some 150 publishers across Asia, bookworms who visit the 29th Singapore Book Fair will also get the chance to learn more about going green.
The longest-running book fair here, which starts today, will feature for the first time a "green library" to spread the message of environmental conservation.
Called My Tree House, the pavilion will allow visitors to take part in story-telling sessions or make handicrafts from recycled material.
It is based on a similar library which was opened atthe Central Public Library in Victoria Street in May last year.
Touted as the world's first eco-friendly library for children, it uses energy-efficient lighting and refurbished bookshelves, and is even decorated with recycled plastic bottles.
At the fair, environmentally- conscious visitors can also take part in a book swop, which allows them to exchange books with other readers instead of buying new ones.
More than 150,000 visitors are expected to attend the week-long event, which ends next Monday.
They will also be able to take part in other activities such as book launches, meet-the-author sessions and seminars on topics ranging from lifestyle to parenting and health care.
National University of Singapore undergraduate Justinn James Leong hopes the event will rekindle Singaporeans' passion for reading.
"Society is losing its love for books," said the 24-year-old. "There are so many masterpieces out there waiting to be read, but many of us are caught up with social media and the Internet. The concept of a book exchange is great."
The Singapore Book Fair takes place at Exhibition Halls 401 and 402 at the Suntec Singapore International Convention and Exhibition Centre. Admission is free.
Organised by the Singapore Press Holdings' Chinese Newspapers Division, it is supported by the Ministry of Education, the National Library Board, the Institute of Technical Education, The Straits Times, Lianhe Zaobao, Lianhe Wanbao, Shin Min Daily News and radio station UFM100.3.
audreyt@sph.com.sg

This article was first published on June 10, 2014.
Get a copy of The Straits Times or go to straitstimes.com for more stories.