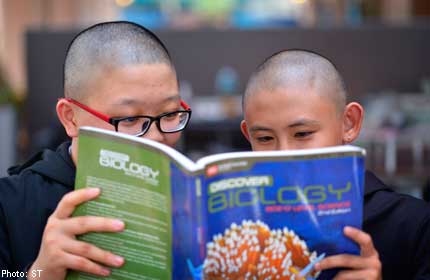 SINGAPORE - The case of the St Margaret's Secondary School girls who had their heads shaved to raise funds for the Children's Cancer Foundation offers a learning moment for students and educators alike.
Supporting a worthy cause deserves praise, of course. But when someone does this in an unconventional manner, the school authorities might ask if it creates harm or if it impinges on school rules that serve a wider purpose.
In this case, the school principal had said: "The school's rules do not allow punk, unfeminine or sloppy hairstyles. It's very clear in our mission: It's about their turnout as a young lady." It's a judgment parents would not fault ordinarily. But because of the girls' charitable intent, this became a topic of heated discussion.
The principal had earlier made the girls who had volunteered for the Hair for Hope event promise to wear a wig (costing $70 each) after they had their hair shaven. Two girls kept their promise, but not another three. Nevertheless, the school has now allowed the five girls involved to go wig-less after discussing the issue with the students.
The flexibility shown should be acknowledged.
The bald truth in most cases is that rules are rules and promises should be kept. Students should not expect schools to rewrite their rules in support of student advocacy as a matter of course.
And they should certainly keep their word after an agreement. But in applying the rules, educators need to be sensitive to the circumstances. Cancer remains a top killer disease here afflicting old and young alike.
When an issue tugs at the emotions, it is always prudent to consider a range of approaches first. For example, it was suggested that instead of wearing wigs, the girls could have given a presentation on the disease at the school assembly.
School conventions are bound to be tested from time to time.
The school community can learn from each episode how to strike the right balance.

Get a copy of The Straits Times or go to straitstimes.com for more stories.