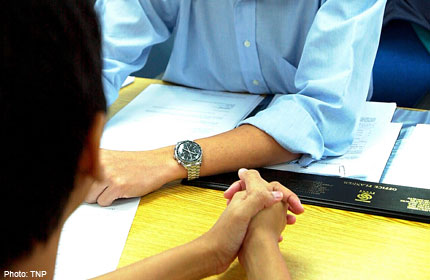 SINGAPORE - Employers tend to be wary of sex offenders because of the high risk they pose.
Mr Victor Sim, 53, who owns a logistics company, told The New Paper he would not consider sex offenders for any position as hiring them could potentially put his other staff at risk.
Said Mr Sim: "It'd be problematic if I hired a sex offender and something happens at work. So rather than take that risk, it'd be wiser for me not to hire them.
"I wouldn't want to be blamed for causing something undesirable just because I've hired the person."
But he said he might consider hiring those who had been involved in less serious crimes such as drink driving or being in youth gangs.
Mr David Ang, 65, the executive director of the Singapore Human Resources Institute, said employers would generally avoid hiring those who pose an enhanced risk to their companies.
He said: "Society is still unforgiving towards those who commit crimes such as rape or murder.
"It's the same logic as to how a parent would not want a teacher who has been convicted of molesting a child to be teaching their children."
However, he acknowledged that there has been much progress in the hiring of ex-offenders over the past few years, especially with the tight labour market.
Mr Ang advised ex-offenders to always be honest with their potential employer when applying for the job. He said employers should give ex-offenders a chance to understand their past and help them along the way.
The Singapore Corporation of Rehabilitative Enterprises (Score), which helps offenders and ex-offenders secure jobs, had a database of only 1,400 employers in 2004. Today, about 3,400 employers partner Score to accept ex-offenders in industries such as food and beverage, logistics, manufacturing and hospitality.
As of November this year, Score had secured jobs for 1,840 ex-offenders.
The Singapore Prison Service will also be introducing a mandatory aftercare scheme for people like drug offenders and serious crime offenders.
The scheme will feature programmes in prison for offenders and provide them with opportunities for gradual reintegration back into society upon their release.
Ex-convict Davien Ong, 33, found a job even before his release from prison. He is now a chef at Joel Robuchon Restaurant at Resorts World Sentosa (RWS).
Mr Ong was jailed four years for drug offences and was released in January after serving two years and eight months .
Sponsored training
He attended a training course sponsored by RWS and he earned a higher certificate in culinary skills.
Said Mr Ong: "The people from RWS came and interviewed me so I got the job even before my release. Upon my release, I completed my course and in August, I was given a full-time position.
"I feel very lucky and definitely treasure the job. I've bumped into old cellmates who tell me it's very difficult for them since their release because they can't find jobs."
RWS told TNP it has nine ex-offenders in its workforce.
Its spokesman said: "Our hiring criteria are based on a person's competency, qualifications and work experience.
"For someone with prior convictions, in addition to those criteria, we would also assess on a case-by-case basis if there might be a potential concern or conflict of interest with the job scope. For example, we would avoid employing a person previously convicted of fraud to manage large financial transactions."