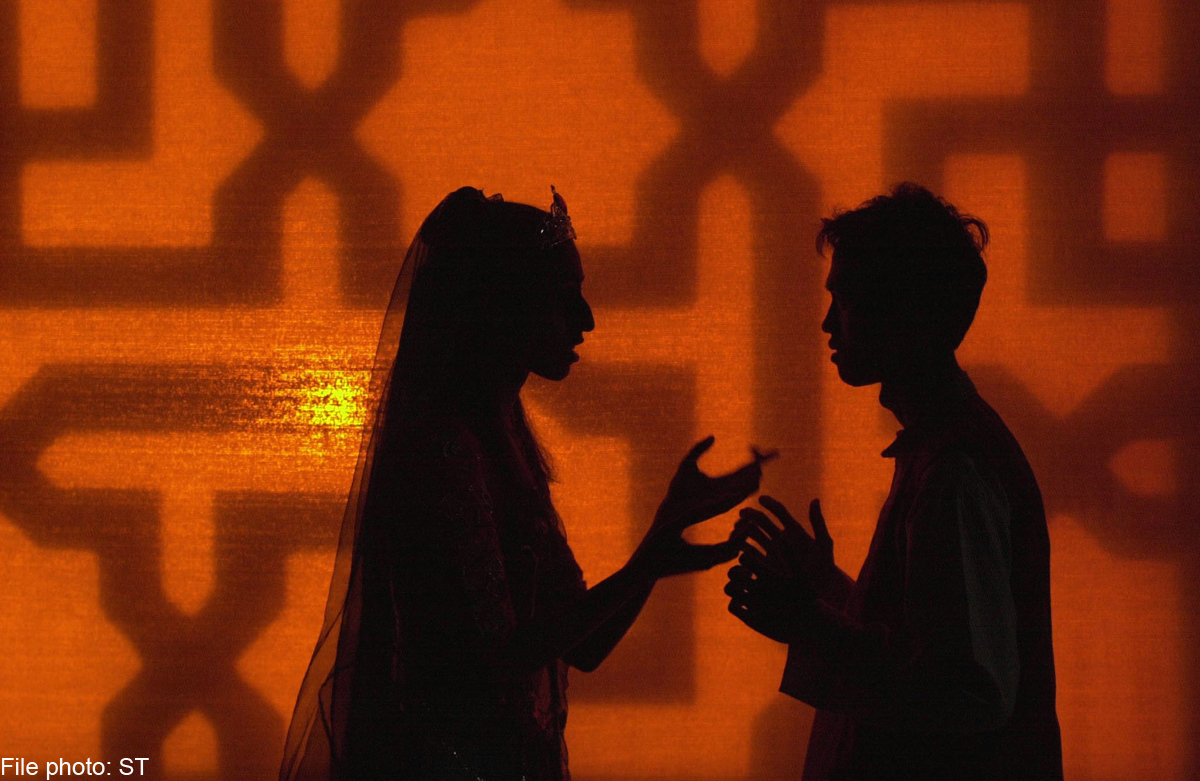 Through five full-length productions and 16 sets of dramatised readings, the Esplanade's annual Studios season will be putting 50 iconic Singaporean English-language plays in the spotlight.
Running from April 2 to May 10, The Studios: fifty is part of the national arts centre's year-long programme to celebrate Singapore's Golden Jubilee. It is co-curated by the Esplanade and playwright-director Chong Tze Chien.
Tickets are now on sale via Sistic.
The full-length plays in the line-up are:
- Emily Of Emerald Hill (1983) by Stella Kon, directed by Aidli "Alin" Mosbit and starring Karen Tan;
- The Weight Of Silk On Skin (2011) by Huzir Sulaiman, directed by Tracie Pang and starring her husband Adrian Pang;
- Off Centre (1993) by Haresh Sharma, directed by Oliver Chong and featuring Siti Khalijah Zainal and Ebi Shankara;
- Descendants Of The Eunuch Admiral (1995) by Kuo Pao Kun, directed by Jeff Chen with an established ensemble cast; and - The Lady Of Soul And Her Ultimate 'S' Machine (1993) by Tan Tarn How, directed by Zizi Azah and featuring a mix of emerging and familiar faces.
The rest of the plays will be excerpted and performed as dramatised readings. They have been grouped thematically or according to a playwright's body of work.
A mix of younger directors will be tackling these plays alongside more established practitioners.
For instance, seasoned director Samantha Scott-Blackhall will be directing selected works by Eleanor Wong, and Claire Wong will take on several plays by Kuo Pao Kun.
Among the younger directors, Irfan Kasban will be directing selected work by husband-and-wife duo Paul Rae and Kaylene Tan, and Tan Liting will be tackling plays from a younger generation of Singapore playwrights such as Joel Tan and Faith Ng.
Chong tells Life!: "We wanted a mix of seasoned and new directors - it is a celebration of the community by the community."
Some thematic groupings include Re-imagining History, which covers Madame Mao's Memories by Henry Ong, Watching The Clouds Go By by Robin Loon and The Last Temptation Of Stamford Raffles by Ng Yi-Sheng.
Another arc is Gender & Sexuality, which features Chay Yew's A Language Of Their Own, Russell Heng's Lest The Demons Get To Me and Desmond Sim's Autumn Tomyam.
Yet another set of readings focuses on Singapore's early years of local theatre, with plays by Lim Chor Pee, Goh Poh Seng and Robert Yeo.
Esplanade producer Rydwan Anwar says that the centre hopes audiences who have watched the plays before will be inspired to revisit them alongside those who have not yet seen these works.
He adds that the team took months to decide which plays should be in the lineup and that this list is not meant to be "the most representative".
"Admittedly, there's always that inevitable subjectivity in any selection," he says.
"We can only hope to present the story of Singapore theatre by marking its perennial concerns and themes that have shaped the scene, shifts in practices and artistic trajectories either through a playwright's oeuvre or in the scene in general, and cover the range of styles that have characterised dramatic writing in Singapore."
corriet@sph.com.sg

This article was first published on Jan 23, 2015.
Get a copy of The Straits Times or go to straitstimes.com for more stories.