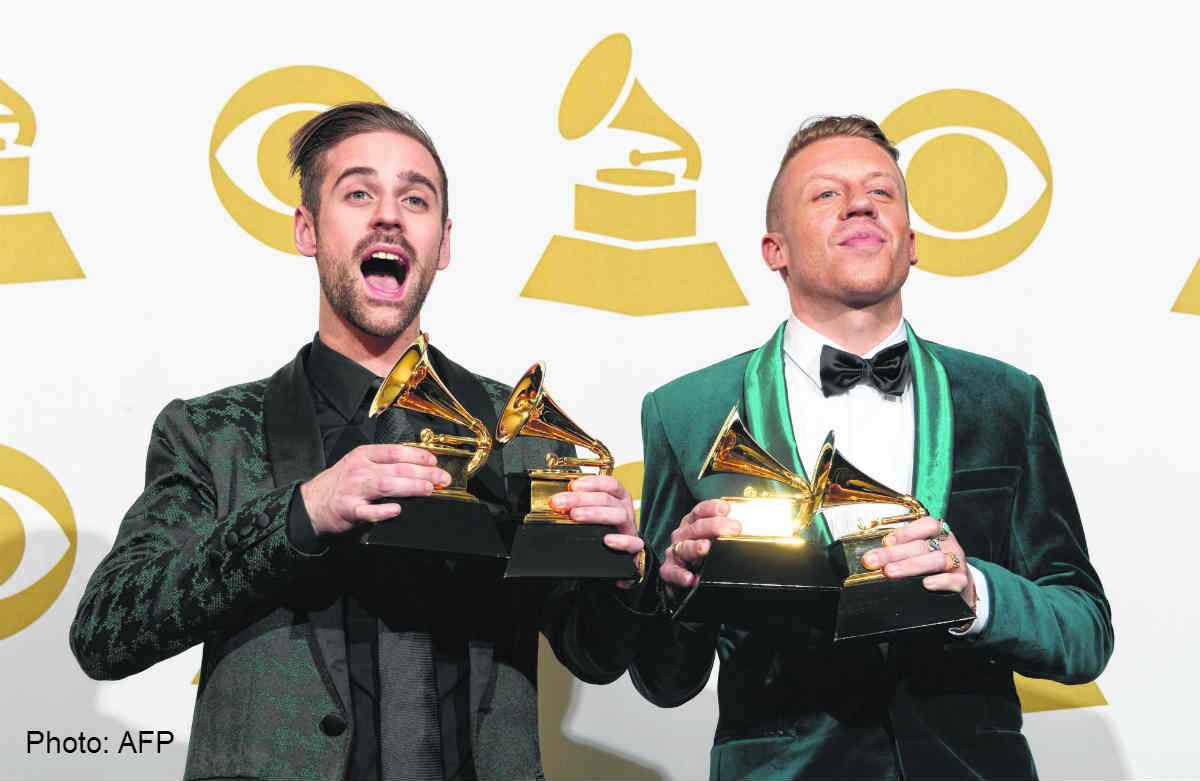 LOS ANGELES - They might not have taken home the big awards, but Seattle hip-hop duo Macklemore and Ryan Lewis clearly stole the limelight at the 56th Annual Grammy Awards in Los Angeles.
Although they won in four categories - for Best New Artist, Rap Album, Rap Song and Rap Performance - it was their live performance of marriage-equality anthem, Same Love, that caught everyone's attention during the three-hour- plus ceremony televised live here yesterday morning.
As they performed, 33 couples, straight and gay, exchanged rings and were married in the audience. Lewis' sister and her boyfriend were among those who took part in the nuptials.
Pop queen Madonna joined in the song together with R&B/soul singer Queen Latifah, who officiated the mass wedding ceremony, and singer-songwriter Mary Lambert, who sang the song's chorus.
Rapper Macklemore and producer Lewis wrote the song in support of legalising same-sex marriage in Washington in 2012. The Bill took effect in December that year.
Neither Macklemore nor Lewis is gay, although Macklemore has said that he has two gay uncles and grew up around gay couples.
The biggest winners of the night were French electronic music pair Daft Punk, who are the first pure electronic dance act to win in the major categories.
They collected five trophies. Their fourth album, Random Access Memories, won Album Of The Year, Best Dance/Electronica Album and Best Engineered Album, Non-classical, while their ubiquitous hit single Get Lucky picked up Record Of The Year and Best Pop Duo/ Group Performance.
Regarding their historic wins, they said not a single word.
While they went up on stage to collect their awards, their faces were firmly hidden behind their trademark futuristic helmets. Their collaborators, singer-producer Pharrell Williams and dance/pop music veteran Nile Rodgers spoke on their behalf at the podium.
Soul/R&B icon Stevie Wonder also joined the French duo, Williams and Rodgers to perform Get Lucky during the ceremony.
Led by New Zealand teenager Lorde, 17, young talents made an impact at the Grammys this year. She beat more established music stars such as Katy Perry, Justin Timberlake and Pink to win Song Of The Year and Best Pop Solo Performance for her hit single Royals.
On the country music front, singer- songwriter Kacey Musgraves, 25, triumphed over country-pop star Taylor Swift and veterans including Tim McGraw and Blake Shelton to win Best Country Album and Best Country Song for her song Merry Go 'Round.
True to the Grammys, established names were also given their dues. Surviving Beatles Paul McCartney and Ringo Starr played a new song Queenie Eye live. It was a rare performance together to mark the 50th anniversary of their legendary band's first performance on American television.
The family members of late Beatles John Lennon and George Harrison were also present, as the Fab Four were honoured with a lifetime achievement award.
McCartney also won Best Rock Song for Cut Me Some Slack, a song he wrote and performed with the surviving members of grunge icons Nirvana - Dave Grohl, Krist Novoselic and Pat Smear.
Earlier, music power couple Beyonce and Jay Z opened the show with a live performance of the former's new single Drunk In Love. Jay Z would later go up on stage again to accept the award for Best Rap/Sung Collaboration for Holy Grail, his collaboration with R&B/pop singer Timberlake.
Dedicating the trophy to his wife and their two-year-old daughter Ivy Blue, the hip-hop mogul quipped as he held up the gramophone-shaped trophy: "I want to tell Blue, look, daddy got a gold sippy cup for you."
Unusual pairings and cross-genre collaborations in live performances are practically a Grammys tradition. Even in this context, a performance this year stood out - the team-up between American metal pioneers Metallica and Chinese classical pianist Lang Lang on the former's 1989 thrash metal classic, One.
Less remarkable were the surprisingly straight-up collaboration between R&B/pop singer Robin Thicke and soft-rock stalwarts Chicago, but thankfully, the onstage musical camaraderie between alternative rockers Imagine Dragons and rapper Kendrick Lamar was energetic and refreshing, and helped to enliven the otherwise slow pace of the long show.
dinohadi@sph.com.sg
Major winners
Album Of The Year: Random Access Memories by Daft Punk
Record Of The Year: Get Lucky by Daft Punk Featuring Pharrell Williams & Nile Rodgers
Song Of The Year: Royals by Lorde, written by Joel Little & Ella Yelich O'Connor
Best New Artist: Macklemore & Ryan Lewis
Best Pop Solo Performance: Royals by Lorde
Best Pop Duo/Group Performance: Get Lucky by Daft Punk Featuring Pharrell Williams & Nile Rodgers
Best Pop Vocal Album: Unorthodox Jukebox by Bruno Mars
Best Pop Instrumental Album: Steppin' Out by Herb Alpert
Best Dance Recording: Clarity by Zedd Featuring Foxes
Best Dance/Electronica Album: Random Access Memories by Daft Punk
Best Traditional Pop Vocal Album: To Be Loved by Michael Buble
Best Rock Performance: Radioactive by Imagine Dragons
Best Metal Performance: God Is Dead? By Black Sabbath
Best Rock Song: Cut Me Some Slack by Paul McCartney, Dave Grohl, Krist Novoselic and Pat Smear
Best Rock Album: Celebration Day by Led Zeppelin
Best Alternative Music Album: Modern Vampires Of The City by Vampire Weekend