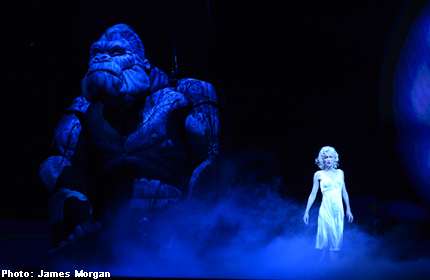 SINGAPORE - He's over 6m tall and weighs more than a tonne. He roars, he pounds, he fights and romances the woman of his dreams. He even bleeds for love. Watch King Kong, the legendary silverback gorilla from Merian C. Cooper's 1933 film of the same name, now the lead actor in his own musical. We find out how the '8th Wonder of the World' is brought to life in front of a live audience.
"He's an Adonis, an image of power and strength."
It made its debut on June 15 at the Regent Theatre in Melbourne, Australia. But King Kong the musical was the result of five years of development.
In 2008, Ms Carmen Pavlovic, CEO of Global Creatures, was looking at how to next use the company's animatronics technology, after its success with animatronics shows like Walking With DinosaursHow To Train Your Dragon.
Animatronics is the art of bringing different technologies together to create lifelike robots for entertainment purposes.
Together with production designer Peter England, she trawled through several creature stories.
When they came to the story of King Kong, they knew it was the one.
Said Pavlovic: "As I really got to think about it, I became more and more captivated by the fact that it was a love story, and I could see musical possibilities in that very strongly."
After a series of engineering and control tests, Mr Sonny Tilders, the creature designer at Global Creature Technology, decided to proceed.
Four scaled models and two prototypes were built before the "sculptural" version of Kong was finalised.
It would take a year and 50 specialists across the engineering, fabrication, electronics and digital departments to build this Kong.
But not everything was about Kong.
The musical required a crew of 76, to support a cast of 50 actors, singers, dancers, circus performers and puppeteers.
Due to the size of the production, the producers of King Kong have guaranteed the show will not be touring anywhere outside of Melbourne.
Looks like one will have to go Down Under to catch this Kong.

Get The New Paper for more stories.