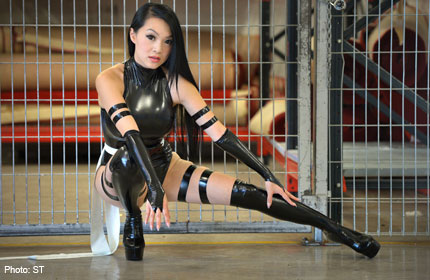 Togged out in sexy outfits that accentuate her va-va-voom figure, cosplay artist Vampy Bit Me never fails to turn heads whenever she makes an appearance at comic conventions around the world, such as the sixth Singapore Toy, Game & Comic Convention held here over the weekend at the Marina Bay Sands Convention Centre.
However, the 30-year-old Vietnamese-American, whose real name is Linda Le, insists that fans who meet her in person keep their distance and treat her with respect.
While she does get her fair share of "creepy fans" who follow her on her Facebook page and personal website, she sees it as part of her job.
"Of course, the men are always going to be there but in person, I do have male and female fans who are all very nice," says Le, dressed in a black latex bodysuit and thigh-high boots at an interview at the convention centre last Thursday.
She has more than 100,000 likes on her Facebook page Vampy Bit Me, which was set up in 2010.
The cosplayer, who is dating an artist, has made a name for herself through the outfits she wears based on manga and anime characters.
She posts photos of herself in these outfits online as well as video blogs on topics related to the sub-culture of anime, manga and gaming.
Her moniker, Vampy Bit Me, is based on a manga character called Vampy whom she is modelled after.
"Vampy's a little girl who did not have many friends, like me. So she bit all these animals, like a vampire, to turn them into her friends," says Le, the middle child of Vietnamese immigrant parents who moved to Oklahoma from Vietnam before she was born. Her older brother, 32, owns a clothing line while her younger brother, 25, is a chef.
Now based in San Jose, California, she recalls: "Growing up, I was terribly shy and had only one best friend. But after getting into cosplay and modelling my outfits at photoshoots six years ago, I've met so many like-minded people whom I can hang out with in real life."
But it is not all just play. She takes cosplaying very seriously and has carved out a successful career. Taught to sew by her seamstress mother, she makes her own costumes and props, and is also paid to produce them for other cosplayers. She has started making toys too, such as Gundams, the giant robots from an anime series.
Le has also built up a following through her multiple paid appearances at comic conventions. She has shown up at more than 200 comic conventions in the past five years.
In a good month, she can pull in a five-figure salary for her appearances and making costumes for others. She also has an anime rocker-style clothing line and sells prints and posters of herself online.
Not bad for a former make-up artist and hairstylist who has a business degree from San Jose State University in California. After graduation, she attended hairstyling schools Paul Mitchell in the US as well as Toni & Guy in London.
Her father, a general physician, used to find her job unusual but has now accepted it after seeing how well she is doing.
One thing that does bother her at American conventions is meeting detractors who accuse her of being a "fake geek" simply because she knows how to do her make-up and dress properly.
She says: "You can make pretty good money if you have the right mindset and business sense. But if you come into it just being sexy, no one cares."
Do you feel out of place in a sub-culture that is dominated by guys?
In real life, I dress a lot like the guys that I hang out with and my gaming skills are pretty much on a par with them, so I feel very at home. I've also been meeting many people through cosplay and they're girls. I think girls are way cooler than guys because we deal with a lot of stuff, which makes us more powerful. I mean, we don't open doors for guys.
Would you ever date a fanboy?
Not the creepy ones who follow me online. I have male and female fans in person but online, they always think they have a chance with you. "She's a geek girl! Maybe she's single!'. I'm like, "No. I'm taken." I'm dating an artist now and he's a geek. He knows more about mecha (a sci-fi genre centring on robots or machines) than me.
Do you have a strict policy that you adhere to when you meet fans?
I have to confess that I am a creep myself. When I'm a fan of somebody, I will stalk him or her, so I know what it's like. Everyone's weird and a little different, I think, especially when you're going to a convention. But I like everybody who meets me, they're all very nice. The ones who follow me are definitely the stronger people because I'm not too cutesy when I talk online. Because of that, I think I attract the right people.
Is there a distinction between the terms "geek" and "nerd"?
Heated arguments tend to arise between geeks and nerds. To me, geeks are people who geek out about something they love. For example, you watch the sci-fi series Battlestar Galactica, you know the characters, you talk about them and it's really fun.
Nerds are those who know all the episodes and crazy stuff like how many times somebody flips her hair in each of them. I'm not like that. When it comes down to it, I'd rather be a geek than a nerd.
You've been to conventions all over the world. How are the fans in Asia different from those in America?
I love Asia so much, I want to move here eventually. People in Asia are very respectful. They don't say nasty things or criticise so much. I find that American people like cheesiness: Instead of making cosplay artistic, they will make it into a drama or something to create buzz and make a quick buck. I'm American, but I think that's cheap.
Is there a difference between your cosplay persona and you in real life?
I've been trying to erase that distinction and show that I'm just a regular person because I don't want to be judged based on cosplay alone. People like different things and are multi-faceted. So why not show people you can like cosplay and yet not take it so seriously so you can do other things you love? Cosplay isn't life, you know. It is just one facet of your whole being.
What do you see yourself doing 20 years from now?
Cosplay is great, but I can't be doing it forever - the heels make my feet hurt. Hopefully, I'll have my own costume line, come up with toys and do something related to the arts scene.
How would you like to be remembered?
The most important thing that I try to convey is the fact that I am a real person. I'm pretty much the way I am because I love it. And if I do end up making costumes for good - okay, maybe that too.
stlife@sph.com.sg
Get a copy of The Straits Times or go to straitstimes.com for more stories.