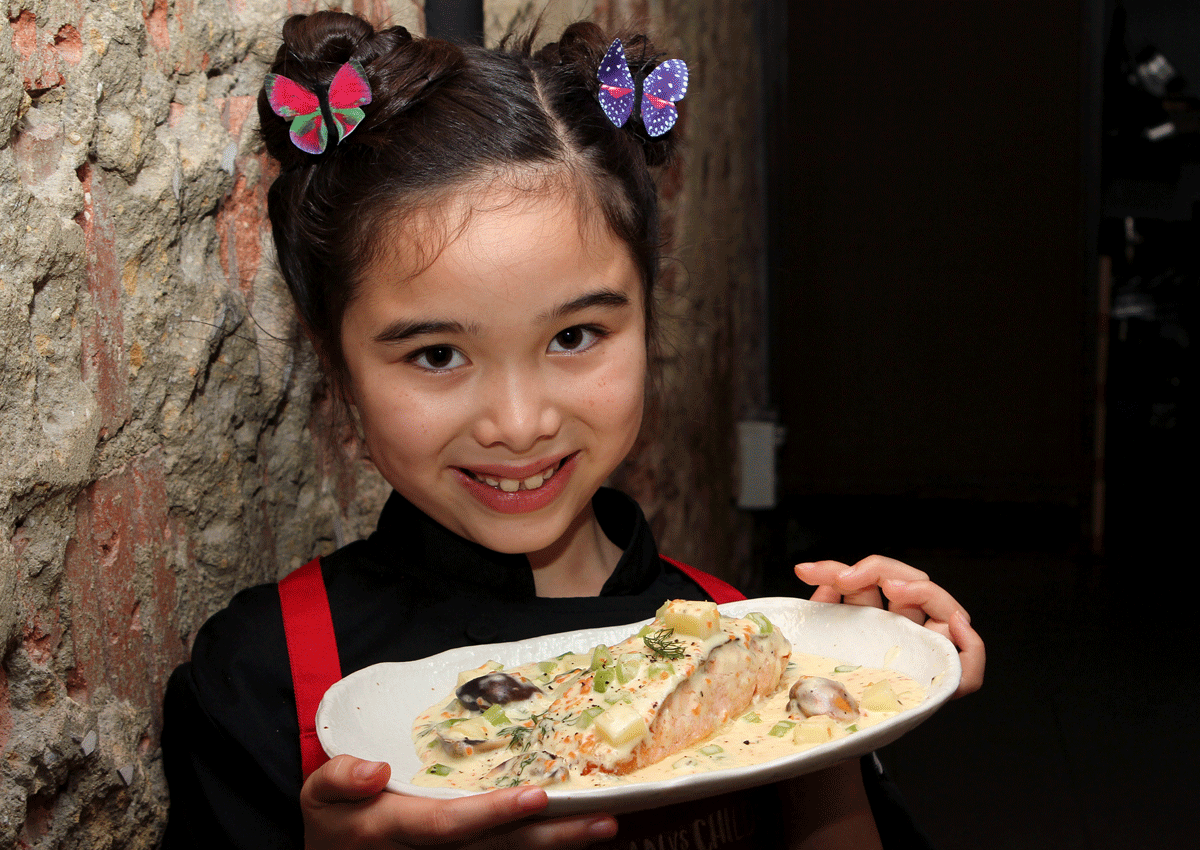 Most eight-years-olds prefer to eat fast food, but for Estie Kung, it is all about "caviar, caviar, caviar".
Flashing a toothy, dimpled grin, the Californian tells The Straits Times cheerily: "I just love caviar. For my birthday last year, I wanted to have tacos and caviar.
"But I think my friends prefer to eat at In-N-Out," she says, referring to the popular American burger chain.
Her 43-year-old housewife mother, Mrs Laura Kung, who is beside her at the interview, explains: "We let Estie try a bit of caviar when she was two years old, thinking that she would hate it. But she ended up loving it."
Estie also cites steak tartare, filet mignon and lobster as her favourite things to eat.
Her taste for fine food does not stop at eating. When she was three, she became interested in cooking after watching her mother in the kitchen. She mastered the basics from her mother and started improvising on her own, playing with different flavours and textures using YouTube videos and TV cooking shows as additional sources of inspiration.
At home, she enjoys cooking alongside her mum for family and friends, particularly for their weekly themed dinner parties where they experiment with various international cuisines.
Indeed, the youngster can whip up complex dishes such as Tournedos Rossini, a classic French dish of steak served on a brioche crouton, topped with foie gras and shaved truffles.
She is such a cooking whiz, in fact, that she consistently stuns even the professionals on new TV cooking contest Man Vs. Child: Chef Showdown, in which she and other child cooks undergo cooking challenges with restaurant chefs.
In the first episode, Estie, the youngest of five child cooks on the show, confidently whips up a Korean fried chicken dish with kimchi mayonnaise and a sauce made with Korean hot pepper paste.
Californian restaurant Calafia's executive chef Frank Otte, who battles her in this challenge, says in the episode: "Estie is the most adorable kid. I can't even take it, I'm distracted by how cute she is.
"But then I look at what she's doing for the challenge and it's crazy. So basically, I'm terrified."
Over the course of the show, host and judge Adam Gertler also praises her knife skills, adding that he was "definitely" not allowed to handle a knife at her age.
Estie says: "When I first started cooking, I used a butter knife because they have no ridges. When I got better at cutting, I was allowed to use a real knife - I think I was seven."
This reporter catches glimpses of her aptitude in the kitchen when she does a cooking demonstration for the media. She creates a salmon dish with clam chowder sauce and, up close, she proves her finesse in dicing celery and searing fish to crispy perfection.
The young cook hopes to publish her own children's recipe book, and eventually open her own restaurant - "when I'm legally allowed".
She is the younger of two children. Her 18-year-old sister "cannot even use the microwave", she says.
Her Chinese-American father works in a technology company. Her mother is Caucasian.
Though Estie sounds wise beyond her years when it comes to food, you soon realise she is, ultimately, still a kid.
Throughout the 10-minute interview, she gets distracted easily, happily chomping on the chocolate bars laid out on the table before her and bursting into song when she feels like it. She also looks to her mother for cues whenever she is unsure of a question.
She points to her colourful hair accessories - her signature look - and says cheekily: "Do you know, we've lost so many of these from filming the show. I just don't know where they go to."
But as soon as the topic veers back to food, she is firmly at the top of her game. She says earnestly: "I used to learn how to cook from my mum. But now, I sometimes have to teach her."
yipwy@sph.com.sg
Follow Yip Wai Yee on Twitter @STyipwaiyee
Man Vs. Child: Chef Showdown premieres on Lifetime (StarHub TV Channel 514) tomorrow at 7pm.

This article was first published on January 25, 2016.
Get a copy of The Straits Times or go to straitstimes.com for more stories.