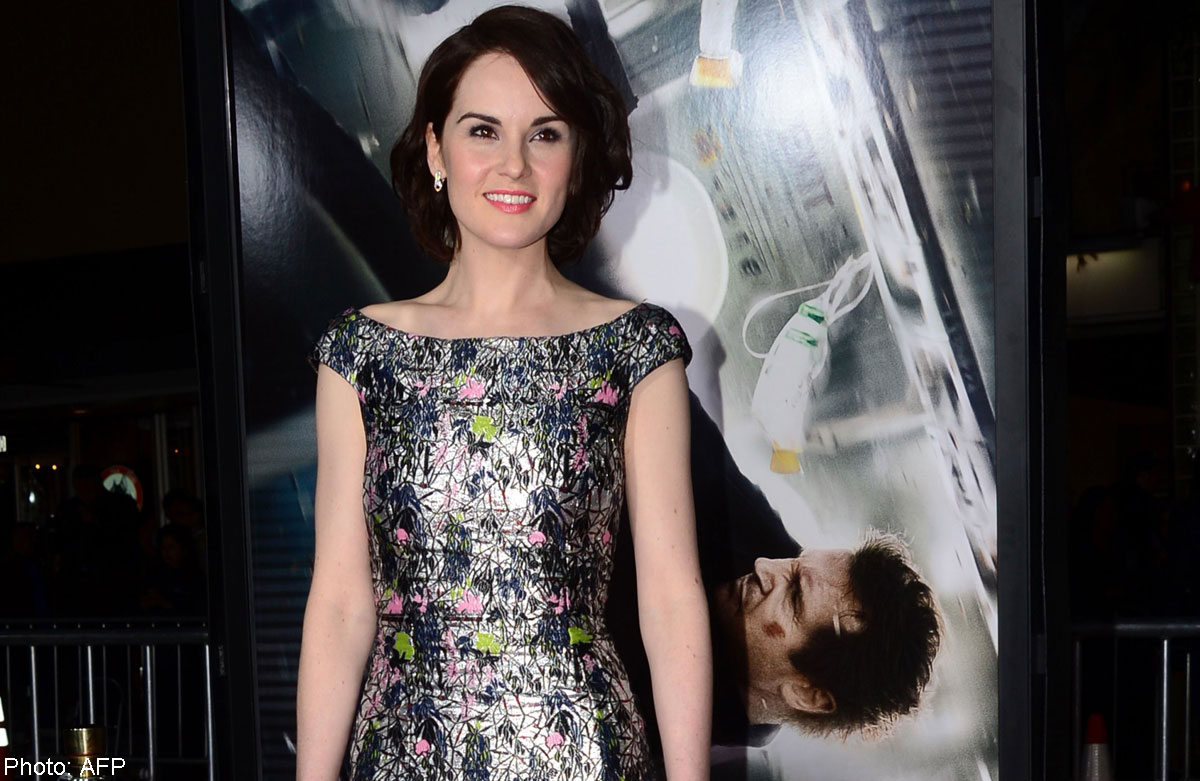 LONDON - It may surprise Downton Abbey fans to learn that Lady Mary Crawley is a fan of action films, counting Die Hard as one of her favourite Christmas movies.
"It's true," says actress Michelle Dockery, who is set to start her fifth season on the hit British series.
"I really like action films, especially the first two Die Hard films, and I love watching them in the cinema. I also watch Die Hard every Christmas," she says of the 1988 Bruce Willis movie in which takes place during Christmas season.
"I like that feeling of sitting on the edge of my seat. It was a real bonus being able to make an action thriller."
She steps into the world of action thrills courtesy of her latest outing, Non-Stop, starring as a flight attendant opposite Liam Neeson's United States federal air marshal in a film set entirely onboard an aircraft.
"I loved that I got to work with Liam," says Dockery, 32. "I love Michael Collins, my mum and I really loved that movie. Also, I love the Taken movies. I remember when I got this role watching the second film and being really excited."
She also cites Julianne Moore, another of her co-stars on Non-Stop, as one of her idols "because she's had such a varied career."
Variety is important to Dockery. "The fact that I got to do an action thriller was great because it was not something that I was looking for and it's good to have different challenges," she says.
"This was a different genre for me, so it was technically more complicated," she adds. "Downton has a stillness to it, while with Non-Stop, it was a lot of hand-held cameras. It was exciting."
Thanks to Downton Abbey's popularity, more doors are opening for her and her cast mates.
She says: "That success has definitely given all of us opportunities in other areas. There is more interest now, which is great."
Born to working-class parents in London's East End, Dockery was a member of the National Youth Theatre and studied at the Guildhall School of Music and Drama where she won the Gold Medal for drama before making her professional debut on stage in an adaptation of His Dark Materials at the Royal National Theatre in 2004.
Dockery says she knew early on in her life that acting was the career path she wanted to follow.
"I went to a stage school when I was a kid, so it was either dance or acting or singing," she says.
"It was always the arts that I was more interested in. I used to watch a lot of dramas when I was a kid, like Prime Suspect. I loved watching Helen Mirren in that when I was a teenager.
"I loved films, too, like The Bridges Of Madison County (1995) because of Meryl Streep's performance. I loved watching acting - I was fascinated that you could move an audience, or someone could make you laugh."
She had her girlish film crushes too.
"Matthew Broderick was a big heartthrob for me in Ferris Bueller's Day Off (1986). And I loved Edward Furlong, the kid in Terminator, and Leonardo DiCaprio in Romeo + Juliet (1996)."
In her late teens, she was accepted into the National Youth Theatre. "It was a three-week course and then you do a performance at the end of it. It was like a taster of what it is like to be in a company of actors or to be in drama school and I just felt at home. That was when I knew I didn't want to do anything else."
Although she has received Golden Globe and Emmy nominations for her role in Downton Abbey, she retains a soft spot in her heart for theatre.
In 2010, she was nominated for a Laurence Olivier Award for Best Supporting Actress in the stage production of Burnt By The Sun.
But the success of Downton Abbey and her continual involvement in it make it difficult for her to maintain her work in theatre.
"Sometimes, roles come up in theatre but they don't fit the schedule of Downton. In fact, that's been the hardest part - having to let go of parts on stage that I'd really like to play. I know that there's always time for that, though, and one day I want to get back to the stage."
stlife@sph.com.sg
Non-Stop is now showing.

Get a copy of The Straits Times or go to straitstimes.com for more stories.