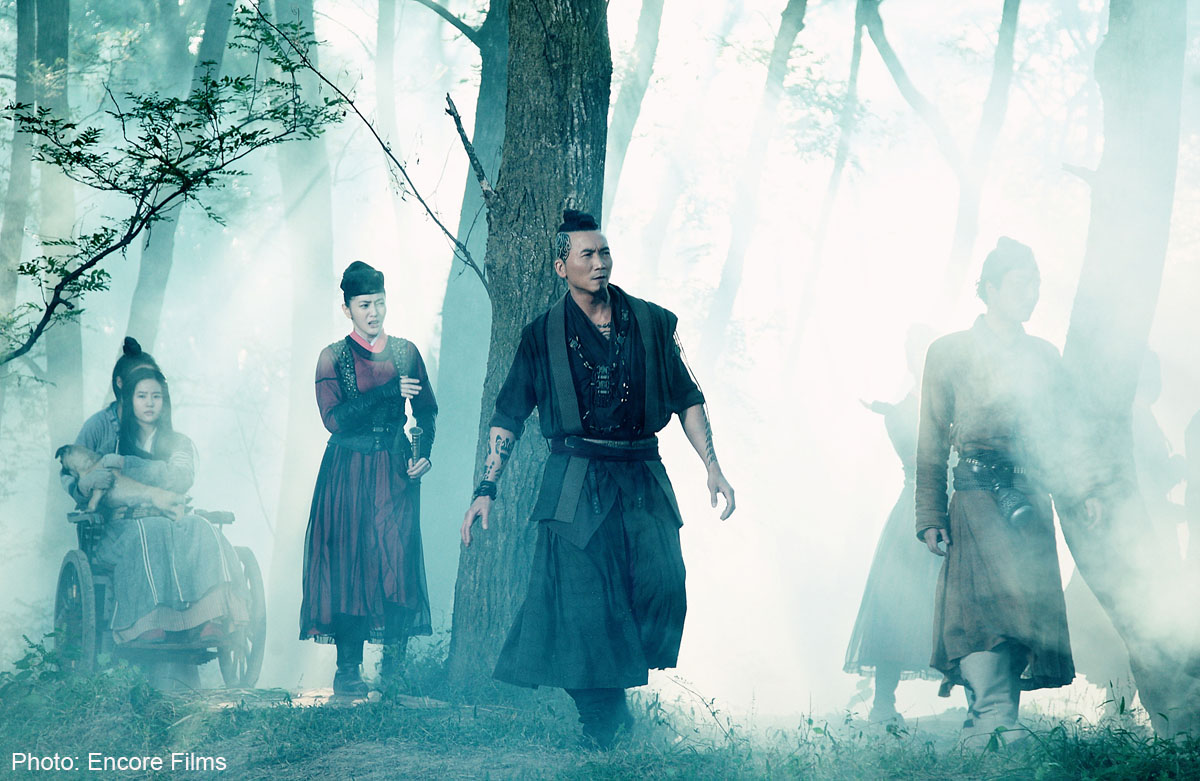 TAIWAN- During the filming of an emotional family scene in the new period action-fantasy The Four 2, Taiwanese actor Collin Chou was worried he would break down.
The 46-year-old tells Life! that shortly before he was scheduled to film a heart-rending fall-out scene with his screen sister, who is played by Chinese actress Liu Yifei, tragedy struck his own family in real life.
"My youngest sister had depression and committed suicide," he says solemnly in Mandarin over the telephone from Beijing where he was doing promotions for the film.
"I did have worries that I wouldn't be able to go through with that scene, but I am an actor and I still have to do my job."
The film, which opens here on Jan 9, is a follow-up to last year's The Four, about a quartet of crime fighters with superhero-like abilities. Chou plays Iron Hands, a man who has strong arms and is adept with metalwork.
Throughout the filming of the sequel, the actor kept his troubles to himself.
Things got worse on his home front. After he finished filming and the movie was in post-production, his second youngest sister also committed suicide because of depression.
Says the actor frankly: "Between the two incidents, there were about six months where I just had to go about my work as profesionally as I could.
"Moviegoers want to see your performance on screen, not see you lay out all your personal issues. So I just did my job, even though it was really very tough to bear."
Chou, who has eight brothers and two other sisters, adds: "Maybe depression runs in the family. I try not to think too much about these things. I still have to go about my life."
In a separate interview with Life!, the movie's director Gordon Chan describes Chou as "admirable" for remaining professional in the face of personal tragedy.
Chan, 54, recalls: "He did not tell anyone about what he was facing, and revealed it to the rest of us only at the press conference recently. The only thing I noticed was that he was extremely quiet that day but otherwise, everything went on as normal.
"This sounds terrible now that we know what happened, but I had been so happy at the time because he acted out the scene with so much emotion. He nailed the scene."
At the aforementioned press conference - held in Beijing early last month - Liu, 26, was reportedly so moved by Chou's revelation that she jumped up to hug him.
Tearing up, she reportedly told him: "Even though you lost two sisters, you have also gained one from now on, and that is me."
Asked about it, Chou readily admits that he sees her as a sister.
"She's very approachable and a sweet girl-next-door. Over the years of working with her, I've also seen how she has matured and grown. She is a really wonderful person," he says.
In a way, he also played big brother to the rest of the cast, which includes Ronald Cheng, Deng Chao and Anthony Wong - he "took care of them" by making coffee for them every day.
He says in a decidedly lighter tone: "I like to brew a big pot of coffee and it would be very selfish of me if I didn't share it with the others."
The actor, who is married to former Hong Kong beauty queen Wanda Jessica Yung, 47, with whom he has two sons, is a martial artist who debuted in show business at the age of 18 in the film Promising Young Boy (1987), produced by action star Sammo Hung.
He subsequently joined Hung's stunt team and has since appeared in supporting roles in numerous action flicks including Kung Fu Cult Master (1993), The Bodyguard From Beijing (1994) and War Of The Under World (1996).
He got his Hollywood break in 2003 in The Matrix Reloaded and The Matrix Revolutions as Seraph, guardian angel of the Oracle. Three years later, he also had a role in the action film DOA: Dead Or Alive (2006), adapted from the video game.
He says he is open to taking on Hollywood films again, but with a caveat.
"For Western films, I won't accept any roles that insult the Chinese and will avoid them like I've always had."

Get a copy of The Straits Times or go to straitstimes.com for more stories.