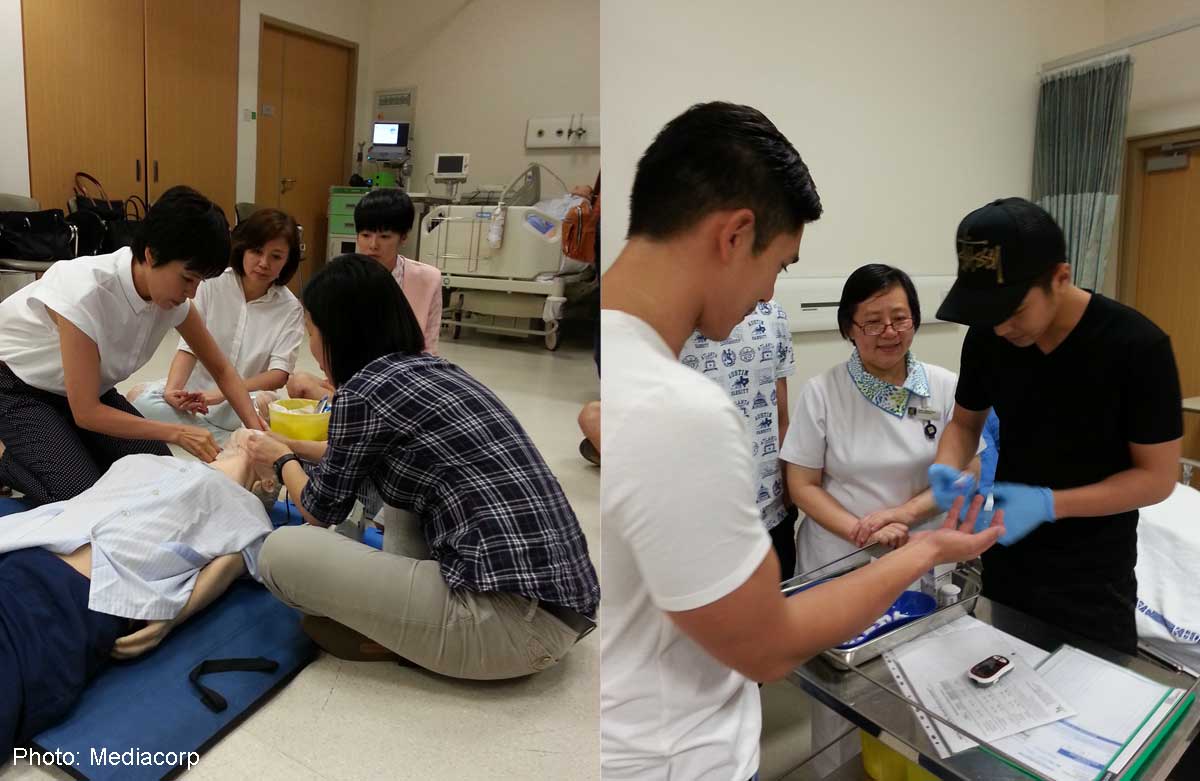 Actor Xu Bin squirms & screams when he has blood drawn during training for new medical drama.
He may look boyish, but 25-year-old Xu Bin has a phobia about blood.
The China-born, who is acting in new drama You Can Be An Angel Too, squirmed and screamed when fellow actor Elvin Ng had to draw blood from his finger during training several weeks ago.
Xu said: "I am scared of that moment right before the needle pricks my skin. I keep thinking that a lot of blood will squirt out from my finger.
"Elvin used a lot of pressure when he was drawing my blood, and my whole finger was covered in blood. I covered my eyes and said: 'No, no, I don't like this'."
Xu plays a nurse in the upcoming TV show alongside local A-listers such as Zoe Tay, Zheng Ge Ping and Ng.
The drama, which started filming yesterday, will air on Channel 8 at 9pm from Jan 5 next year.
'I'LL TEASE THEM'
Tay was amused: "I thought I was scared of blood and injections, turns out that some of the male actors were more scared than me. I heard them screaming during our nurse training, but I haven't had time to tease them yet. Maybe I'll tease them during filming."
The 46-year-old, who plays a calm and caring senior nurse, said she used to have a phobia about injections because of a bad childhood experience.
She said: "The injection was so painful and the nurse scolded me on top of it. Since then, I have this fear.
"I overcame it only when I had to give birth and was put on the drip. I became used to it."
To prepare for the show, the cast was given a few training sessions in the weeks prior to filming.
For the veteran actress, the most unforgettable part of the training was learning how to clean up a dead body.
She described the sessions as solemn and silent, as everyone watched intently and did not make a single noise.
"The procedure was performed on a dummy, but it still felt very real," she said,
"It left a very strong impression on me. I didn't know that nurses have to do that."
Tay, whose childhood dream was to become a nurse, has a lot of respect for nurses now after knowing how hard they work.
She said: "It's really not an easy job as they have to handle a wide range of duties.
They need to be fearless, and also deal with patients' emotions and calm them down.
"The experience a nurse can gain must be very interesting and fulfilling."
Also starring in the drama are 29-year-old model-actress Sheila Sim and 27-year-old Rebecca Lim.
Sim, who portrays a passionate rookie nurse, agreed with Tay that watching the nurses clean up the dead bodies was an unforgettable experience.
She said: "I learnt that nurses have to talk to the dead bodies and treat them respectfully when cleaning them up before handing them over to their families.
I was tearing because it was just very heart-wrenching."
Lim, on the other hand, did not have any chance to undergo training as she was busy filming another show.
But the actress, whose childhood dream was to become a doctor, had received some on-site training a decade ago.
She had understudied a doctor - a friend of her parents' - and watched an open heart surgery.
Unlike Xu, Lim is not at all afraid of blood.
She said: "During the surgery, I could see a lot of blood gushing out everywhere and the only word I muttered was 'cool'."

This article was first published on July 10, 2014.
Get The New Paper for more stories.