A mixed-race contestant on a Chinese reality television show has found herself in the limelight as China's treatment of African people living in the country comes under increasing scrutiny.
Winnie Zhong Feifei, who was born in Liaoning province to a Chinese mother and Congolese father, was recently revealed as a contestant on the singing competition show Produce Camp 2020, a spin-off of the famed South Korean K-pop reality show Produce 101.
But Zhong has had to deal with a storm of derogatory comments on Chinese social media since the announcement, due to her African heritage and mixed appearance.
The 101 female trainees taking part in Produce Camp 2020 were revealed by the show's organiser, Chinese tech giant Tencent, on April 8.
The contestants will be going head to head with each other to secure a position in a new idol group.
Some new trainees have already built up a huge fan base since the announcement, while others - including South Korean idols Sally from girl group Gugudan and Hami from D.Holic - are already established stars.
But most attention has been reserved for Zhong, a 24-year-old who completed her undergraduate studies at Boston University in the United States and is now taking graduate studies in intelligence and counterterrorism at Johns Hopkins University.
Before being announced as a trainee, Zhong had posted vlogs featuring her speaking in Chinese about feeling out of place in China due to her distinct curly hair that makes her stand out.
In November, she attracted racist comments when she uploaded selfies to the Chinese microblogging site Weibo.
One commentator asked whether the ancestors of Chinese people "in hell" might become angry due to mixed-race people proudly branding themselves as "descendants of the Yellow Emperor" or "descendants of the dragon" (an ancient term for Han Chinese people).
Zhong responded: "If you don't know, go down [to hell] and ask [them] yourself. I am a living person who can't answer this question."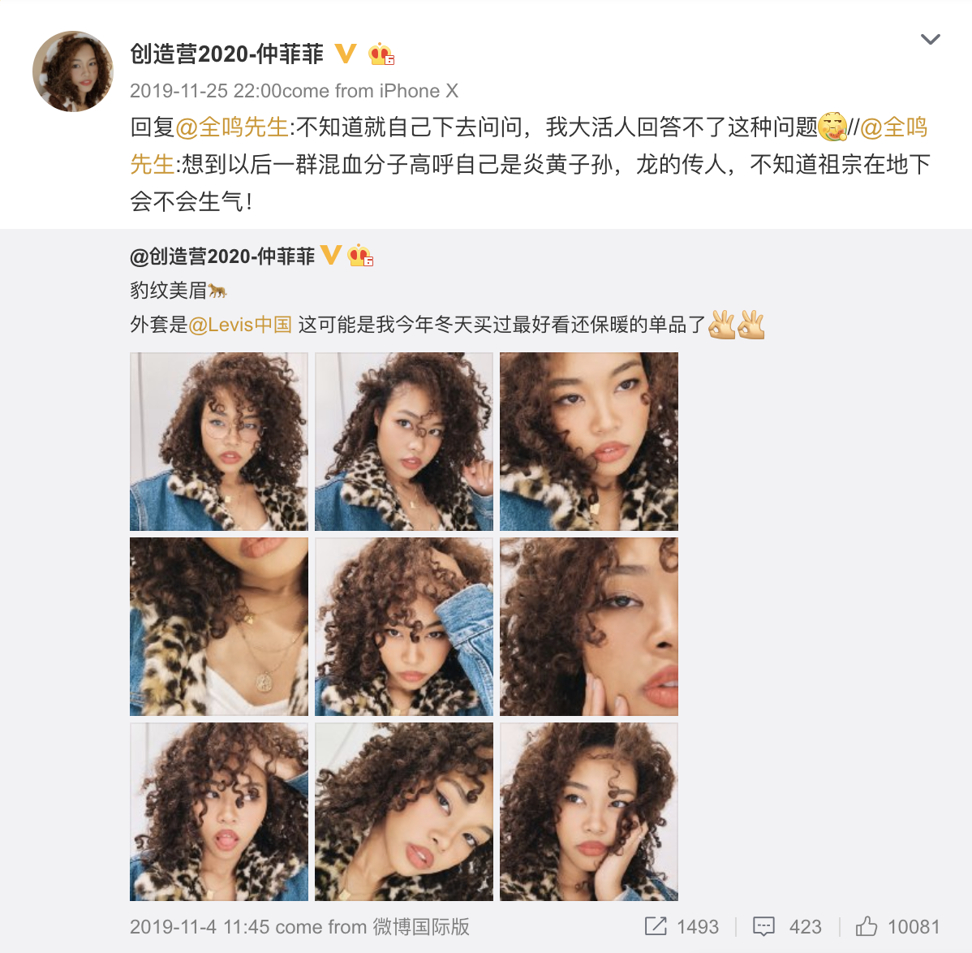 Zhong has also had to deal with discriminatory remarks on her Weibo posts regarding her African heritage, such as netizens using the transliterated Chinese characters for the derogatory "N-word".
The racist attacks on Zhong come as authorities have been accused of mistreating African expatriates and students in the southern city of Guangzhou amid the coronavirus pandemic.
After the alleged emergence of a Covid-19 cluster in the city's African community, numerous reports surfaced of Africans being evicted from their homes or denied service at restaurants and hotels.
However, despite the attacks on Zhong, many netizens have rallied to her defence.
On Zhong's recent Weibo post announcing her selection for Produce Camp 2020, one supporter wrote: "It's outrageous that there is such racism… You're so beautiful sister. Don't worry about them."
Another user commented: "These comments are disgusting… Practise well sister. I'll vote for you."
Several fan accounts supporting Zhong have also emerged on Twitter, YouTube and Instagram.
On a YouTube video montage of Zhong, one user commented: "I can't believe people are hating on her just because she is half-black when there is a fully white girl", a reference to Russian K-pop star Lana.
On Twitter, one post by fan account @archivesfeifei detailing Zhong's biography has amassed close to 20,000 likes.
Another fan account (@winniepics) dedicated to posting pictures of Zhong has gained close to 5,000 followers and regularly posts new pictures and videos of the contestant.
200412
© zff-spot (weibo)#创造营2020 #仲菲菲 #zhongfeifei pic.twitter.com/ogItyNhTfo - zhong feifei pics (@winniepics) April 12, 2020
Zhong has also received support from an international fan base, with people from Vietnam to Brazil creating fan pages promoting her.
And her Instagram account has gained thousands of new followers during the past week, surpassing 30,000 as of April 13.
Produce Camp 2020 is the third season of China's Produce 101 spin-off and is set to air in May on Tencent Video.
This article was first published in South China Morning Post.