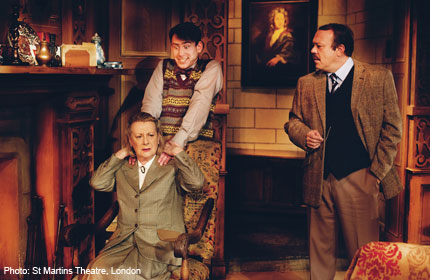 The West End's longest-running production, The Mousetrap by Agatha Christie, is coming to Singapore for the first time next month.
The whodunit, produced by the British Theatre Playhouse, is on at the Jubilee Hall for 10 days next month.
Since its debut in 1952, The Mousetrap has chalked up more than 23,000 performances in the West End. The plot revolves around a motley crew of characters trapped in an old guesthouse while a murder investigation is carried out.
Among Mousetrap veterans in the cast is John Faulkner, 62, director and co-founder of the Playhouse, who acted in the West End production in 1983. He says with a laugh: "Everybody loves a murder and it's not often nowadays that you get to see that on stage."
Attributing the play's enduring popularity to the thrill of the mystery, he says its setting, a guesthouse in the English countryside, draws audiences in: "It's a slice of England from the 1950s when there were no handphones, no technology."
The cast include Tim Wallers, who plays guesthouse proprietor Giles Ralston, while Katherine Heath, who played Miss Casewell in the 2011 West End production, reprises the role.
Director Denise Silvey, 54, is production superviser for The Mousetrap's current West End run. On helming the version here, he says: "It feels safe and secure, like putting on a pair of comfy slippers."
This year is The Mousetrap's 60th anniversary and 60 productions of Christie's thriller have been licensed around the world to mark the occasion. In South-east Asia, the Playhouse production will open in Bangkok this month and go to Malaysia on Oct 16.
While the show has been staged all over the globe, each production is contractually bound to use the same set and script.
Faulkner, who was the leading man in 1983 as innkeeper Ralston in the West End version, says: "The set is the same, the costumes are the same and they bring back a flood of memories."
He plays retired army officer, Major Metcalf, in this, his second outing in The Mousetrap. "There's the excitement of doing it all over again but from a different angle and with different actors."
Every production of The Mousetrap is different, Silvey insists, "because you have eight different actors. They have their own ideas about the character, which make it interesting".
A gala performance will be held on Oct 10 to raise funds for the Hospice Care Association. The Playhouse aims to raise between $85,000 and $90,000 from ticket sales of $500 a person.
lting@sph.com.sg
Book it
THE MOUSETRAP BY AGATHA CHRISTIE
Where: Jubilee Hall Theatre, Raffles Hotel
When: Oct 4 to 13. Tuesdays to Fridays, 8pm;
Saturdays, 5 and 8pm; Sundays, 5pm
Admission: $80 to $120 from Sistic (call 6348-5555 or go to www.sistic.com.sg)
Get a copy of The Straits Times or go to straitstimes.com for more stories.