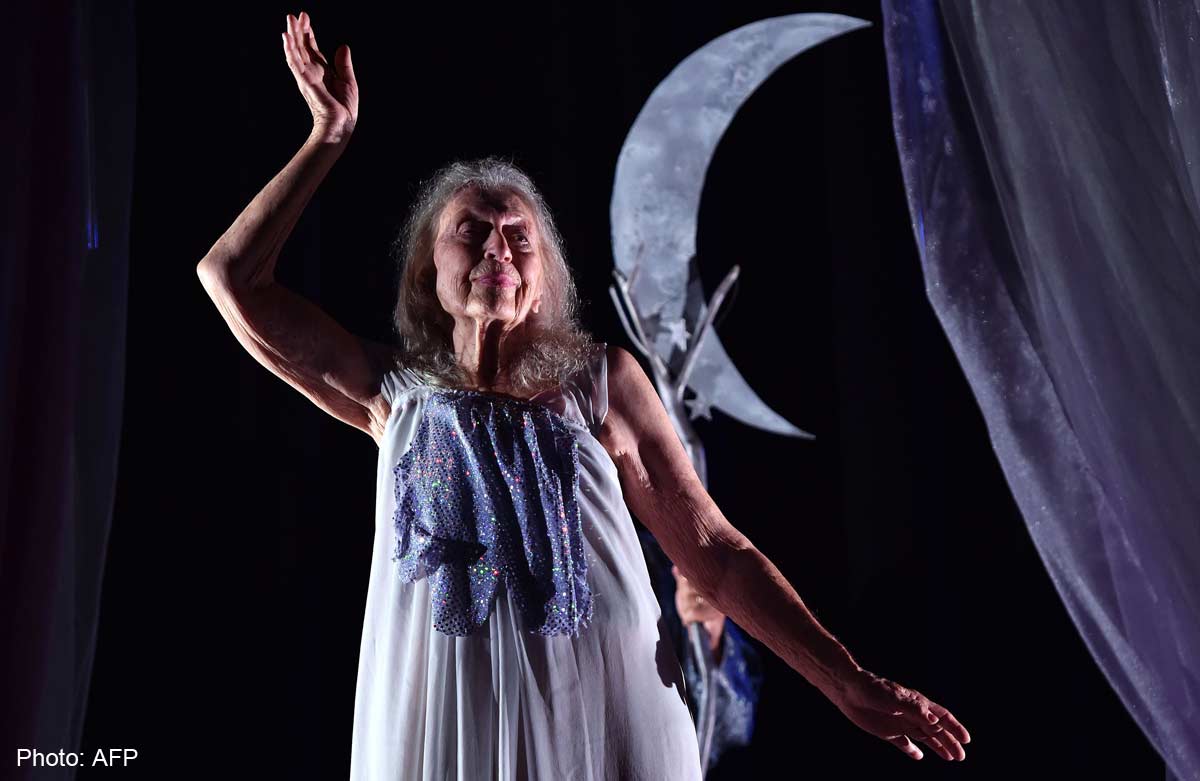 SYDNEY - Starring in music videos at the age of 100, Eileen Kramer is probably the oldest working dancer and choreographer in Australia, if not the world -- and the centenarian revels in her age.
"I don't mind. I'm 100!," she laughs from the Sydney rehearsal of a music video in which she is performing. "I'm liberated. I don't have to be 35 all the time."
Conversation with Kramer moves swiftly -- from how she used to eavesdrop on philosopher Jean-Paul Sartre in a Paris cafe, to modelling for famous artists, to Louis Armstrong teaching her to do the twist.
She puts her life's unusual trajectory down to seeing, at the age of 24, a performance by Sydney's Bodenwieser Ballet, run by Viennese immigrant Madame Gertrud Bodenwieser, who had fled to Australia via Colombia after escaping the Nazis.
Kramer tried out for the troupe and was accepted to classes. She recalls that after her first session she felt "free" -- and within three years was a member of the company.
Although named the Bodenwieser Ballet, it is credited with being Australia's first truly influential modern dance company, and despite her lack of classical training, Kramer found she had talent.
"It wasn't wild, untrammelled movement; there was a definite technique to do. It just suited me."
Kramer credits the languid movements learned at Bodenwieser and her own love of expressive gestures with enabling her to continue her dancing career for so long.
Other contemporaries have suffered more physical problems, she said.
"The other members of the Bodenwieser Ballet mostly have something wrong with their bones. I haven't got anything wrong because I didn't do all that... hitting the ground when you come down. So I think that's why I haven't got false hips or knees."
Kramer says she still works on her ballet exercises, admittedly from the comfort of her bed most mornings.
"But I do get up and do plies and things. Some of the foot exercises in classical ballet are very, very good for strengthening your feet. And I need it now because I can only see with one eye so my balance is affected."
With her bright lipstick and a near-fluorescent orange dress she made herself, Kramer recounts touring Australia, New Zealand, South Africa and India with the Bodenwieser troupe before setting up on her own.
"I was always interested in India and when we toured there I got a taste for India, I suppose," she says, explaining how she took up residence in the country's top hotels as their dancer or artist.
"In Pakistan, somebody told me I could paint. Next thing I found myself in a pavilion... painting scenes of Paris. That wouldn't happen now. But I was on the spot and I did it. I had two assistants. So I set to work and did it."
In Europe she earned money as an artist's model, something she had done in Sydney for Australian painter Norman Lindsay, often for France's noted cubist Andre Lhote and his school.
"He came into the classroom the first day and said, 'Ah, a genius, a beautiful model'. And when he showed me the painting, it was all cubes," she laughed.
She recalls an occasion in France's Dieppe when she was waiting to travel to America as her partner Baruch Shadmi played roulette in the casino.
"So I went into the ballroom to amuse myself and Louis Armstrong and his group were there," she said.
"And I was the only person in the ballroom and I was trying to do the twist. I didn't get it. So he showed me."
'I began to think of kookaburras'
Kramer moved to New York with filmmaker Shadmi, but gave up dancing when he had a stroke, caring for him for 18 years until his death.
Afterwards, she returned to performing, but at the age of 99, after the death of another partner, decided to come home to Australia.
"I began to think of kookaburras. The smell of gum trees," she said.
"It's natural to come back to your own country.
Although previously little known in her native land, her return has sparked a new chapter in her career, with the dancer collaborating on three music videos.
"It's her commitment to creativity. It's so inspiring to see," explains singer Sarah Belkner, 31, on why she chose Kramer to dance in her new music video.
To mark turning 100, in March she performed The Early Ones, a dance piece she crowdfunded and choreographed herself, with Australians donating more than Aus$26,000 (US$) to help her fulfil her dream.
The dancer herself cannot conceive of being anything other than an artist. "I couldn't do anything else," she said.
"I don't feel like my life has been difficult. I paint. I write. So if I couldn't dance, I would be standing before an easel painting."
She stays in touch with modern life using a mobile phone and has used Facebook, and asked about the secret to her longevity, she jokes: "I don't smoke, I don't drink and I don't chase women.
"People do say, 'Oh I wish I could do what you've done'. And I just say, 'Well, do it'.