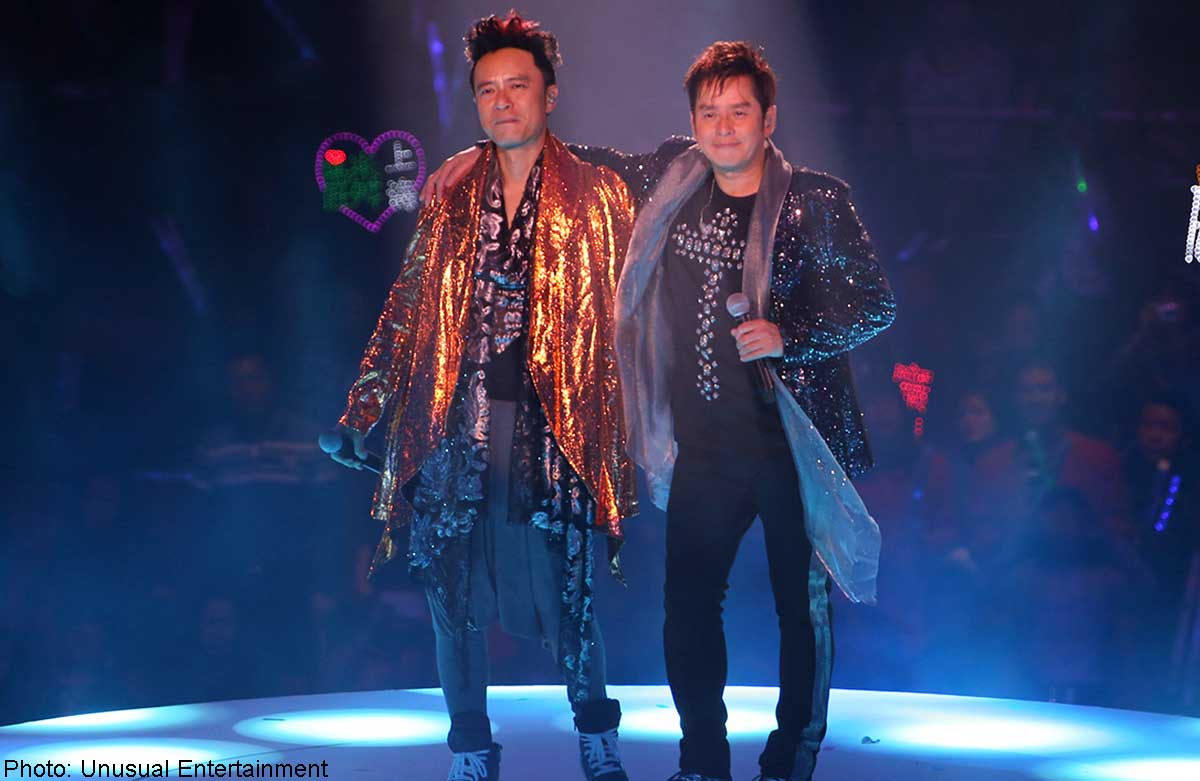 It was an error that went on and on - and it is all good.
A misunderstanding at a press conference led to the formation of Cantopop double act Alan Tam and Hacken Lee, who held their first joint concert in 2003.
The labelmates held a joint press conference to announce their solo concerts and the reporters had mistakenly thought they were holding a show together.
Despite the generation gap - almost two decades separate them - it turned out to be the start of a successful collaboration with more than 100 shows in countries such as Malaysia, Canada and the United States.
Last December, the Cantopop singers kicked off their Alan & Hacken 10th Anniversary Tour with 13 sold-out shows at the Hong Kong Coliseum.
The pair will be bringing their show to Singapore in September and half of the tickets have already been sold. They last held a joint concert here in 2010.
Long-time fan Rosina Hong, 46, who flew to Hong Kong to watch their concert last December, has bought the top-tier S$228 ticket for the show here.
Madam Hong, who works in her husband's printing company and is the Singapore representative for Hacken Lee International Fan Club, says: "Both of them are great singers and, combined with their interaction onstage, it makes for a really fun show."
Fans like her can now start making their song requests for the Singapore show.
Tam, 64, says: "They can post their song requests online, on our social media accounts on Sina Weibo (microblogging site). We will consider them for the encore section."
He and Lee were talking to the Singapore press over the telephone from Hong Kong on Tuesday.
The secret to their joint show's longevity is teamwork and open communication, they say.
Lee, 47, says: "We've worked together for such a long time. We have different opinions but we are both very direct. We will bring our differences to the table and discuss them."
Tam chimes in: "It's the team before anything else."
They have expanded their collaboration to the food and beverage business in Hong Kong. They opened their first restaurant selling noodles and congee in 2012 and opened a second branch in January this year.
The eateries adopt the same Chinese name as their joint concerts, Zuo Lin You Li, which is a wordplay on their Chinese names.
Lee says: "When it comes to our food business, it's totally different from how we work on our concerts together. I usually leave the business to 'Principal Tam'. We also have experts in the business taking care of it."
Tam, who is part of veteran Cantopop band The Wynners, has earned the nickname Principal Tam because of his esteemed status in Cantopop.
Lee started off idolising the popular singer Tam. The younger man got his break in show business when he won a singing competition with his rendition of Tam's Love In The Fog. He later joined Tam's music label, PolyGram.
Now more friends than mentor and disciple, they have a shared love beyond singing - they bond over football and even flew together to Brazil to catch the World Cup earlier this month.
Tam says: "We got the chance to play football with the locals in Brazil. We wanted to try out some snazzy moves that we saw on the pitch, but we couldn't pull them off."
Book it
Alan & Hacken 10th Anniversary Singapore Tour
Where: Singapore Indoor Stadium
When: Sept 6, 8pm
Admission: S$98 to S$228 (excluding S$4 booking fee) from Sports Hub Tix (call 6333-5000 or go to sportshubtix.sg)

This article was first published on July 24, 2014.
Get a copy of The Straits Times or go to straitstimes.com for more stories.