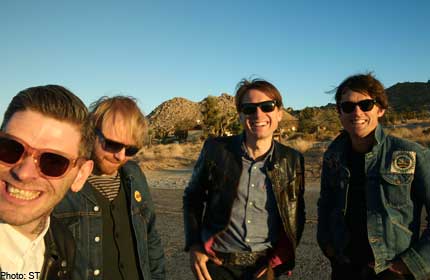 INDIE ROCK
RIGHT THOUGHTS,RIGHT WORDS,RIGHT ACTION
Franz Ferdinand Domino
Rating: 4/5
Mention Franz Ferdinand to indie-rock devotees here and many are likely to recall fondly the sheer cheekiness of the Scots.
In the midst of their 2006 gig at the Singapore Indoor Stadium, frontman Alex Kapranos invited fans for an impromptu meet-up at the lobby of the Hotel InterContinental Singapore where they were staying.
Needless to say, hotel staff and guests were caught off-guard by the sight of about 100 rapturous fans climbing onto chairs and trying to hug, and consort with, the band.
That's why a sheepish grin materialises on your face as you listen to their fourth record, which is aptly titled Right Thoughts, Right Words, Right Action.
With a glint in their eye, these zesty Glaswegians bring their everyman democracy to the masses.
They are archly aware of the privilege thrust upon them, even if they revel in it.
Their joie de vivre is rooted in reality.
That all good things will eventually come to pass hangs as an apparition over these sharp shooters.
Hot Chip's Joe Goddard and Norwegian producer Bjorn Yttling (bassist of the indie-pop darlings Peter Bjorn and John) make sure the proceedings shine.
Fresh Strawberries is a case in point, skewering their current position in the musical change of guard. "We are fresh strawberries/A fresh burst of red strawberries," Kapranos delivers ominous lines over butt-tight guitars and drums.
The melody turns Beatles-eque and indeed bittersweet as it gets even more singalong.
"Ripe turning riper in the bowl/We will soon be rotten/We will all be forgotten/Half remembered rumours of the old," he intones like McCartney gone evil.
That's why their fans love them. The chaps are art-rockers but without the supercilious air of nonsense.
They don't dumb down either.
Their taut and jaunty single Love Illumination sways like Robert Palmer's 1986 pop hit Addicted To Love, and shares the same emo desperation.
"We're looking for somebody to love," goes the chorus, as Kapranos purrs like a lovesick Lancelot over spry guitars and a simple ta-dum beat.
It's so darn catchy, you just want to hug the guy and tell him everything will be fine - only to realise he's smiling back, knowing that love is all around. The cad.

Get a copy of The Straits Times or go to straitstimes.com for more stories.