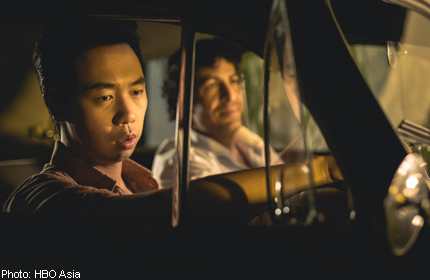 SINGAPORE - Hollywood-based Singaporean actor Chin Han has starred in a number of major blockbuster works, including Christopher Nolan's The Dark Knight (2008) and Steven Soderbergh's Contagion (2011).
But he equally relishes filming on smaller productions, such as the new television drama Serangoon Road.
At a press conference on Wednesday for the HBO Asia original programme, the 43-year-old actor said: "I just loved the intimacy of something like Serangoon Road. Actor Don Hany and I would have dinners and discuss scripts and stuff, and we always had such great conversations with everyone at HBO. We felt like we were in an artistic village.
"Sometimes on a big Hollywood movie, you feel like you just live in the trailer, because the personal assistants will come and get you food and you don't even have to leave the trailer for months.
For Serangoon Road, I loved the very communal, very collaborative spirit which everyone came together to do."
The 10-part period series, which premieres on HBO (StarHub TV Channel 601) on Sept 22, is set in tumultuous 1960s Singapore when political tensions are at a high as British colonial rule ends.
It is Singapore-based HBO Asia's first foray into original television series production and was largely shot on a set in Batam, Indonesia, as well as in iconic locations around Singapore, such as Raffles Hotel.
HBO declined to give the production budget.
HBO Asia is owned by American firms HBO and Paramount. The US brand of HBO is known for popular and critically acclaimed original programmes including television series Game Of Thrones (2011-present) and The Sopranos (1999- 2007).
In Serangoon Road, Chin plays Kay Song, the ambitious grandson of the head of a secret society which controls activity around Serangoon Road.
It is yet another sinister role following his villain characters in The Dark Knight and hit superhero television series Arrow (2013). But he does not mind.
He said: "I never see myself as the bad guy, I tend to see the roles as misunderstood. But, not to be facetious, villains are interesting to play. Villains are conflicted beings and conflict is always a more interesting mental state than possibly a very clear character."
With a laugh, he added: "That's always been fun so I'll never say no to a villain, so to speak, but I think I'm ready for a romantic comedy or a sex comedy."
Other than the actor, the new television drama also stars Hollywood-based China-born actress Joan Chen, Australian actor Don Hany, Indonesian actor Ario Bayu and local stars Alaric Tay and Pamelyn Chee.
Chen's character of a widowed detective agency owner is at the heart of the entire story, as the series unfolds over a number of cases stemming from her company.
As soon as Chen's name was mentioned, the rest of the cast members present at the press conference - Hany, Bayu, Tay and Chee - were quick to gush about the elegant 52-year-old actress acclaimed for her performance in films such as Oscar-winning The Last Emperor (1987) and Mark Frost and David Lynch's television series Twin Peaks (1990-1991).
Hany, 37, who plays private detective Sam Callaghan and works for her character's agency, said cheerily: "She is, in all respects, royalty. I think that's both a great thing and a really daunting thing to go into. But I was so impressed by the energy she brought. The first day she came on the set, the whole pace of everything just changed.
"She was very generous and I think we're all really fortunate to have all come together and made a TV show that stands up to a lot of cinema, because she just brings that actor command to the set and you read that on the screen.
"And she's a great kisser - I think that deserves to be said."
Chee, 30, who plays an assistant to Sam, recalled a "hilarious" incident surrounding Chen on set.
"Joan was in a cheongsam and high heels, so she was really in character, and we were talking about the best way to work out her body. And she was telling us that the only way to really work out is to do squats, and she then proceeded to do a full squat in her cheongsam right before action."
yipwy@sph.com.sg
Serangoon Road premieres on HBO (StarHub TV Channel 601) and HBO HD (StarHub TV Channel 655) on Sept 22 at 9pm.

Get a copy of The Straits Times or go to straitstimes.com for more stories.