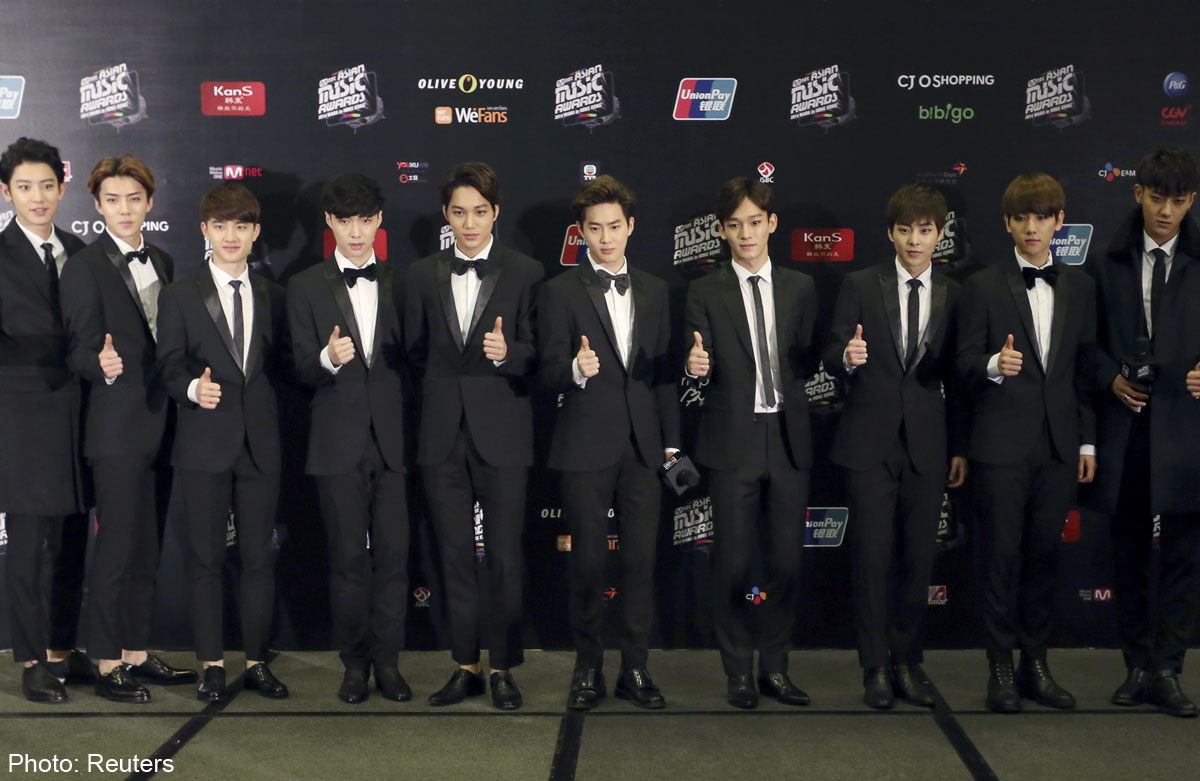 Fresh off EXO's massive five-day, sold-out solo concert series in Seoul earlier this month, 10 of the biggest names in K-pop have returned to the airwaves with the release of the group's second full-length album, "Exodus," on Monday.
"We think that through this new album, you will be able to see a brighter and more evolved side of each of the members," said EXO leader Suho, during a press conference held at the SMTOWN@coexartium Theater in Gangnam-gu prior to the album's release.
EXO's highly awaited new 10-track album comes nearly two years since the mega idol group dropped its first, record breaking full-length album "XOXO (Kiss & Hug)" in June 2013.
The album became the first in 12 years to enter into the elite "1 million club," selling more than 1 million physical copies, and solidified the members' place as part of one of K-pop's most successful acts ever.
"We can't really believe it ourselves, that even in this online generation, for our physical albums to sell so well was surprising to us as well," said Suho.
Now that the members have released their follow-up album, curiosity is bubbling in the K-pop community over whether or not EXO will exceed sky-high album sales expectations, with the group widely considered the hottest K-pop act in the scene today.
However, despite all eyes being on EXO and how the new album will perform on the charts and in sales, the members stated that giving fans tracks that they would be able to appreciate and take joy in was the only goal in mind.
"Even just thinking about us being able to sell a million copies of our album, I'm honoured. And as much as I would love to recreate the success of our first album, honestly, album sales were never in our thought process while producing our new second album," Chen added.
"While making this album, the only thing on our minds was how to produce something with which we can mutually relate to our fans and just create something that they would be able to enjoy," he continued.
The prospects for EXO's new album already look promising as the "Exodus" album's lead single "Call Me Baby," which was preleased Saturday, has topped all of the major real-time online music charts.
Aside from being a new release, "Exodus" adds more sentiment for the members as it is EXO's first album as a 10-member group. After a string of highly publicized legal battles between Chinese members Kris and Luhan, who filed suit against SM Entertainment for labour rights last year, the group has since been promoting as a new group of 10.
"It's just the 10 of us now, so it's the start of a new path for us," said Suho.
"But I think one of the biggest changes for us in the past year is how much we have improved in terms of our musical abilities ― each and every one of us are able to show a lot more range," he added. "Through this new album, I think you will be able to see our growth."