Adolescence is a difficult time for everyone, but most of us didn't have to suffer the ignominy of turning into a giant red panda every time we felt emotional or embarrassed.
That's what happens to Meilin, the 13-year-old heroine of Pixar' Turning Red, a lively animation that sets the trials and tribulations of growing up inside a colourful rendition of Toronto's Chinatown.
Made by an all-female key creative team, Turning Red charts Meilin's growing conflict with her loving mother as she deals with the variety of problems that this new stage of her life brings.
The giant red panda is a metaphor for the awkwardness we all feel in that transitional time, says Turning Red's Chinese-Canadian director Domee Shi. The film, she notes, is partially designed to tell adolescents that what they are going through is perfectly normal.
"I wanted it to be a guide for adolescents who are experiencing these crazy changes in their bodies and their emotional relationships," she says.
"I want to let them know that although it's a crazy, awkward and embarrassing time, it's actually OK. You will survive – you're not alone, as we've all been through it."
Meilin's growing conflict with her overbearing but caring mother Ming, voiced by Sandra Oh, lies at the heart of Turning Red's story. Meilin has always been close to her mother, but as she matures and develops her own personality, the two start to grow apart.
Meilin is confused by the rift that is opening up between them, while the protective Ming is loath to let her daughter grow up.
Meilin's problems draw on Shi's relationship with her own mother, the director says.
"I was born in Chongqing in China and immigrated to Toronto in Canada when I was two years old. Like Meilin, I am an only child, and I was always very, very close to my parents, especially my mom, since my dad had to go away often for work. We were like two peas in a pod, and we literally did everything together," she says.
"Then, as all kids do, I started to grow up. I started changing, and I started getting into anime and comics. She did not understand why I was obsessed with these fictional anime characters and why I drew them over and over again in my sketchbook, with their huge eyes and strange, colourful hair.
ALSO READ: Pixar's Turning Red is a personal coming-of-age tale by Bao director Domee Shi
"Then I started hanging out more and more with my friends and less with my mum. I was being pulled one way, but my duty, and my love for my parents, was pulling me another way.
Turning Red is inspired by this universal struggle of growing up and figuring out how to handle that push and pull. How do you handle honouring your parents, but also stay true to yourself?
"For Meilin in the movie, the red panda is that magical spark that sets off this internal conflict that's arising within herself."
Turning Red was made with 3D animation techniques like all of Pixar's films, but this time the characters and the backgrounds subtly reference anime's stylised 2D look.
Shi says she has been a lifelong fan of anime, so it was natural to bring some of the Japanese art form's look to Turning Red.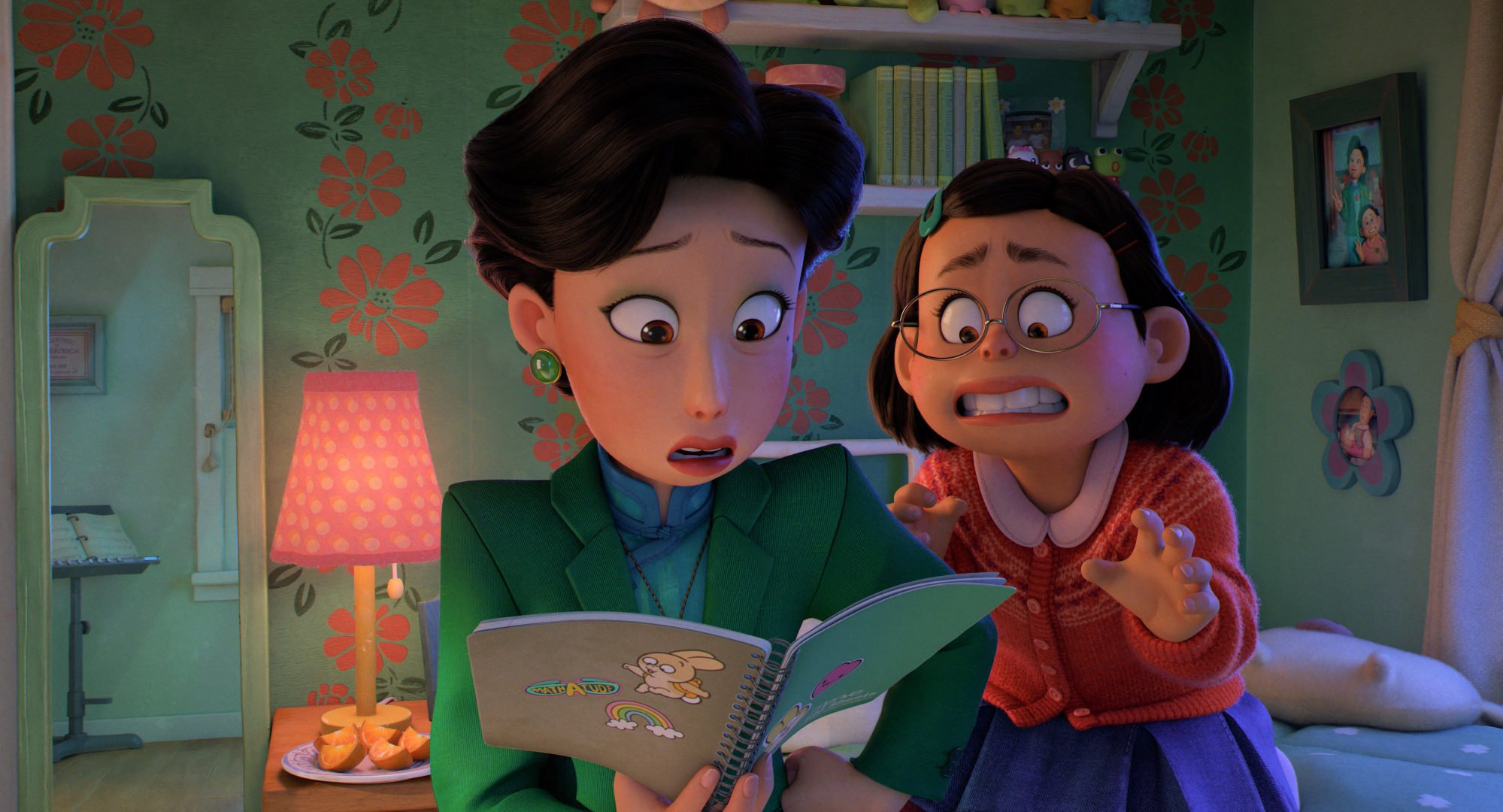 "I have always loved the way that anime exaggerates the backgrounds and the sets to reflect the emotions of the characters. So it just felt like a really cool and useful stylistic device to tell this story about a girl with a lot of roiling strong emotions," she says.
"I grew up watching anime and it was super-influential on me as a storyteller. The colour palette of Sailor Moon and the magical transformations of Ranma ½ were certainly big influences."
Her admiration for the work of Japanese animator Hayao Miyazaki, creator of much-loved classics such as My Neighbour Totoro, also played a big part, she adds.
"I feel that every animator has bowed at the altar of Miyazaki and Studio Ghibli [the studio that Miyazaki co-founded] at some point during their working life."
She has particularly fond feelings for the director's Spirited Away, a tale of a young girl's coming of age in a dangerous and mysterious magical location.
"Spirited Away is not just my favourite anime film, it's my favourite ever film," she says. "Most of Miyazaki's characters are strong females, and that influenced me."
Shi also admires Disney's The Lion King - "Disney are able to explore dark themes in a really cool and accessible way" - and enjoys the manic movements of the characters in the classic Warner Brothers Looney Tunes animated series.
One of Shi's fondest memories of making Turning Red is the day that she asked the 12-year-old actress who voices Meilin to take the lead role.
Rosalie Chiang was initially hired as a temporary voice actress for the rough reels while the animation was being created and the producers intended to replace her with a more experienced voice actress for the real thing.
But Shi was so taken with the young girl's performance that she offered her the job. Chiang, who had never made a full-length film before, was so overjoyed she almost burst into tears.
"I really liked what I heard when Rosalie did the rough reels. There was just something about her voice that seemed right," Shi says. "We auditioned other actresses for the final version, but they all sounded too perfect, too trained and too articulate – they just didn't feel like Meilin.
"There was something about the way that Rosalie voiced Meilin that felt authentic and unique."
Chiang was also young enough to appreciate the importance of boy bands like One Direction who, Shi says, help girls understand their feelings for boys during their adolescence.
Shi created a boy band called "4*Town" for the film and hired Billie Eilish and Finneas to write three of the fictional band's songs. Eilish apparently accepted the job because she is a big fan of anime and was excited about being part of an animated film.
"Boy bands are often ridiculed by the media, so we wanted to pay tribute to this cultural phenomenon and not just make fun of it," Shi says. "So many girls' and boys' lives were shaped by their very first musical obsessions and boy bands represent for many girls their first foray into adolescence, into music, fashion and pop culture.
"They offer a safe, soft and non-threatening introduction to subjects like love and relationships and sex."
Shi worked as a storyboard artist at Pixar before moving up to direct. Turning Red is her first full-length film, following the short Bao, which approaches similar themes in a mother/son relationship - although the "son" is actually a dumpling.
She loves animation, but says that it can be a laborious process. "It's so much harder to make an animated film because it takes so long and involves so many people," she says.
"You don't get anything for free in an animated film - you don't get actors riffing while the camera is rolling and there are no happy accidents. Everything on the screen needs to be created. But as a result of that, it's a very powerful medium."
Turning Red will start streaming on Disney+ on March 11.
ALSO READ: Turning Red movie review: Bao director's Pixar coming-of-age comedy is both funny and authentic
This article was first published in South China Morning Post.