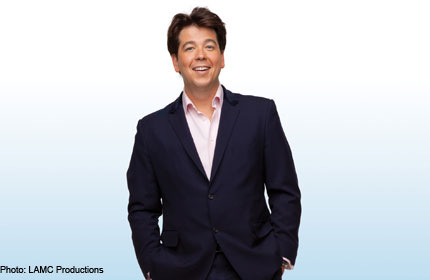 It is hard to tell if British comedian Michael McIntyre is kidding or being humble.
In a telephone interview with Life! to promote his show here on Nov 12, the highest-grossing comedian in the world asks this reporter: "Where am I playing? Can you help me put people in it?"
Expressing concern at whether people would actually turn up to see him perform in Singapore, he adds: "Are there a lot of British people there?"
Not that he expects to perform just for a British audience in Singapore. He is just worried that Singaporeans do not know him at all.
"I'm going to need somebody to show up for my show, it's a bit late to convince the locals. That should help, you know, the Brits."
His show next month at Star Theatre is his first solo performance in Singapore.
The last time he was here was nearly 10 years ago, as part of a small comedy show in a bar for an expatriate crowd.
A lot has changed for him since then.
McIntyre, 37, is now one of the highest-earning stand-up comics in the world, filling up the 20,000-capacity O2 Arena in London for 10 nights straight last year.
According to British reports, his first DVD Live & Laughing (2008) was the fastest-selling debut stand-up DVD of all-time, which was later surpassed by Hello Wembley!, his 2009 release which sold more than 1.4 million copies.
McIntyre, who is married with two sons aged eight and five, acknowledges his success, but jokingly adds that it probably has something to do with his weight gain.
Recalling his first stand-up show many years ago as a "terrible" experience, he says: "I've turned into a very rounded funny man. But I did start as a very thin and boring man because I had no idea what I was doing... and you have to learn through experience to do standup.
"Very few people are able to immediately get it and be comfortable and to know what version of themselves is the best to present as comedy. Luckily, I found it."
McIntyre did not complete his university studies, choosing to work in bars and focusing on comedy instead.
He says: "I stayed in university accommodation, which was quite weird, but I started writing. I wrote a film, jokes and comedy and started to perform while pretending to be in university but, actually, I was also working in a bar."
He worked his way to getting bookings at the Comedy Store in London, which eventually led to his debut at the Royal Variety Performance in 2006, his big TV break.
A lot of his comic material draws inspiration from his family - "Thank goodness for them, they are hilarious and they just repeat stuff that's going around the house" - as well as planting himself in a foreign environment to get some new ideas for jokes.
He says: "I've been in London my whole life and I don't have any jokes about London because it's so normal to me. But as soon as I go somewhere different and I'm talking about anywhere, say, a different city in England or Scotland. I immediately see differences and I think people appreciate that I am referencing their lives."
He says he will be arriving in Singapore a few days earlier to get a feel of the place, spot some interesting things and comment on them "and, hopefully, make it funny".
Asked when was the first time he made someone laugh, a cheeky McIntyre says: "I know that I urinated on the doctor when I was born and then the whole room laughed, but I don't remember it myself. This is a second-hand account from my mother.
"But I didn't do it for a laugh, I probably did it because I needed to pee. That was probably my first laugh and that was probably within moments of me entering the world."
melk@sph.com.sg

Get a copy of The Straits Times or go to straitstimes.com for more stories.