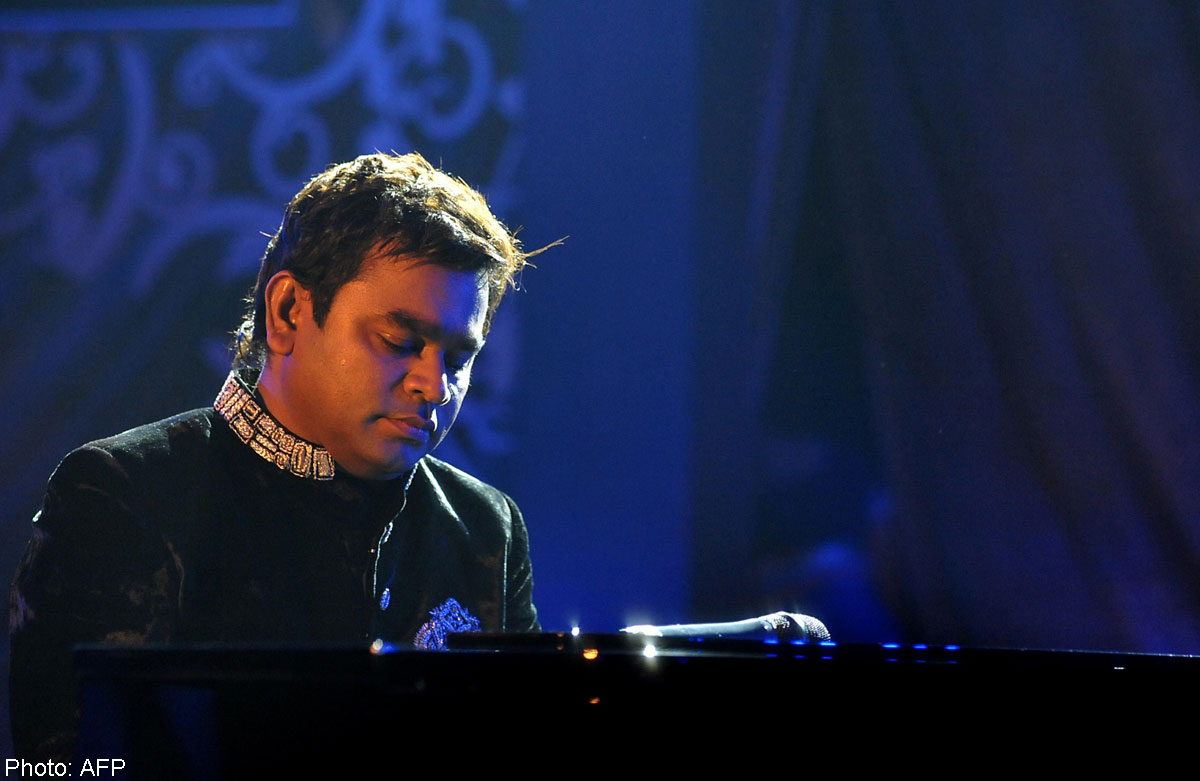 Imagine the music maestro A.R. Rahman in a white lab gown and safety goggles conducting science experiments. A fine scientist is what he would have been if he'd had his way. "If I hadn't taken up a career in music, I might have been a scientist," said the man whose fans call him Isai Puyal (musical storm).
With the early demise of his father when he was just nine, his mother had hoped for him to carry on in his father's footsteps.
"My father was a composer so my mother insisted that I go into music. She told me to leave school and go into music. Unlikely ille ('is it not' in Tamil)? It's the other way round in other families," he told tabla! at the Movenpick Heritage Hotel in Sentosa on Feb 20. Rahman was in Singapore to promote his upcoming concert here on April 30.
It is evident that his interest in experimenting has rubbed off on his music career as well.
From his first songs heard in the Tamil movie Roja in 1992 to songs featured in the latest Hindi movie Highway, he never fails to impress his audience with new beats and tunes unique to his compositions.
"I try to make each one (song) as different as I can. I like to experiment. It's an experience. I want it (tunes) to be fresher and feel fresher. It has to emotionally connect with the audience," he said.
The multiple award-winning musician will be in Singapore for a one night only "sound and light" musical extravaganza titled A.R. Rahman Infinite Love Live In Concert on April 30 at The Meadow, Gardens by the Bay.
Fans can look forward to songs from new movies Kadal, Maryan, Rockstar, Highway and the much-anticipated upcoming Tamil movie Kochadaiiyaan as well as songs from his single Infinite Love.
And who else can be expected to appear at the concert?
He said with a laugh: "My whole band, as well as Javed Ali, Mohit Chauhan, Vijay Prakash, Chitra, Mano, probably half the industry."
It is widely known that A.R. Rahman, short for Allah-Rakha Rahman, rarely performs at the same venue repeatedly. He likes to discover the world, experience new venues, new audiences and feel their energy.
So what makes him want to return to Singapore after his last performance here in 2011?
"First of all, the generation changes from when you performed a few years ago. The audience is new and the music is new," he replied, adding that Singapore being a very vibrant city also played a part.
SINGAPORE MEMORIES
The singer-songwriter, who mentioned that he used to shop a lot in Singapore for his musical instruments, also holds fond memories of his first visit to Singapore, remembering it as an "unreal" experience.
He said: "It's probably the first city I've been to outside Tamil Nadu in 1985. It was unreal when I first saw Singapore from the plane. The images are still in my mind."
Not only does he hold dear memories of his first visit to Singapore, he also remembers having a taste of the uniquely Singaporean seafood cuisine during his last visit to the Garden City.
Apart from food and shopping, which Singapore is famous for, Rahman said that he also likes the people of Singapore.
"I find the people here very loving," he said.
Rahman's latest single, Infinite Love, on which his upcoming concert is based, was released in 2012.
It holds a subtle message about the innocence of youth and how people unnecessarily try to build walls between each other as they mature.
"We did a video stressing about how the younger people growing up have a clean mind. They have a natural divine instinct; their thoughts are pure. They don't have any boundaries, strings attached about religion, or racism. The (music) video is all about leadership and how we can inspire or how the infinite love movement inspires the next generation," he said.
When asked about the inspiration for the name and theme of Infinite Love, he said: "I think it's a philosophy. A way of life for me. Each day you learn something from life. You learn from your kids, friends, people on the street. So this one happened a couple of years back when there was a rumour that the world was going to end in 2012. I knew it was a rumour. So I wanted to make a song. There're always reasons to make a song, right? This was a good reason. So the song was made."
One would think that a musician of his calibre would be constantly up-to-date on the music scene around the world.
But the music producer, who likes a couple of bands from England and some of the composers now in Mumbai and Chennai, says: "My listening is very fractured. I listen to some things and don't listen to others. On the radio you listen to something beautiful and think 'oh that's great' and before I understand who did that, it moves on to the next song."
Rahman also gave his take on the rise in reality shows in India and the discovery of many new talents.
"It's good and bad. Good because they have an opportunity to display their talent. Bad because there's so much clatter. In the name of introducing new singers, people also lose their identity. You don't know which singer is singing what. Everybody sounds the same. There's no character. It'll be nice to have singers with strong character so you know you can recognise that."
Given these comments, it's little wonder that Rahman said he has no favourite genre in music.
"I like mainly classical music, like Hindustani, Carnatic or Western classical, because there's a wealth of musicality there," he said.
Rahman has been known to compose songs that amalgamate elements of these music systems as well as other genres, layering instruments from differing music idioms and improvising so that they sync with the mood of the film.
It is this factor that won his song Jai Ho the Academy Award in 2009.
"Movie music is about being appropriate for appropriate situations. It's about triggering feelings and sometimes going with the emotions. In this particular case, in the movie they are going through turmoil and they needed release. And their release was Jai Ho. That's the reason that we got the award for Jai Ho," said the soft-spoken man who believes in divine intervention.
Will there be any surprises in store for his fans at the upcoming concert? He said: "The more we perform, what I realised was, they (fans) are not coming just for the music. They're coming for the singing and musicality. They're all coming to see each artiste in person. That's a very important fact. You don't have to do a lot (of gimmicks) to make it a really satisfying music concert. I don't have to hang on a rope like Pink did at the Grammys."
Apart from performing hit songs with prominent singers, the concert - which is organised by entertainment and events companies DML Live and Rapport Global Events - will also include a Qawwali segment with Sufi devotional music and an electronic dance music section.
Founder and CEO of DML Live Keerthivasan Subramaniam said: "Music has the power to integrate and heal people across various sections of society within India and the world. There is no one who has managed to touch hearts like A.R. Rahman, who has brought people from all over India and the world together with his enduring melodies."
One question that often pops up in everyone's mind is how Rahman finds inspiration to constantly make such heart-tugging music for movies.
The music legend said that half the work is done when composing songs for films because there is a script, director and lyricist to give him an idea of what exactly is expected of him.
"So all I have to do is take these elements and expand it to make something likeable. Each song is made with certain experiences and influences because that's what makes us who we are. Sometimes I take three hours, sometimes I take three months, sometimes I take three years to make a song," he said.
At other times, the music naturally flows, he said: "I instinctively start working on it. There's no set formula."
FAMILY SUPPORT
Talking about his family, he said work keeps him away from them sometimes when he is travelling, and that it is a "difficult sacrifice" he makes.
"They support me. I think it's so important for a creative person to have family members' support. If they are not understanding, there won't be any creativity. You'll have to find ways to clear the misunderstanding and make the relationship proper so you don't waste a lot of time on it and instead invest it in your profession. If your family understands that, it helps a creative person and it's a boon," said Rahman about his wife Saira Banu and three children, Khatija, Rahima and Ameen.
His daughter Khatija and son Ameen have sung for soundtracks that Rahman composed.
His willingness to showcase new talents in his songs is what made the Nooran sisters, Jyoti and Sultana, famous through his latest Bollywood hit Pattakha Guddi from the movie Highway.
Rahman has also featured Singapore talents Lady Kash and Krissy in the song Wanna Mash Up from Highway as well as the song Irumbiley Oru Idhaiyam from Tamil movie Enthiran - The Robot (See report below.)
Rahman's willingness to experiment and push boundaries has also led him to collaborate with Western artistes.
Recently described by Time magazine as the "world's most prominent and prolific film composer", he teamed up with Mick Jagger, Eurythmics founder Dave Stewart, soul singer Joss Stone, and reggae star Damian "Jr Gong" Marley to form a cooperative project called SuperHeavy in 2011.
He is currently working with Disney on its upcoming movie Million Dollar Arm and Dreamworks Animation's Monkeys Of Mumbai.
Get a copy of tabla! for more stories.