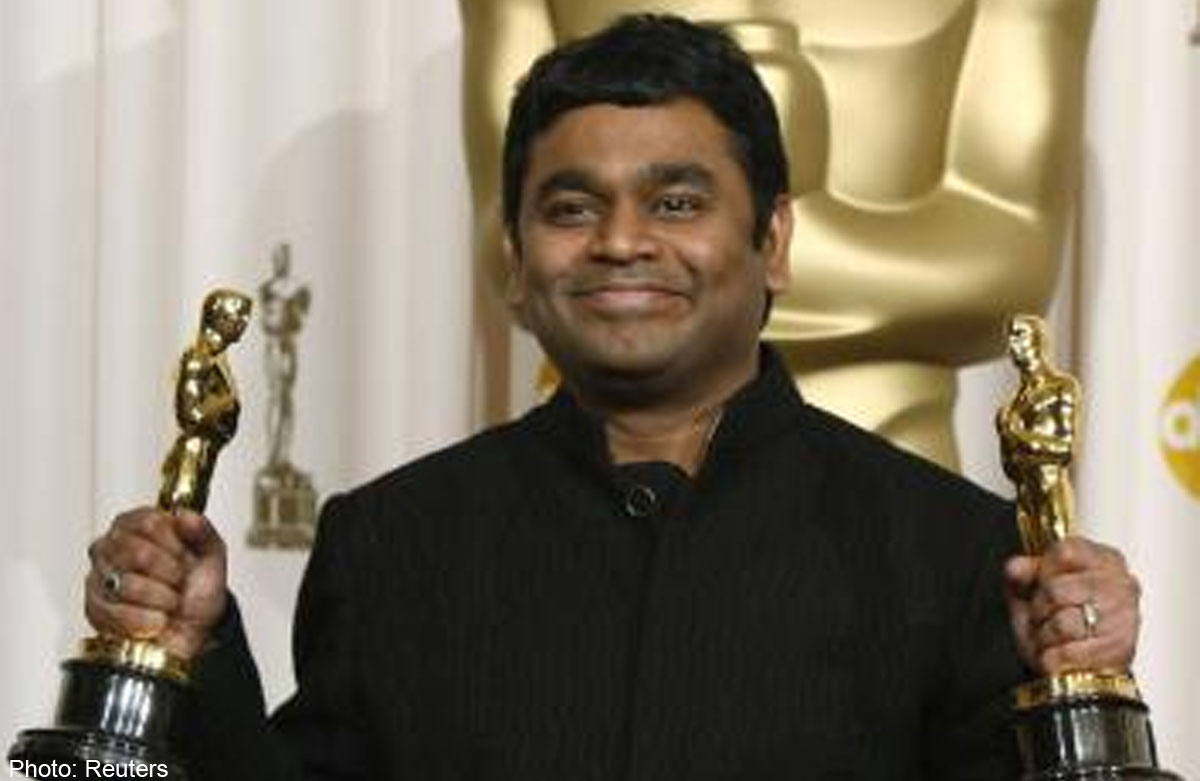 SINGAPORE - I wanted this to be a rah-rah Rahman review. Really, I did.
After all, Oscar-winning Indian composer A.R. Rahman's third concert in Singapore had been much-hyped before it arrived. But, alas, when it finally arrived, it elicited a less than enthusiastic reaction in me.
Yes, the gig was bigger. As promised, there were more singers, dancers, costumes and set changes. Bigger, however, is not always better.
In March 2011, when Rahman performed at Marina Bay Sands, it was a celebration of a quiet man's genius, which started and ended just the way he liked it: with the unforgettable notes of his haunting music. Unfortunately, on a muggy Wednesday night, I felt none of it.
There were more people in the lawns at Gardens by the Bay than at the maestro's Singapore Indoor Stadium gig in 2005, as well as the Marina Bay Sands outing in 2011. But gone was the real sound of music. The magic Rahman is known for was clearly missing.
Even though the sheer diversity of his work was on display - from emotional love ballads, brooding songs, patriotic and spiritual numbers, to his ability to tap on offbeat world rhythms - the unique sound that he is known for failed to touch my soul.
The terrible sound quality at the outdoor venue did little to help. And the production values were suspect. For one thing, the costumes and dances were glitzy, tacky and plain distracting. We didn't need fire-spewing dragons and a completely out-of-sync Lion Dance to remind us that we were located in South-east Asia.
Add to that some technical glitches, not limited to an accidental credit roll at 10.05pm, which gave the impression that the show was over and fooled some people into leaving.
Rahman was who and what people paid to see - the rest was so much unnecessary tinsel that got in the way, but could have been ignored if the star had been allowed to shine unimpeded. When he was on stage, he helped lifts spirits a bit with both his Tamil and Hindi songs. An instrumental mix he did with Grammy Award-winning slide guitarist Vishwa Mohan Bhatt proved to be the highlight of the show.
Bhatt, who won the Grammy in 1994 with American guitarist Ry Cooder for their world-music album A Meeting By The River, is also the inventor of the mohan veena - a cross between the Hawaiian ukulele and the traditional Indian instruments sitar, sarod and veena.
With Rahman on the piano, the duo showed that music needs no words to appeal across cultures. They were in perfect sync and looked set to perform more when there was a loud sound on stage and things faded to black.
Was it a power trip? No announcements were made and the audience were left in the dark.
It took a little over five minutes to get the show back on track, but the momentum had been broken and the show failed to build up quite enough steam again.
Pacing was a problem with Infinite Love coming across as a hot-potch medley of song and dance numbers. Mood and energy levels were erratic; for example, a pumping number such as Saada Haq (Our Right) from Rockstar (2011) would be inexplicably followed by a slow romantic number - frustrating for those who wanted to jive.
Losing interest, people started reaching for their smartphones to play games. A girl two seats away from me plugged in her earphones at some point and had her own private party with her playlist.
It was a pity because I have loved Rahman's music ever since I first heard the haunting notes the former jingle composer produced for the movie Roja (Rose, 1992), a love story set in violent Kashmir.
My guess is that the show was under-rehearsed or lacked a rigorous technical run, given the glitches and extended pauses between songs in a concert by an artist known for his attention to detail.
The day before the show, he had delivered a Leadership Lecture in a Singapore school and spoken to students at the National University of Singapore. Perhaps, he had simply been over-stretched.
Infinite Love? Limited Affection might have been a better name.
This article was published on May 2 in The Straits Times.


Get a copy of The Straits Times or go to straitstimes.com for more stories.